When we talk about productivity, we're often referring to our own work habits or the output of our employees–but let's talk about the productivity of your website. Is it delivering the results that you expect? And speaking of expectations, what should you—and your customers—expect from your website? 
I asked hundreds of small-business owners who have built their own websites for input. Here are their insights into building a website on your own. 
Connecting With Your Customer 
Your hope is that your website will connect you with your customers and prospects. You want them to take an action. If you're not clear about this, your customer won't be either. So your call to action is at the top of the design list. There are two key components to ensuring this connection: 
1. Easy navigation. Do you make it easy to get around or do you hide the navigation? Most DIY website builders know this is important so they make it prominent (see the examples below). That's an advantage if you choose a do-it-yourself tool like Wix, Weebly or iPage. Music2Work2 and Landmark Tax Group offer simple and easy navigation. (If you want more choices here are 15 other free and low cost website builder tools.)
















2. A clear call to action. CustomerHook and Andrew Legrand Law are two sites that both do an excellent job of this as you can see in the screenshot below. Right on the home page there is a form to fill out for more information. You don't have to put it on page one, but having a form or a "click here" button as you see on many software-as-a-service products today. Oh, and if you use a contact form, keep it simple and fast with only critical information that you can use. Don't bother asking them lots of questions. Your goal is to get the relationship started. More questions can come later when you have one-on-one time.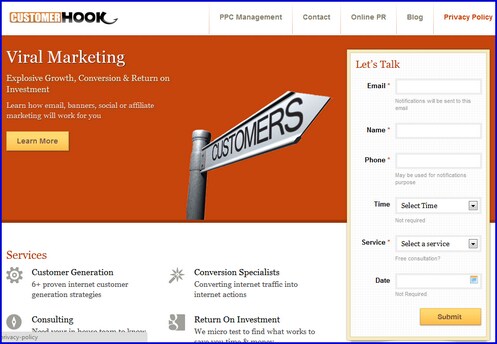 3. Being truly transparent. This means providing full disclosure per FTC guidelines and explain if you're being paid to promote something. It also means telling them about yourself. Loads of posts from other bloggers and site owners show that the About Us is a highly trafficked page. Make yours compelling. According to Lisa Barone at Small Business Trends, here are the "Must Haves" on your About Us page:
Your story
Your credentials
Pictures
What they can expect from you/your value
Where they can get more info about you
Humanizing details 
4. Social media profiles? Here's where I'm going to differ from a lot of people: I don't believe you should put the links to your profiles on Twitter, Facebook, LinkedIn, Pinterest, or Google+ in a prominent location on your website. Before you call me crazy, here's my reasoning: You want the prospect to stay on your site and visit for longer than 30 seconds. If you put too many offsite links right at the top or in the main navigation, they'll follow your subtle advice and leave to see you on those networks. Answer me this: Are those environments distracting? Do you want to send your customers away?
Because many will disagree with me on displaying profiles prominently, here are three sites that do a great job of highlighting their social media profiles. NineGPS, a dating service keeps the sharing aspect obvious and then the Facebook like easy to spot, but not over the top.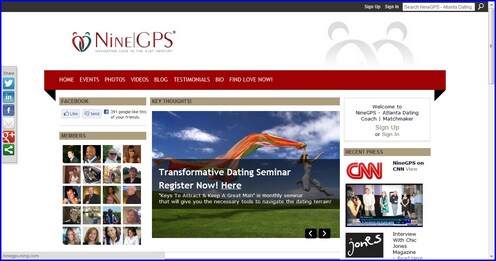 Three Chicken Books, from book author Barak Maguen does it well by putting the Facebook link at the bottom, but prominent enough.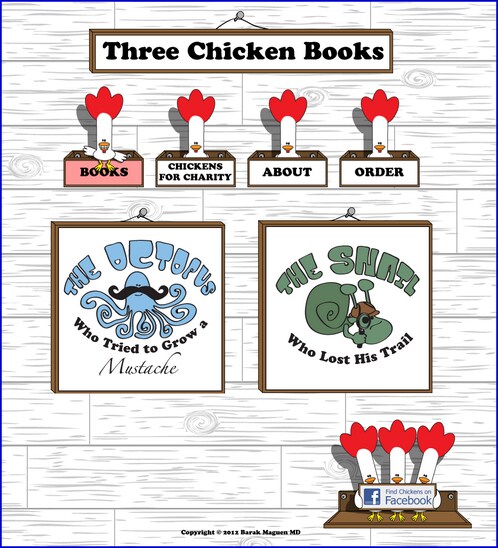 An online magazine for dog owners, Keep The Tail Wagging, also makes it easy to like them on social media as you can see on the right side.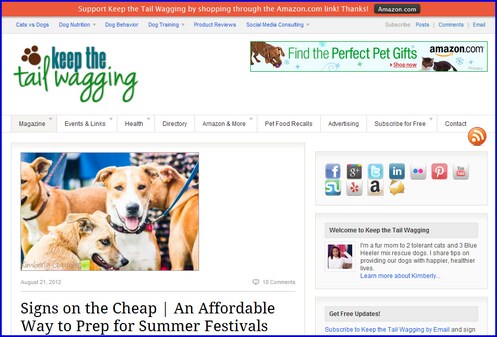 To be clear: I do think you should highlight and make it easy for people to share your content with the standard share, tweet and pin buttons. Of course, you should pre-load those buttons with your profile links. Many do not, missing the chance to track and connect with new connections. For example, your tweet widget should automatically insert your @profilename in the tweet itself.
Your website should be productive. It should be delivering leads and conversations for your business. That's not my opinion; that's reality if you want your business to prosper. Don't be misled into thinking that your website is a personal blog where you only offer informal chatter. You will want to stay focused on your customer's problems and make sure your content and calls to action do the same. 
TJ McCue runs TechBizTalk, a review, how-to, and tutorial site to help you discover the top new web-based applications and services for your growing company.