By their very nature, entrepreneurs disrupt the status quo. Just think about how today's household names—established businesses like Apple and Amazon all the way to newer successes like Uber and Airbnb—each brought a new perspective to their sector and changed it forever.
I recently connected with a group of emerging entrepreneurs who are disrupting their industries by changing the conversation about what we think is possible. Here, these entrepreneurial trendsetters share what changes they have in store for us.
Chris and Marty McCurry, Highland Craftsmen
When Chris and Marty McCurry first started Highland Craftsmen back in 1990, few people were talking about sustainability. But the company the husband and wife team started in the small mountain town of Spruce Pine, North Carolina, continues to transform the very nature of how everyone from architects to builders and even lumberjacks think about their trade.
The McCurrys' business, often referred to as Bark House, creates sustainable building products out of natural materials. Their products, which include everything from premium shingles to furniture and wall-coverings, are made from such materials as the bark from poplar trees, which is dried in a kiln and then used to create stylish furnishings that appear everywhere from residential homes to multistory commercial office buildings throughout the United States and Japan.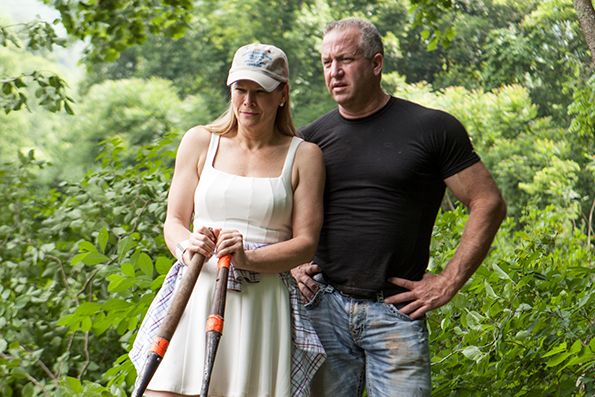 "It's really exciting to be part of something that's making a huge presence and creating architectural change," says Chris, who grew up near Spruce Pine and, with a family tree she can trace back eight generations, has deep roots in the surrounding community.
It was actually the rapid pace of development within the mountains—where the traditional architecture that has been present for generations was being stripped away for more modern architectural styles—that bothered the McCurrys. "It began to look like anywhere suburbia," Chris says. The couple thought the pace of development was disruptive to both the community and the environment.
That's when they turned to the building styles and materials used by early settlers in areas like Linville, North Carolina, where buildings were sheathed in the bark from chestnut trees. Those materials had proven to not only be incredibly weather resistant, but they were also free of any toxic chemicals that are so common in many of today's building materials.
With the chestnut lost to blight in the area years ago, the McCurrys turned to the fast-growing poplar tree—which can reach maturity in just under 30 years—as a solution. Just as important, they worked with local landowners who harvested their trees as a way to keep their properties within their families, especially when other industries, such as tobacco, had fled their area.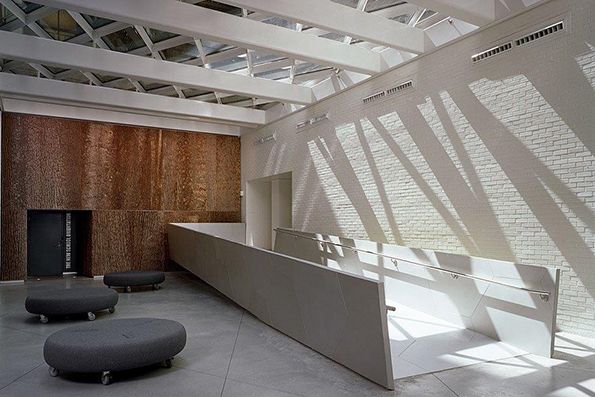 By harkening back to the past, the McCurrys essentially created a new market for something that used to be considered waste: the bark from the tree. "We call it RAW, or reclaimed Appalachian wood waste," says Chris, who, in addition to writing a book called Bark House Style, has been lauded by her community for her efforts to preserve the history and culture of the mountains she calls home. "We've been able to provide landowners and loggers with a revenue stream they didn't have before."
In fact, Chris has increasingly become a prominent voice in the field of sustainability, where in addition to promoting the environmental impact of her business, she also believes strongly that every business should also strive to be financially sustainable as a way to help give back to its community—all of which helped Highland Craftsmen earn the coveted distinction of becoming a certified B Corporation. As Chris says, "We want to be an example of what it means to be both beautiful outside and within."
Wendell Brown, Vusay
There's little doubt that we've entered the era of online video watching. The numbers are staggering: Among the billions of hours of videos that are now available over the Web, an estimated 100 million users around the world watch at least one online video every day.
But up until this point, most of that video has been very one-dimensional: Content is simply broadcast with little or no way for viewers to interact or connect during the time the videos are playing. But that's now about to change, thanks to Vusay (which is pronounced like the combination of "view" and "say"), an innovative social platform that makes videos more interactive for consumers and enterprise customers. With Vusay, viewers can add comments that highlight specific moments of the videos they're watching, then seamlessly share them via Facebook and Twitter.
Heading up the team behind Vusay is co-founder Wendell Brown, an inventor and entrepreneur with a deep background in pioneering Internet, entertainment, telecommunications, virtual workforce and energy efficiency technologies. With more than 20 years of technology development and startup experience, and with more than 100 patents to his name, Brown has founded several lucrative technology companies and invested in several other innovative ventures prior to coming up with the idea for Vusay in 2013.
"What we're doing is creating the next evolution in online video," Brown says. "We hope it changes the way the world consumes video, where it moves from a one-way medium to a two-way community." Vusay is set to announce a slew of partnerships over the next few months, Brown says, with some of the world's leading media and content companies who will deploy Vusay's interactive technology for users watching their videos. Viewers will then be able to comment and interact in real-time rather than having to wait until the video ends.
Given Brown's track record of success—and the enormous potential of the market—Vusay has world-changing potential, which in fact is part of its mission: "to change how the world interacts with social video." Stay tuned to find out what happens.
Jennifer Hill, Sixty Vocab
Most of us have some experience taking a foreign language in school. Yet the same majority most likely remembers little to nothing from all that time spent in the classroom. It can seem like such a waste. Sure, there are expensive software programs and immersion classes you can take to rekindle those dormant language skills, but do you really have the time and money to invest in such an endeavor?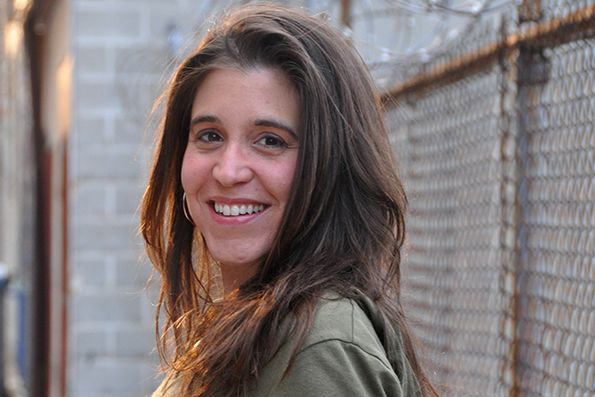 That's exactly the dilemma Jennifer Hill is trying to tackle. The CEO of Sixty Vocab, an online adaptive language learning game, explains, "We target the 95 percent of Americans who took some form of foreign language in school but aren't fluent."
What Hill and her company co-founders learned while talking with linguistics experts is that if you can learn 60 percent of any language, which works out to about 2,000 words, you can hold meaningful conversations with anyone who can speak that language. But rather than rely on boring standbys like flashcards, Sixty Vocab has created a game where, by tracking your progress and awarding you for your achievements, you'll be incentivized to learn your 2,000 words by spending 20 minutes a day on the task for just three months.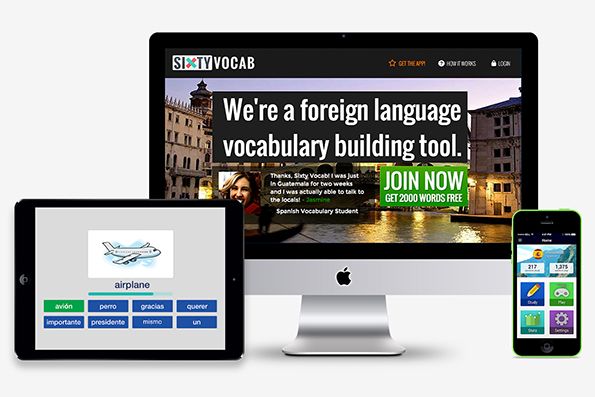 Hill stresses that her company isn't out to replace teachers. Rather, it's trying to empower them by giving them more time in the classroom that they can spend on the most valuable lessons. "We've got our finger on the pulse of trends in the edtech market as educators look for more tech tools to 'flip the classroom,'" says Hill, who notes that her company is currently conducting a pilot with Drexel University in Philadelphia. "Educators wish to offload memorization-based learning outside the classroom to concentrate precious class time on higher-value learning. We take the boring stuff and move it out of the classroom, but we also make it more fun."
Up next: The company will be launching its mobile app, which will be able to operate in offline mode for those wanting to make the most of their travel time.
Sara Sutton Fell, Flexjobs
It might be fair to say that the traditional 9-to-5 job is dead. Today's workers are expected—if not motivated—to be online 24/7, which of course creates as many challenges as it does opportunities. But as the modern workforce evolves, it seems our notion of how to find workers—or what kinds of positions we should offer them—seems stuck in an outdated model.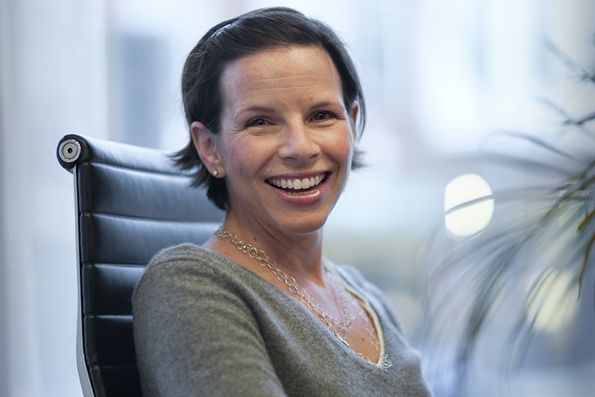 Enter Flexjobs, an innovative job-hunting site that caters to professionals who want to work remotely or would like more flexible hours for their jobs. While just 10 percent of the U.S. population currently works from home on a regular basis, according to Forrester Research, there's an expectation that the remote worker population will include some 43 percent of all U.S. workers by 2016. And while there are an estimated 30,000 job search websites for opportunities in the U.S. alone, Flexjobs has made its mark of distinction by leading the charge to offer professionals access to a surprisingly wide array of jobs that aren't based on geography or traditional 9-to-5 schedules.
Founder Sara Sutton Fell came up with the idea for the business when she experienced firsthand how difficult it was for experienced and skilled workers to wade through all the online options to find legitimate flexible and remote jobs. "A lot of people still associate working at home with a historical stigma," says Fell, who's been named a Game Changer by Workforce Management magazine and is part of the World Economic Forum's Young Global Leaders Class of 2014. "As a result, there haven't been any viable options for professionals. But we're working to change that perception."
Fell says she understands why someone like Yahoo CEO Marissa Mayer felt the need to famously cancel her company's work-at-home-policy, because she was likely trying to combat a culture problem that had more to do with management than with the remote workers. That said, looking ahead, Fell says, "The companies that say they're anti-telecommute have their head in the sand."
Spencer Williams, West Paw Design
In 1996, when he was just 23 years old, Spencer Williams bought an existing small business called Pet Pals near Bozeman, Montana, that made dog and cat toys, and he turned it into a business of his own design, which he renamed West Paw Design. "I was too young to know what I was doing," Williams says, "but I wanted to do something that involved hands-on manufacturing in a neat industry connected to something I love: pets."
Although he started small, Williams has since grown his business, which is also a certified B Corporation, into a world-class manufacturer of high-quality pet toys, beds and apparel that are all made using nontoxic, organic or recyclable materials. The products are sold largely through a network of some 2,800 independent retailers in North America. West Paw, which has 75 employees, also has fans outside the United States, exporting its products to some 24 different countries.
While there has clearly been a trend throughout the pet industry to create more environmentally safe products for pets, Williams and West Paw Design have had a disruptive influence on the industry because 100 percent of their products are manufactured here in the U.S.
In fact, 99 percent of the firm's products are made in its home state of Montana, a decision that's created a deep link between the company and its community. "I think there are a lot of people who want to figure out how to be successful in manufacturing in the U.S.," says Williams, who has also embraced open-book management by sharing and teaching his employees about the finances of the business. "And there are a lot of us who've figured out how to do it. It's not easy, but we're proving that it's possible, and we'd love to serve as inspiration for more people out there to get out and start companies that make things they love."
Natasha Case, Coolhaus
Mobile food trucks have clearly had a disruptive impact on the restaurant business. As popular movies like Chef illustrate, starting your own business can be as simple as outfitting a beat-up old van. Natasha Case and her friend, Freya Estreller, took a similar path back in 2009 when they drove a retrofitted old postal van they bought on Craigslist to Indio, California, for the Coachella Valley Music and Arts Festival. It was there that they began selling ice cream sandwiches under their new brand: Coolhaus. Their cool desserts were a smash hit.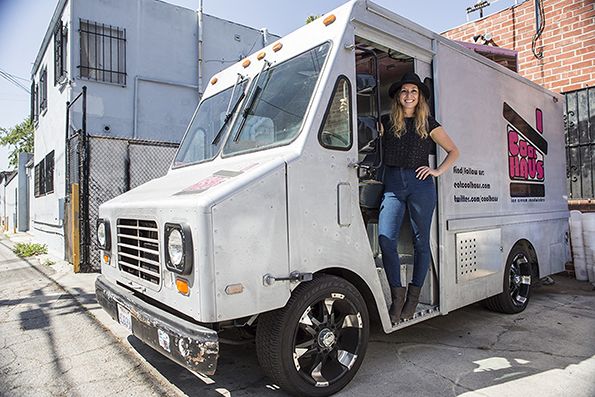 What made the "sammies" so popular wasn't just the delicious ice cream or the variety of great flavors mixed with such ingredients as pretzels and Nutella, it was that each item was named for a famous architect or architectural movement, like "IM Pei-Nut Butter" and "Mintimalism." The inspiration for the names came from Case, who gave up her career as an architect to use her design skills as an entrepreneur to lead the way in what she calls the "farchitecture," or food plus architecture, movement. Coolhaus has since expanded its product line—and its treat names—to include cookies, bars and pints of ice cream that are available in a dazzling array of flavors ranging from Cuban Cigar and Fried Chicken & Waffles to Gin & Tonic and Peking Duck.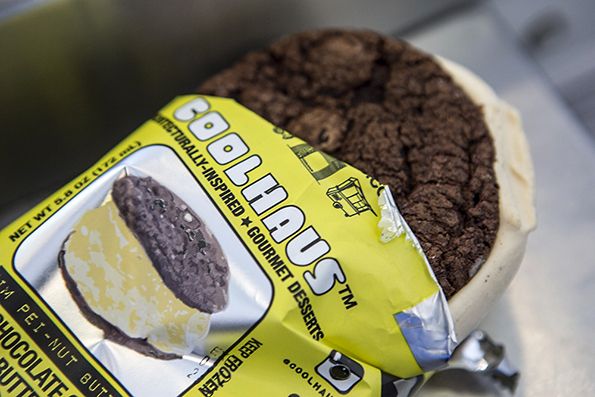 Case says her goal is to continue scaling up her company, which now employs 70 people and operates 11 trucks and two brick-and-mortar locations in four cities—Los Angeles, New York City, Dallas and Austin, Texas—to a global level. "We want everyone in the world to be able to get their hands on our ice cream sandwiches," Case says, noting that she and Estrella have also written a cookbook for customers who want to create their own sammies at home. "Our goal is to be our generation's Ben & Jerry's."
Read more articles on startups.
Photos: Scott Pearson Photography (2); Courtesy of Sixty Vocab (2); Jamie Kripke; Viet Nguyen for The Hundreds (3)