One of Melody McCloskey's top pet peeves is getting a bad haircut. In 2009, the San Francisco resident was on the receiving end of three styling disasters—each at upwards of $300 a pop—when she had an idea. "I thought there had to be a better way to connect with stylists. The process of booking an appointment is horrible," she says. "The salon might not pick up the phone, you might have to sneak into a conference room at work to even make the call and when you finally do get through, you get a random appointment with a random stylist."
Her frustration drove McCloskey to come up with StyleSeat, an online appointment management system for stylists ("Think of it as an OpenTable for the beauty industry," she says). The system launched to businesses in late 2010 and to consumers in May 2011, on the stage at TechCrunch Disrupt in New York City. Until then, the bootstrapped company was relying on a few key investors. "But after TechCrunch, we got phone calls from amazing executives at big companies asking how they could support us and work with us," she remembers. "We raised around $750,000 and brought on Ashton Kutcher and other investors."
Today McCloskey, her co-founder Dan Levine and 18 employees work out of a 1,700-square-foot apartment near downtown San Francisco. The company is doing incredibly well; more than $300 million in appointments have been booked on the StyleSeat system and 200,000 beauty professionals in 15,000 cities are taking advantage of the company's offerings, which give stylists their own website and access to a robust customer relationship management system.
OPEN Forum caught up with McCloskey to hear how she found her co-founder, how she decides what to pay herself and what women business owners should do if they want to succeed.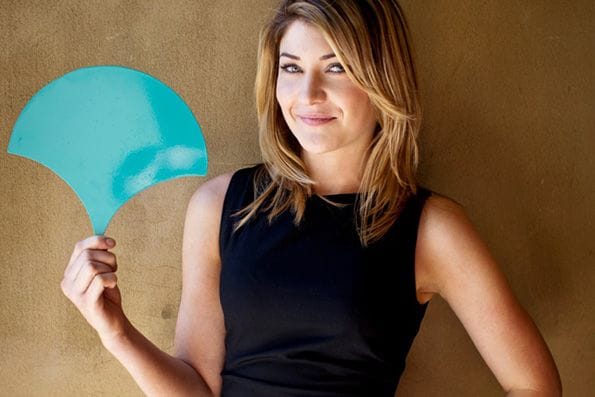 I love the idea for your company, because, like you, I've had many bad haircuts. Was the formation of this company a dream come true for you?
Absolutely. And it was something that I put off for too long. I thought of the idea way before I actually did anything about it. I think it was because I was so scared to fail. I grew up just outside San Francisco and was always interested in computers, but I remember going to a developer class in high school and being the only girl there. It was so awkward that I dropped the class and put the concept of starting a tech company out of my mind.
I then went to UC Davis for French and international relations and after college moved down to San Francisco to save money to move to Paris. I got a job in tech PR and hated it because I wanted to be on the product side—the founding side—of the companies I was publicizing. I came up with the idea for StyleSeat around that same time, but it took me years to get up the guts to do it.
 
Do you remember the moment that propelled you to go after your goal?
Yes. I was working at CurrentTV and I read a quote online that said something along the lines of "You'll regret the things you didn't do, not the things you do," and it changed everything for me. I quit my job in the fall of 2009 and didn't look back.
 
How did you find your co-founder, Dan Levine?
He worked with me at CurrentTV as a developer and was one of the most brilliant people I'd ever met. That, and ever since I'd known him he's had leopard print hair one week, hot pink hair the next. If there was anyone to start a beauty startup with, it was Dan.
Before I approached him, I posted an ad on Craigslist for a developer and found someone who was an early employee at Google that would develop my site for equity. After I already had a prototype, I met Dan at a cafe in San Francisco, and 30 seconds into the conversation he said yes to joining and being my co-founder, even though I couldn't pay him at the time.
I understand that you received early funding from Uber co-founders Garrett Camp and Travis Kalanick. They're your friends, but what was it like to approach other investors with your idea?
It was a nightmare; 90 percent of people told us off. Especially in the tech community, they said it was a crazy idea, that we would never be able to make money. The male investors did not understand how big of an industry beauty is. They'd say, "I see on paper that it is big (billions), but I just go to SuperCuts. What's the big deal?" It was really frustrating.
 
How did you manage to stay positive through the highs and lows?
I give a lot of credit to Dan; he is endlessly optimistic. I also surround myself with people like Garrett and Travis, who have a "make it work" kind of attitude. All of the crazy successful people I know positively channel their energy into making things work. Failure isn't an option for them. Because of that attitude, I have been able to ride out the ups and downs pretty well.
 
As a founder, how do you decide how much to pay yourself?
Dan and I pay ourselves enough to be fully invested. We needed to raise our salary after our latest round because we both had a bunch of debt—we maxed out our credit cards in the early days and had six figure loans to pay off. But it's funny; we've gotten to a point where most of the company makes more than we do and we are OK with that. If a person is awesome, they will change the game and that is totally worth it.
If you could go back to 2009, what advice would you give yourself?
To believe in myself more and to move faster. I remember being filled with a lot of doubt in the early days. It took me a while to do major things. I had a lot of fear in the first six months and needed validation. Talking with mentors really helped, but I wish I had truly believed from the first second because it could have saved me a lot of time.
What advice can you offer fellow female entrepreneurs?
Two things: First, talk to other founders and partner with mentors. Get a mentor, or several, who will not just help you, but are truly invested in your success. Second, be confident. Women can get really thoughtful and think through the details and get in their heads and lack confidence—turn all of that off. You are going to fail or succeed—know that going in. Live in the future; turn off insecure thoughts and lean in.  
Read more Q&As with top entrepreneurs.
Photos: Thinkstock, StyleSeat