It was during the winter of 2016 that Arun Sampanthavivat decided to sell his namesake restaurant, Arun's Thai Restaurant. Since 1985, he'd been running nearly every aspect of the fine-dining Thai restaurant, which serves food that might best be described as art. Beyond creating stunning presentations of the multi-course menu, Sampanthavivat and his brother, Anawat, carve carrots into intricate goldfish and tiny portable vegetable baskets, transform tomatoes into blooming flowers and paint plates to include the Mona Lisa, the Chicago skyline and other inspired images surrounding the food.
Sampanthavivat loved his work, but he knew the dining room at Arun's was looking dated, equipment needed replacing, and, at nearly 70 years old, he was tired. "Business was slowing down," he says. "I didn't pay much attention towards the end, because I knew the restaurant was not in a good situation to present to people. After 32 years, everything was getting run-down."
Arun Sampanthavivat, left, with his brother Anawat Sampanthavivat
It's sad to hear a renowned chef speak with such defeat. Arun's had become a Chicago institution. In the last three decades, Sampanthavivat, who had no formal training as a chef when he opened the restaurant, reached remarkable heights, winning a James Beard Award for Best Chef in the Midwest and earning the Five Diamond Award from AAA. Critics, both local and national, lavished him with praise. Sampanthavivat had toiled for decades to build that reputation, and he was disheartened to bid the business farewell. But he was also eager to have time to do the things he loved, like writing poetry.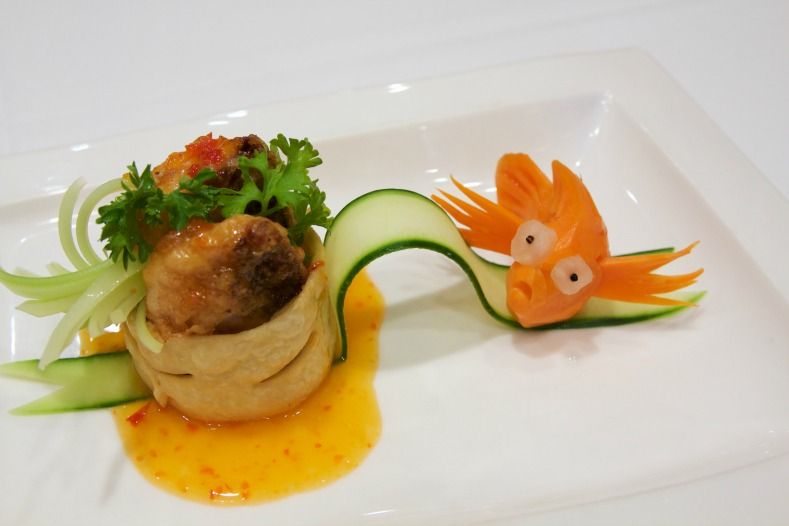 Arun's dishes are known for their decorative details.
After Sampanthavivat put the building up for sale, he got a call from Kittigron Lirtpanaruk, a New York-based investor best known for co-pioneering Americanized Thai food in the early 1990s with a group of casual Thai restaurants known as the Spice/SEA Group in New York, among other exploits. He'd met Sampanthavivat on a recent business trip to D.C., and, upon learning of the sale, was interested in becoming a partner in Arun's. The two talked and came to an agreement: Lirtpanaruk would invest and, with another partner, take over business operations, allowing Sampanthavivat to focus on the kitchen. To Sampanthavivat, that idea offered the best of both worlds. The chef could still retain creative control of the food, but he had partners who could support him in running the business.
Knowing someone is behind me, it's a good feeling.
—Arun Sampanthavivat, owner, Arun's Thai Restaurant
After closing briefly to remodel, Arun's reopened in early 2017, with a welcoming dining room lined with art—much of which was created by Sampanthavivat's brother—and a refreshed menu. Today, the chef himself could not be happier, and it shows in his energized and enthusiastic way of speaking about the business partnership. "Knowing someone is behind me, it's a good feeling," says Sampanthavivat.
While some of the staff remains still the same, Sampanthavivat worked with the partners to hire a number of new team members to work as servers and in the kitchen, finding them through ads placed in newspapers and online. The restaurant has about 25 employees.
The restaurant was remodeled before it reopened in early 2017.
The partners also hired a team to help with public relations and build a renewed excitement around Arun's. "We will be ambitious in PR," says Sampanthavivat. "I had not paid any attention before. I never had time." Perhaps because of the press he's received, the chef says he's regularly seeing new faces in his dining room.
And, for the first time in more than 25 years, Arun's increased its prices to $125 for a 10-course meal and $150 for 12 courses (in the past it was $85 for a seven-course prix fixe dinner). In addition to the tasting menus, Arun's is unveiling special menus each month that highlight the flavors and culture of Thailand. With all of those changes, Sampanthavivat says Arun's on track to make 30 to 35 percent more revenue this year.
Right now, Sampanthavivat says that he's still doing a lot of the same work he was doing before, as he trains the new partners to run the business and handle staffing and administrative duties. In time, his biggest hope for the restaurant is that revenue will continue growing at the current rate, with the partners running the bulk of the operation. To do that, he says, he's working to create standards so that everything runs smoothly—without him. "I have to work toward that end to make sure everything is predictable. Everything has to be a routine, a system," he says.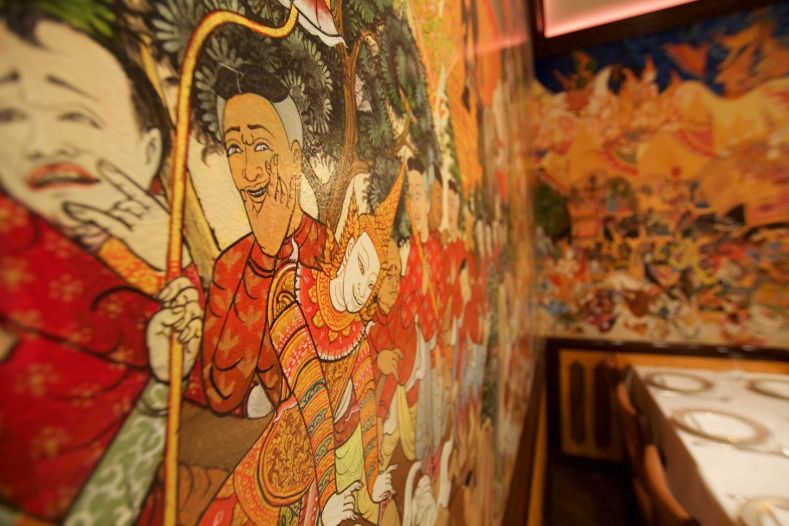 Much of the art in the dining room was created by Sampanthavivat's brother, Anawat.
When that happens, he'll be free to focus even more on menu items, such as the five-flower pork and the sweet curried lobster, and to transform carrots into even more whimsical creatures and paint even more intricate portraits on plates.
He may not be writing that book of poetry yet, but he's still creating art.
Photos: Lisa Lubin