The calls started coming in early October 2008. While there were some signs of an economic slowdown earlier in the year, Valerie Gordon and her team at Valerie Confections in L.A. were confident that the 2008 holiday season was going to be its best since the company's founding in mid-2004. 
"For the entire year prior, we'd been busy setting up large accounts," she remembers. "This was the moment our company was going to go to the next level."
The calls weren't all that alarming at first: projections were "changing," but orders were still going through. By November and December, through, the tune had changed—not what Gordon and her partner (in business and in life), Stan Weightman Jr., had wanted to hear, especially after taking out loans to hire more staff and increase efforts around packaging.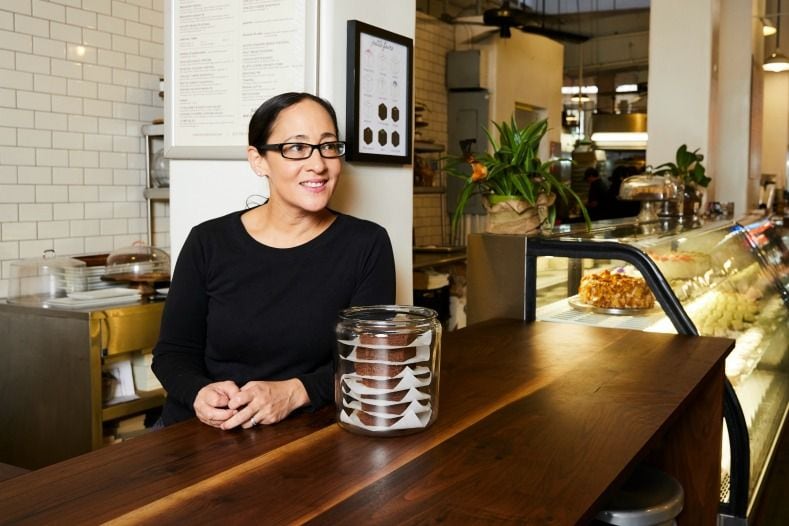 Valerie Confections CEO and creative director Valerie Gordon
But, still, they remained hopeful.
"If you look at the industries that survive through a recession, a lot of them are things that make you feel better, like alcohol," she says. "We thought chocolate would fall into that category, too."
By early 2009, fear had set in. While the business was based in L.A., most of its customers were New York City residents buying boxes of high-end chocolates. "It occurred to me that ordering $100 of product from L.A. was going to fall off people's budgets real quick," remembers Gordon.
Up until this point, Gordon and Weightman had been running a fairly small-scale operation focused on truffles and hand-dipped toffees. The pair, both armed with hefty restaurant management experience, met in 2000 when looking for theater jobs in L.A. and working day jobs in the dining industry. Gordon, a self-taught baker, would spend her free time making chocolates and other baked goods to gift for friends and family.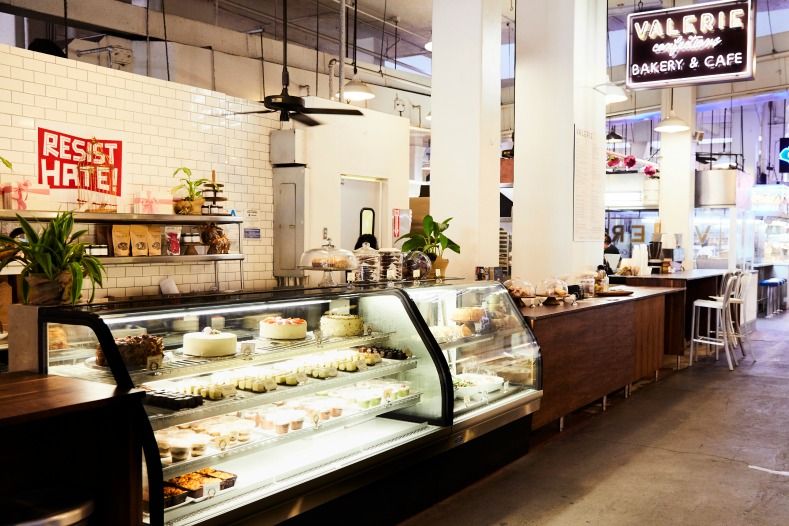 Valerie Confections' bakery and cafe in L.A.'s Grand Central Market
The pair enjoyed gifting holiday baked goods so elaborate friends would encourage them to start their own business. That opportunity presented itself in a roundabout way in 2004 when the restaurant Gordon was managing closed abruptly and she was in need of new employment.
The problem? Recent health-related issues now mandated her need for health insurance, but with a pre-existing condition, she was afraid of not getting coverage in a new job.
"I had two options: either declare myself permanently disabled or start my own thing," she says.
My struggle is passing on what I created with my own hands to my team. Trust is a tricky thing for every entrepreneur, but it is necessary to grow.
—Valerie Gordon, CEO and creative director, Valerie Confections
Within a few short months, she and Weightman launched Valerie Confections to rave reviews from local press. Accounts with gourmet food chains quickly materialized and soon the pair was operating a full-scale business in several markets, mostly focusing its efforts on shipping to faraway places like New York City.
Fast-forward to early 2009 and the pair knew that thanks to the economy, they had to make a change. "I went back to baking, we set up a farmer's market program, developed relationships with our neighbors, and our collection expanded exponentially," says Gordon.
Gordon learned how to make jams and marmalades and a robust line of baked goods—from scones and breads to cookies and various kinds of cakes. This farmer's market strategy helped the business almost immediately.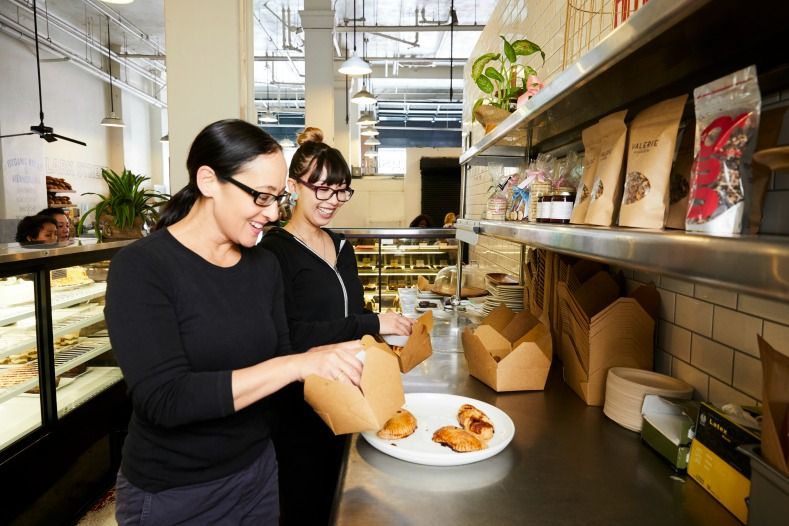 Gordon (left) puts together orders with Valerie Confections employee Maria Cole.
Around the same time, Gordon was approached by a writer at the LA Times magazine working on a story about wedding cakes. "She asked if I'd ever heard of the Blum's Coffee Crunch Cake; I said yes, that it was a cake I grew up with," she says. "She wrote the piece and included a tiny picture of my crunch cake. The following day I got 125 calls from people who said they hadn't seen that cake for 30 years."
The experience ignited Gordon's love for food history and inspired her to create a line of classic cakes and desserts that people hadn't tasted in decades. Her dedication also led to a book deal and the 2013 publication of Sweet.
The company's rose petal petits fours received a mention on the Food Network.
Now on the radar of dessert lovers all over L.A., celebrities started becoming fans of Valerie Confections. In December 2011, Valerie Confections' rose petal petits fours were featured on the Food Network show The Best Thing I Ever Ate. "The response was crazy," Gordon says.
So crazy, in fact, that Gordon and Weightman had to stop taking orders because they were beyond capacity. Add to that: Gordon was very pregnant with her second child.
"My baby was due on December 19th, I worked until the 23rd and she was born the 24th," she remembers with a laugh.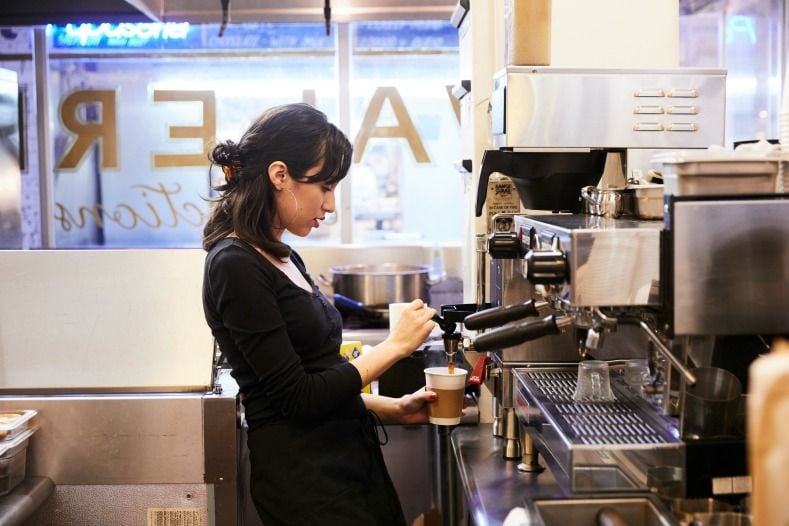 Valerie Confections employee Krystal Vasquez makes coffee for a customer.
The next few years included adding to Valerie Confections' original location with two more stand-alone cafes, plus a book tour.
These days, Gordon and Weightman have a 10-year-old son and a 5-year-old daughter, as well as a booming business.
How do they make it work?
"It always comes back to the same core things: role delineation and communication," she says. "Our roles have become much more clearly defined over the years; I'm the creative director and CEO and he's the managing partner."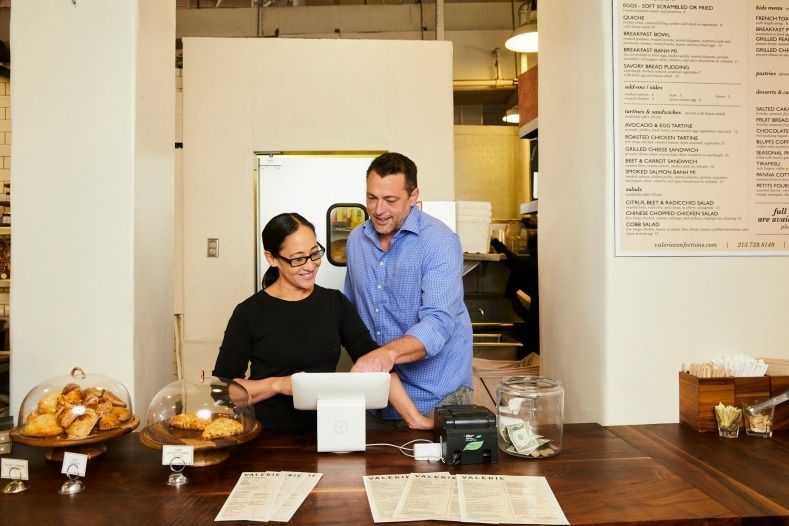 Gordon with Valerie Confections managing partner Stan Weightman Jr.
Work challenges today are quite different than back in 2004 when Gordon and Weightman were working out of their two-bedroom apartment. "Now I'm looking towards streamlining our business," says Gordon. "I'm working on media projects and doing a lot of TV, marketing work and food writing. Now my struggle is passing on what I created with my own hands to my team. Trust is a tricky thing for every entrepreneur, but it is necessary to grow."
Photos: Amanda Friedman