These days, there's a fair amount of cross-breeding between nonprofit organizations and for-profit businesses. Nonprofits are remaking themselves to be more payoff-focused, while for-profits are widening their scope to include more "feel good" business goals. At this time of year, when many companies are determining their annual charitable contributions, others are pulling together final reports for their triple bottom line—one that focuses on financial, social and environmental goals during the entire year.
This three-pronged focus seems to be paying off: Companies that prioritize a triple bottom line far outperform those that don't, according to research by Raj Sisodia, a marketing professor at Bentley University in Waltham, Massachusetts, and co-author with Whole Foods CEO John Mackey of the bestselling book Conscious Capitalism. Sisodia found that the 10-year return on investment for these firms was a staggering 1,025 percent, compared to a Standard & Poor's company average of just 122 percent.
Small businesses are joining this movement, with many adopting new business operating guidelines and registering under a new incorporation status that recognizes companies can make decisions based on more than financial gain for their shareholders. Like most new business strategies, these strategic changes are easier for nimble small businesses to execute than for hidebound, larger corporations.
Here we look at several small businesses that are in the forefront of doing well by doing good to discover why they made this choice and how it's paying off financially and in other ways, too.  
Profiting From Purpose
The easiest entry point into this new style of business is to simply practice it, without going through any additional certification. Running your own business allows you to shape it according to your personal ideals. Not surprisingly, there's a growing pile of material to help you put together a cohesive strategy.
Practitioners frequently cite Mackey and Sisodia's book as a pivotal document in helping them coalesce the vision for their own companies, and many have turned to a nonprofit organization of the same name for additional guidance. "Very often, companies are measuring financials, but the financials are the outcome," says Doug Levy, co-chairman of the board of the nonprofit Conscious Capitalism. "What conscious capitalism promotes is acknowledging the things that lead to that outcome."
The organization, which was co-founded by Sisodia, espouses four principles: higher purpose, stakeholder orientation, conscious leadership and conscious culture. "This isn't about donating; this is about core business strategy," Levy says. "It's a different mindset from what we've learned in business schools."  
For example, Levy tells the story of a real estate company the organization has worked with. Typical real estate companies simply measure financial outcomes, which is certainly important, but in addition, this company's CEO wanted to focus on the larger purpose of elevating her community. "So we measured other outcomes, like crime rate and graduation rate in the area," Levy says. "When they focused on those as well, their financials went through the roof. Employees became more engaged, and properties were designed with a bigger mindset."  
Dallas-based Studio Movie Grill is a chain of dinner/movie theaters scattered across the country. Founder Brian Schultz, who started the company in 1992, says he's practiced conscious capitalism from day one and was delighted to discover other like-minded entrepreneurs at a Conscious Capitalism conference put on by the nonprofit a few years ago.
"One of our challenges was to be philanthropic," Schultz says. "So how could we use our tools to create the largest wake possible? We used to just donate stuff, but as conscious capitalists, we decided there was a way multiple stakeholders could win." The company's five stakeholder groups are the Dallas community, theater guests, employees, vendors and investors.
"In the past, we might donate a film screening and make no money," Schultz says. "We would donate the event, the food, the facility and all the service, and the server staff wouldn't make tips and vendors wouldn't be selling any food products. We wanted to be good community stewards and help folks, but our servers and vendors would get the shaft." Instead, Schultz realized, "If you switch the paradigm a little bit, then everyone can win."
The company still hosts community film screenings during slower business hours, but because of key changes the company made, now everyone wins. For example, one popular event is a regular Saturday morning screening for special needs children with challenges like autism or Down syndrome, who often act out due to the intense lights and noise of a movie experience. Schultz partners with a local charity to sponsor free attendance for the children. The community benefits because there's support for all families to be involved in social events; customers win because families with special-needs children can enjoy a rare family outing; employees win because they earn wages and big tips on a previously slow workday; vendors win because they sell more product during the week; and investors win because the company is now making money on its charitable events.  
"It used to be either you were giving away money or not, donating or not," Schultz says. "But this allows us to make a huge impact, and it's integrated into all parts of the business."
Building a Benefit Corporation
If you're ready to step up your game, your state may offer you the opportunity to incorporate your business as a Benefit Corporation (B Corp) rather than a traditional LLC, S or C Corp. There are about 1,000 registered B Corps in the 27 states in which it is available. Another 12 states and Puerto Rico are considering proposed legislation to add this certification.
Registering as a B Corp allows you to focus not just on shareholder value but also on society and the environment. Although none of the companies we talked to had changed their incorporation status (saying they were already practicing what B Corp status preaches), all of them talked about the challenges of switching from a mindset of maximizing shareholder value to a more holistic management perspective.
For example, Steve Hall restructured his used car sales company this way in 2008. During the previous four years, his Dallas-based driverselect.com had grown to $60 million in annual revenue, but then the lending crisis hit the retail auto and finance industry hard, and Hall found himself rethinking his business model.
"I'd just turned 40," Hall says. "And I started to realize what was missing. It was too much focus on hitting ever-increasing revenue targets and not enough on relationships." So Hall identified four of his own core values that he wanted his revamped company to espouse: Be transparent, take ownership, learn to earn, and celebrate small successes.
"We lost people along the way," Hall admits. "We started hiring, promoting, recognizing and rewarding people based on our core values. A lot of the folks were like 'Yes, this is what we really want,' and they stayed. But a good portion said this isn't what they had signed up for. The culture weeded them out. That took three to four years."
Hall's non-employee stakeholders, and even his competitors, were also confused by the new rules of the game. For example, Hall's "be transparent" value means the company shares every bit of car history, pricing and loan information with both potential customers and lenders.
"Our competition tends to only show the best parts of the deal, so our deal looks higher," Hall says. "That means the customer may go elsewhere." And, Hall notes, lenders can take advantage of the information to charge higher rates or turn down some loans. As he points out, "We lose business every day."
Where the company wins (and Hall tracks the metrics to prove it) is in the long term, with stronger relationships overall with lenders, customers and employees. "Banks do preferred pricing for us, and we win on our long-term portfolio performing better," he says. With customers, Hall says that although five out of 10 may go shop at a competitor, many of those return to buy from Driver Select. Those who purchase are loyal, making so many referrals that Hall has cut his advertising budget by 70 percent since 2008.
"I'm not saying I'm not pursuing revenues, but that's not the only thing," Hall explains. "When I made it the only thing, it made it hard to stick to what's important for me."
B Corporation Certification from B Lab
When Beth Gillispie and her husband, Steve, bought a sign design and fabrication company in 2003 in Richmond, Virginia, it was as an experiment. Today, 11 years later, Acorn Sign Graphics has achieved one of the most thorough certifications available for conscious capitalists—B Corp status awarded by the nonprofit B Lab.
There are more than 1,000 certified B Corps in 36 countries and 121 industries. Many of those are small businesses because the certification process is actually easier for smaller firms, according to Katie Kerr, director of communications at B Lab.
"On the assessment, you have to score a minimum of 80 out of 200," Kerr says. "Then you have to change your corporate documents to meet our legal requirements, and that depends on your board, your team, voting, etc. Some companies have gone through in two weeks; others take months." Kerr says many sole proprietors have achieved this coveted status, including photographers, consultants and accountants.
Before they bought their sign business, Gillispie, who's the president and majority owner of Acorn, says her husband had been working as the CEO of a publicly held printing company. "He was getting more and more concerned about the ethos of Wall Street," she says, "that short-term, profit-driven mentality sort of eroding the soul of business."
Gillispie felt the same, and after a lot of discussion about which direction to take, she quit working as a management consultant, her husband retired, and the couple decided to see if they could build a business based on their beliefs. From the beginning, Gillispie says, "We paid a lot of attention to how we treated our workers and our governance and transparency, environmental responsibility and community. Those pieces were as important to us as making money."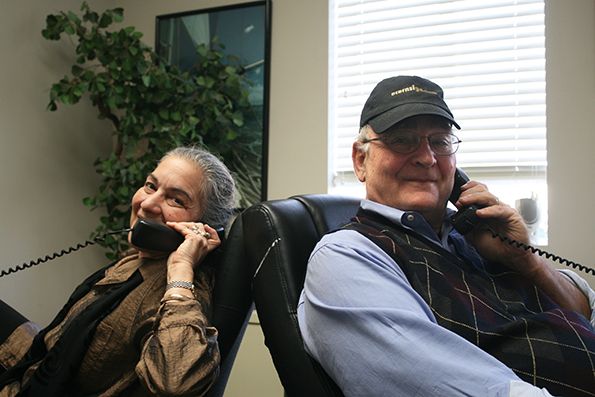 Beth & Steve Gillispie, owners of Acorn Sign Graphics 
About two years ago, a business contact who noticed Acorn's philosophy pointed them toward B Lab. Gillispie visited the organization's website and took B Lab's preliminary business assessment, which evaluated the company according to four factors: governance, workers, environmental and social impact. The results set Gillispie and her husband on the path toward B Corp certification. (B Corp certification lasts for two years, after which time companies must reapply.)
"If your assessment is above the minimum score, then you have a phone interview, like a Ph.D. oral exam," she says. "After that, some of our scores went up, and some went down as we were clearer about the meaning of the questions. Then we had to provide additional documentation, like showing our employee handbook and receipts from recycle pickup." B Lab charges on a sliding scale for the certification.
Gillispie was excited about the opportunity to benchmark her businesses against others traveling a similar path. "The opportunity for stretch is terrific because nobody scores high in all dimensions," Gillispie notes. "For example, we found we were strongest in environment but not as strong on the community side. As a learning tool, it got really exciting."
The B Lab certification also helps the company attract talented employees, Gillispie believes, and those employees are highly engaged, and bring more creativity and innovation to their work. Acorn also networks with other B Corps, sometimes doing business on more favorable terms.
"It's thrilling that we're starting to develop models and a language to think of business as this profound force for good," Gillispie says. "Nonprofits are working like crazy to solve all these world problems, but think what could happen if businesses think like nonprofits."
For those of us steeped in traditional B-school mentality, businesses and nonprofits are worlds apart. But for today's entrepreneurs, a business can actually make more money by acting more like a nonprofit. And who doesn't want happy employees, satisfied vendors, returning customers and a supportive community plus higher profits?
This new business hybrid is on the fast track for taking over both the business and nonprofit worlds, erasing the distinction as it makes the world a better place.
Read more articles on leadership.
Photo: iStockphoto, Acorn Sign Graphics