I had the honor of keynoting recently at the Imaginatik Innovation Leaders Forum at the New York Stock Exchange in New York City. But, I also had the privilege of hearing great innovation leaders speak from a diverse set of organizations including: Chubb, NYSE, Bombardier, Medco, and the General Services Administration (GSA).


When it comes to innovation, people are always talking about organizations like Apple and Google, but there are a lot of other organizations working hard to achieve innovation excellence.
Fighting for Innovation
Jon Bidwell, Chief Innovation Officer at Chubb, shared some interesting research from the Desai Group that found that 75 percent of successful innovation efforts came as the result of unplanned activities (either internal or external), and only 5 percent of innovation successes were the result of internal, planned innovation activities. This of course would lead you to believe that while diligently pursuing innovation is important, most successful innovations are going to bubble up outside your normal, formal new product development processes.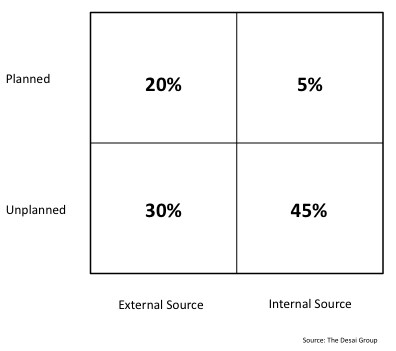 Insight to remember: You have to choose which fights to pick. We celebrate George Washington's victories, but at the same time, lesser known is that he was an expert at retreating. This allowed him to save his best army personnel for battles he thought he could win.

Want more on innovation? Check these out:
Government Innovation
Casey Burns, Senior Adviser to the Administrator of the GSA talked about the many innovations that have resulted from government efforts and how the government can spur innovation by:
1.  Doing big things no one else can do
2.  Creating incentives (regulations, standards, taxes, etc.)
He also talked about how incremental innovation and change is not a smooth curve, but instead a punctuated equilibrium – where most of the time people aren't actually doing anything new.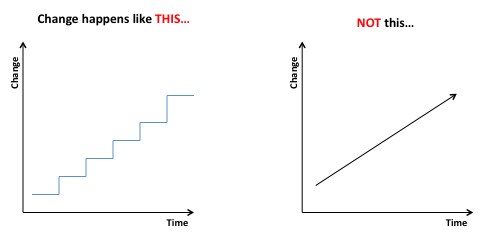 As a result, if you want to be disruptive according to Burns, you have to BE DISRUPTIVE, break the trend line, and get everyone involved and moved to the new.
A Spoonful of Sugar
Meanwhile, the folks at Medco are moving from CEO-led innovation to having a professional organization managing innovation. It was interesting though that the new group is not just focused on envisioning the future with some focus on commercialization, but also on imagining the future without constraints. This includes having people on staff to help with visual representation and prototyping. Dedicating resources to unconstrained imagination and visualization is a courageous move that not many organizations would make. Bravo!
Flying Higher
There was also a great story from Mike Hatrick and David Wooten of Bombardier about the early days of their formal innovation effort that I would love to share here, but I'll save it for my next article so I can go into more depth.
Driving Participation
And finally, Imaginatik referred to findings from their experience that 15 to 25 percent is a typical participation rate for people to compare against as they undertake formal innovation efforts. You get to this range by having about half of the invited people come to your innovation management tool, and about half of the people who come, actually end up participating. And ultimately, that participation is driven by:
Crystal clear communication of executive sponsorship and participation

Reward and recognition

Constant and sincere involvement 
Conclusion
Taken together, the report from the innovation front lines was that increasingly leaders are seeking to turn innovation into a deep capability of the organization. To do this, they are:
Establishing small dedicated teams to manage and improve the innovation process

Training employees to be innovators

Organizing teams of innovation champions to spread out across the organization

Continually probing the boundaries of what's possible

What about your organization?

Are you consciously pursuing 
innovation excellence
 in the same way you pursue operational excellence?