"The earhole has been conquered. Normal. Summer 2014."
For about three months, a sign with this verbiage was affixed to a makeshift shed blocking an under-construction building in New York City's Chelsea neighborhood, causing quite a bit of head scratching from people passing by. Inside, a secret team was furiously working to create something never before seen: a company focused on mobile commerce, 3D printing and customization but without the usual sticker shock that accompanies custom products.
The shed was removed on August 9, and a futuristic store/factory/workspace (complete with floor-to-ceiling windows, a la Apple locations) containing 10 3D printers was unveiled. Above the door in white neon letters was the word "Normal," the name of a company that creates made-to-order ear buds via 3D printing. Those curious about tech and retail streamed in that first day and haven't stopped streaming in since, touting the company's ability to revolutionize made-to-order earphones for the masses.
"There are companies that make custom earphones, but those usually cater to professionals in the music business," says Nikki Kaufman, Normal's founder and CEO. "And it's a process of going to an audiologist, getting a mold of your ear while clenching your jaw for 10 minutes, and paying a few thousand dollars."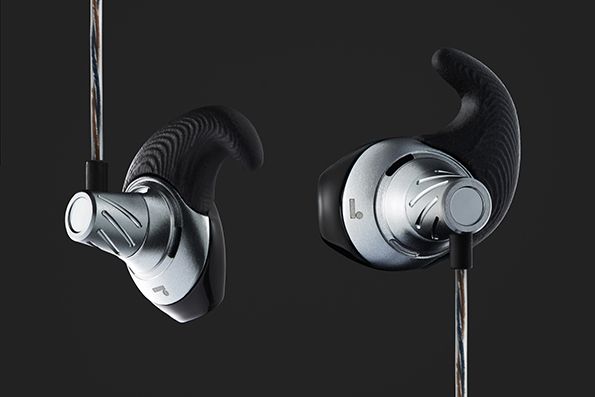 Normal's business model makes it easy for custom-headphone-loving shoppers. For $199, customers can download the Normal app, take photos of each of their ears, then send those photos to corporate headquarters. From there, Normal works its magic via 3D printing, then overnights each pair of specialized earphones. Customers usually receive their product within 48 hours of placing an order.
And if you think that's easy, it's even simpler for local New York City shoppers. They can just bop into Normal's physical location, place an order and watch their earphones being made right on front of them. (Note: The company started taking pre-orders on July 8.)
OPEN Forum recently talked with Kaufman, formerly of Quirky, about how she came up with the idea for Normal, what it was like to operate in stealth mode for nearly a year and the future she envisions for her company.
How did you get the idea for custom ear buds? Was it part of a Quirky project?
No, it wasn't from Quirky at all. I was a founding team member there, and the concept of that company is that people from around the world submit ideas for consumer-facing products and Quirky helps them come alive, often through 3D printing methods. The ideas always come from the community, not from inside Quirky.
Normal was an idea I came up with on my own in August 2013. The idea came from my frustration with having so many ill-fitting earphones. I would travel and buy crappy pairs at airports, but they would hurt my ears and fall out at the gym. I wanted a custom pair, but when I looked into it, the process was way too intense for me. So, being around 3D printing at Quirky, I thought there had to be a better way.
How did you come up with the photo/app idea?
At first, I did it with a mold that I had prototyped on a MakerBot [3D printer]. I remember it was August and my mother-in-law was over. I had a mold and tried it with her, and it was uncomfortable. Then I really thought about it and realized we could make the product off a photo. We needed an object for scale, so we decided to use a quarter [Note: The app asks consumers to hold a quarter next to their ear while taking a photo.]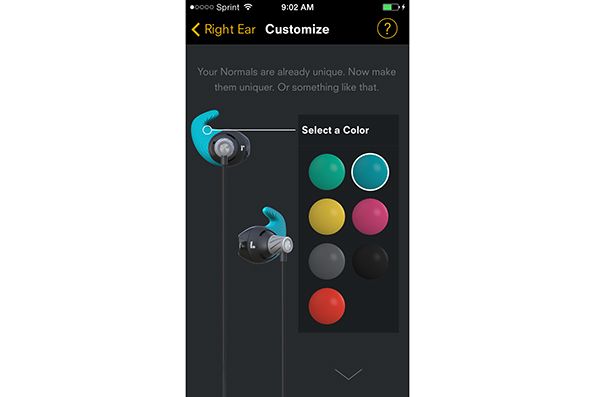 Did things just take off from there?
Yes, that's when things started happening. In October 2013, I went out and raised money. I just had a prototype at the time and could show that I could make this from a photo. Our first few investors were people who'd invested in Quirky, so they knew me and were big supporters of my abilities and ideas.
Normal was in stealth mode from October 2013 until July 2014—a long time. How did you keep things under wraps and out of the press?
I was really careful about not leaking anything to the media. Every time I would hire someone new, I would constantly remind them of how important it was to keep things secret. Especially in New York City, a lot of us have blogger friends or friends who know someone in the press, so we had to be really careful. Some people were required to sign non-disclosure agreements.
What's the story behind the name, Normal?
It was really easy coming up with a name. When people talk about their ears, they always say things like, "My ears are so weird, nothing fits." To us, ears aren't weird. There's no such thing as a normal ear because nothing is normal. So we came up with our slogan: "Normal: One Size Fits None."
So how are things going? Are orders pouring in?
I can't comment on exact numbers, but I will say that we're getting way more foot traffic and in-store orders than we ever thought we would, which has been a really cool thing. I think people are just excited to come in and watch their headphones being made.
 
How are you spreading the word? Do you have a strategic marketing plan?
Ha, no! We haven't started marketing at all. We're really excited to do that, but we wanted to launch and just get it out there first. We've been hidden for so long. Hopefully, you'll start to see us in local ads soon.
What's next for Normal? Do you plan to use 3D printers to make other types of products?
Right now, we're focused on being the best headphones brand we can be. I fully recognize that we could be larger than headphones, but we want to focus there for now. Right now, we ship in the U.S. We want to be shipping internationally by the holidays.
What have you learned in the past year as you went from being an employee at Quirky to running the show at Normal?
My role at Quirky was very HR-focused, so it's been interesting to wear the "people" hat at Normal as well as the CEO hat. I always want to do a lot of things, and I'm trying to figure out when to delegate and when to hire. I'm still learning.
Read more articles on business startups.
Photos: Courtesy of Normal