Small-business owners often have a defining moment or epiphany that helped their companies take off and thrive. For Sue Chen, CEO of NOVA Medical Products, a simple tube of toothpaste led to a decision in 1994 that would help shape her startup—and influence how it operates even today.
Chen was brushing her teeth when she noticed an 800 number listed on her tube of toothpaste. "I remember thinking, I can contact my toothpaste manufacturer, but the people who use my walkers and canes and crutches can't get a hold of me," she recalls. "As a B2B operation, I didn't even know them."
Chen became CEO of NOVA at age 23, when she was just barely out of college. She took over a struggling family business that had been started by her late father, a physician who worked in the rehabilitation field. An international studies major, she admittedly knew nothing about the medical products industry but was driven in part by her father's frustration with the standard-issue products available to his injured patients.
"He spent a lot of time with veterans who had lost limbs and had PTSD [Post-Traumatic Stress Disorder], and he really felt that the equipment they were using was not what they deserved and didn't function well," she said.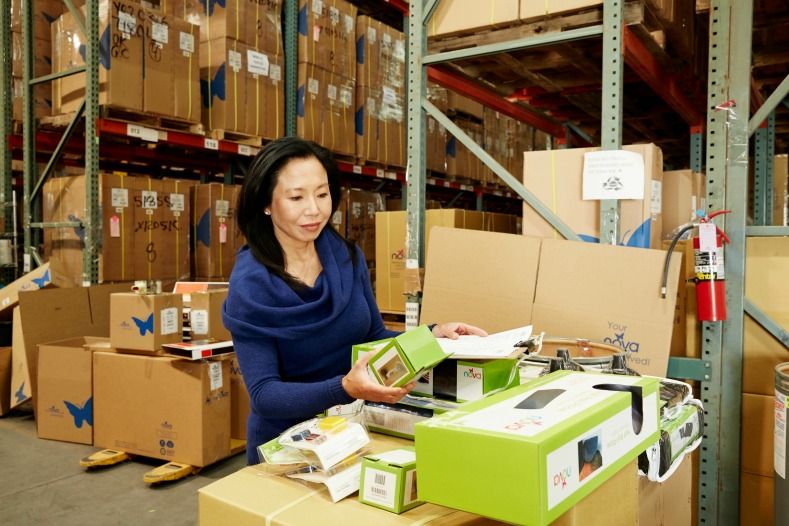 NOVA Medical Products CEO Sue Chen
So with an aim to see her father's vision through, Chen snapped up a proprietary 800 number and made sure it was visible on all NOVA products—and the calls from customers started pouring in.
"It felt like a long-lost cousin calling," she says. "They would ask questions and make suggestions and say how much [the product] helped them."
Her customers' suggestions and comments inspired Chen to challenge the industry's often-sterile image—and the stereotypical picture of a gray walker with tennis balls stuck to its heels. She began tweaking NOVA's products in fun and unique ways, adding standout colors like glossy purple and sky blue and accessories like cup holders, leopard-skin seat cushions and walker "skis" to glide over bumps and replace those ubiquitous tennis balls.
After requests from customers, NOVA began manufacturing medical products with a fun look.
"It's not one size fits all," she explains. "If you're five-foot-one and you like pink, you can get a petite walker in hot pink." She also started inviting customers to come into NOVA's Southern California offices to get their walkers adjusted for fit, just as one would take a bicycle or car to a specialist for a tuneup.
"What [those calls and visits] said to us was that we are a B2B, but we serve the customer and we had better understand what that customer wants," Chen says. "Every color and design has been completely inspired by them."
A dynamic grandmother who came in to get her rolling walker tuned up, for instance, led NOVA to add a fiery red color option to its lineup because "it suited her personality," Chen says. A tween with a degenerative muscle disease wished for a zipper-pull key ring to open and close her mobility bags—"and she told us she would like one in leopard, please, and one in pink and could we add a pocket here." A double amputee with PTSD who couldn't access the serial number on his wheelchair taught Chen a painful but insightful lesson in the daily fears and challenges her customers face.
I don't envision more products, I envision more customers. I have to get people to know that they deserve better and it's out there. That's my biggest challenge.
—Sue Chen, CEO, NOVA Medical Products
Chen, who was born in Taiwan and raised in Davie, Florida, didn't aspire to be an entrepreneur as a young girl. But soon after she graduated from college, her grandfather and uncles approached her about taking over the U.S. distribution arm of the medical-products business they had started with her father, who passed away in 1984.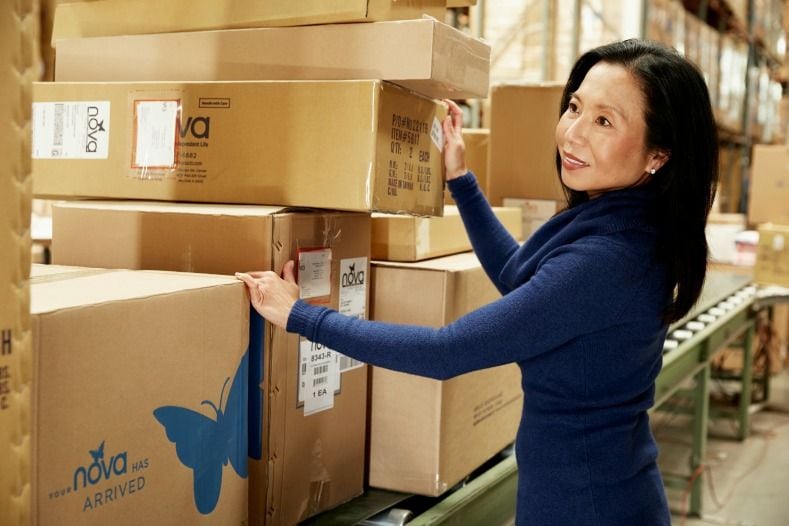 Chen became CEO of NOVA when she was just 23.
"They gave me the initial capital of $250,000 in cash and $245,000 in inventory to get me going. They also gave me a timeline of six months to be self-sufficient," she says. 
She met their challenge, but it wasn't easy. Her credit card and an extra infusion of cash from one of her aunts (in exchange for company shares) helped her get cash flow under control. She also introduced a sleek "turbo" version of a walker to NOVA's inventory, and donated 100 of them to the physical therapy departments of local hospitals to spark interest.
"We created the demand one walker at a time," she says.
In its first year in business, NOVA took in about $74,000 in revenue, she says. "The next year we almost quadrupled that," says Chen. "And now there are days we ship twice as much as what we once did all year."
While NOVA's online retail presence on Amazon and other sites has grown to make up about 20 percent of its business, the majority of its clients are still independent medical supply stores and pharmacies. The difference from a decade ago, Chen says, is that many of these specialty shops have evolved into boutiques that cater to individual tastes, thanks in part to expanded options that became available to patients through the Medicare Modernization Act of 2003.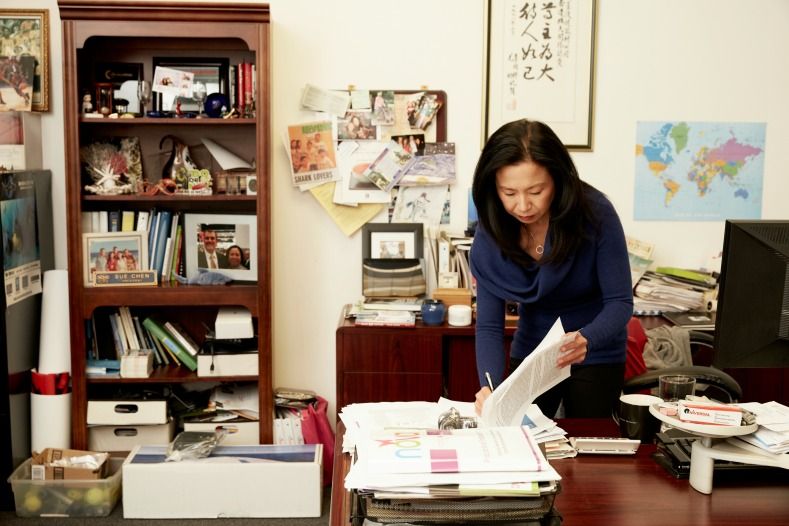 Chen now oversees a staff of 80.
"They're still mom-and-pop stores, but now they take cash and credit cards and they've opened up their blinds," she says. "We create retail solutions for our dealers now. We want to build little mini-NOVA stores all over the place, so you feel like you're walking into this beautiful shopping experience."
NOVA now has 80 employees and operates out of a 160,000-square-foot facility south of Los Angeles. It opened a second distribution center in Chicago in 2005, with the help of a credit line and savings Chen had squirreled away over the years.
"I didn't have the belief that if you made it, you had to spend it right away," she says. "For a long time, that account could not be touched, and we used some of it to help us expand to Chicago."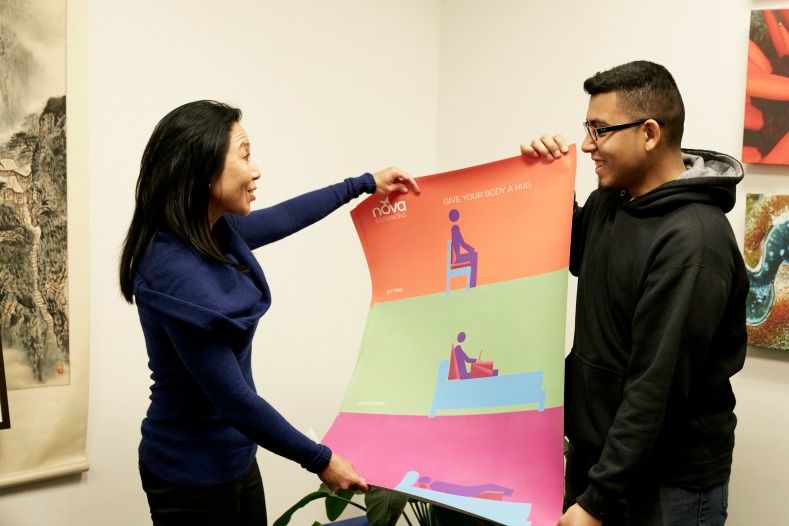 Chen with NOVA employee Elvis Rodriguez.
Chen takes a similarly pragmatic approach to NOVA's growth outlook. "We want to grow on our own terms," she says. "I don't envision more products, I envision more customers. I have to get people to know that they deserve better and it's out there. That's my biggest challenge."
The company, she says, has grown over 30 percent in revenue in the last four years at an annual rate of 5 to 6 percent. "My hope in the next few years is double-digit revenue growth of 12 to 15 percent with a strong bottom line, and we're positioned to do that. The ship has been built."
In other words, expect to see more style (and fewer tennis balls) in an industry that was once widely associated with monochromatic gray metal.
"My goal is world domination," Chen adds with a smile. "Meaning: We change the way that being physically challenged and getting older looks and feels in America."
Photos: Amanda Friedman