There's something reassuringly wacky about oddball business combinations. The pet shop that also sells bait, the video store/tanning salon and the antiques dealer with a sideline in computers all seem to be saying that there's room in business for whimsy, if not outright randomness.
Unfortunately, however, they also seem to be saying that there's nothing necessarily magic or possibly even helpful about combining two seemingly unrelated businesses. That's because all the examples of odd business combinations noted above are now apparently out of business, with inactive websites and unanswered telephones.
If wacky business combos don't unfailingly inoculate entrepreneurs against failure, however, they also don't inevitably produce failure. Great American Video & Espresso in Milwaukie, Oregon, has not only survived the rise and fall of the retail video rental business over a 31-year span, but it's even prospered. And owner Kent McCarty says much of his business's longevity can be traced to his decision to start selling espresso in 1996.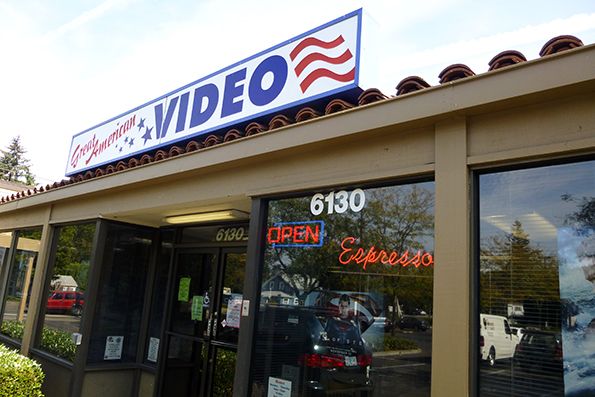 "I knew we'd make money at it," McCarty says of the small espresso bar he added to his video rental operation. "I had no clue that about three years in, my coffee revenues would surpass video." It really picked up, he adds, when he added drive-through coffee service.
At one point, McCarty says, 70 percent of the company's sales were coming from the coffee business. But as other video stores have closed, video rentals have picked up, so coffee's relative importance has slackened. But McCarty says what's keeping his 4,000-square-foot operation going is the combination. "Neither business could survive entirely on its own in the footprint we're in," he notes.
Two Heads Are Better Than One
McCarty's hybrid isn't the only odd business couple making a go of it. The Wash House, a New York City-based combination cafe-bar and laundromat, has basked in positive reviews from a wide variety of media outlets since opening in 2013. Shop 'N Cart Car and Dog Wash has been serving customers in Sioux Falls, South Dakota, with auto detailing and self-service pet bathing for about that long as well.
Many combos that are commonplace today have qualities that make the couplings a little less obvious than, say, a coffee shop that also sells baked goods, says Iowa State University management professor David King, whose research focuses on firms that combine complementary resources such as research and development with marketing. For instance, King points to the ubiquitous roadside businesses that pump gas, serve up fast food and peddle convenience store items. These businesses share few operational similarities, but they're present today everywhere in combination. That's because they make sense for customers, King says.
"I think the basis of business combinations is understanding your customer," King notes. Customers stopping on the highway are looking to get fuel, a meal and perhaps some groceries, snacks or other convenience items before heading back to the road—a single business that offers all three offers a convenient way to get it all done at one stop. Other combos, such as a co-located barbeque-and-ice-cream store King once patronized regularly in Ohio, aren't as obviously connected. There, he speculates, the appeal is to people "deciding to splurge on the old diet and doubling down."
Whether obvious or obscure, combinations make it or break it based on how well they maximize the operational and marketing advantages of the mixed businesses. "The primary advantage is co-location or increased sales from having customers in the same location," King says. A bar-cafe combined with a laundry, for instance, gives patrons activities to occupy themselves with while washing and drying without leaving the site, which lets the business capture sales from both activities. A dog-and-car wash works the same way, he adds, while also benefiting from economies of scale by sharing cleaning equipment, water and soap.
Disadvantages can arise, however, when customer needs don't interlock and the operational benefits of a co-location are weaker or absent, King says. "Not everyone who does laundry wants to drink, and the times a laundry will be open will likely be longer, starting earlier in the day, than a bar," he says. "Also, one business may drive more customers and more of the benefit or have a higher profit, and that could lead to conflict."
Long-Term Planning
Video rental and espresso may be a less obviously complementary combination than a lot of business couples. After all, there's no obvious reason why film fans would want an espresso before settling down to watch a rented movie. That doesn't bother McCarty, though. He just knows Great American Video & Espresso needs both in order to prosper. And, given that the business has been around since before video stores were seemingly on every corner and is still around now that they've almost nearly disappeared, it's hard to argue with either McCarty's approach or his results.
For the future, McCarty is planning to make the combination still more complex by adding ice cream to the mix. Here, he says, his motivation is also mixed. For one, he sees the video rental industry continuing to decline and feels he needs something to replace it if his business is to survive. For another, he's just being whimsical.
"I like the fun business," McCarty says. "I started working in the video store at 17 years old. I watched movies and played video games for work." Coffee and ice cream, he says, are also fun, so they're going into the mix. Hamburgers and french fries, two things others have suggested he add, are not fun, however, McCarty adds. As he says, "It's brutal to run a restaurant."
For now, coffee and video are keeping McCarty's business busy enough. Later, he may have to depend on coffee and ice cream, either alone or with something else, to keep the business profitable. But whatever these and other unusual combo businesses decide to mash up and put up for sale, King says, they have a chance to succeed as long as they keep the customer in mind.
"The number-one rule," King says, "is to understand your customers and the things they need."
Read more articles on business startups.
Photos: iStockphoto; Courtesy of Great American Video & Espresso