A surge in sales, traffic or any other metric of success may require you to invest more in your small business. This may mean hiring more employees and, as your existing office space gets pushed to its limits, getting more space.
But office space often requires as much strategic thinking as getting your company to a growth and expansion stage. We spoke to a number of experts and business owners to discuss what every high-growth business owner should know about office design.
1. Know the Game
It may be hard to imagine, but looking for a commercial space may be even more taxing than searching for a home. A different set of concerns and real estate lingo come with leasing an office, according to John Roa, CEO and founder of ÄKTA, a user experience design consultancy based in Chicago.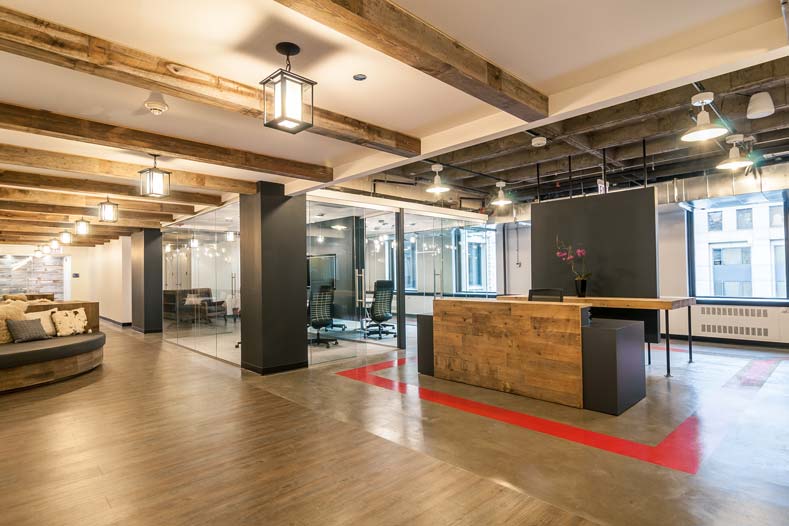 An inside look at the reception area of ÄKTA's office, just one area of their varied office space.
"When you go on your first tour, it kind of sounds like you're hearing a different language with the way brokers or owners talk about a space," Roa explains, "so you have to become an expert really quickly on all the terms." 
For example, some brokers may take creative license with site descriptions. "They'll say a space is 20,000 square feet," Roa continues. "It may very well be from a physical standpoint, but because of mechanicals and elevators and bathrooms, the usable space might only be 14,000 [square feet]. You really have to understand all that to ask the right questions."
If you build a space that is reflective of the culture of your organization, it will naturally attract those who should be there and keep everyone else out.
—Alex Charfen, co-founder and CEO of CHARFEN
2. Be Realistic About Costs and Timelines
"It's safe to say when you're moving a business, it's somewhere around $7 to $10 a square foot," says Alex Charfen, co-founder and CEO of CHARFEN, a training, education and consulting firm for entrepreneurs. "If you're estimating less, you're probably underestimating."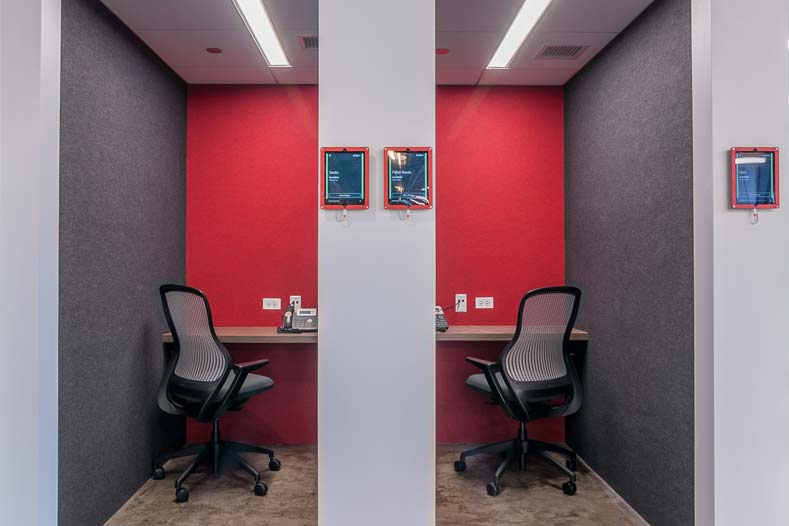 Phone booths at ÄKTA's offices offer privacy.
Roa agrees. "If you're going to do a build out, really understand how difficult that is and how much that costs. And know that most build outs will be 20 to 50 percent more than they were supposed to be in the beginning, and will take longer [than they say]. They're astronomically difficult to get right, and to do on time and on budget, so you need a lot of processes and negotiating rigor to get that right."
3. Know How You'll Use and Grow Within the Space
Once you've got a working fluency in commercial real estate and have established a working budget and timeline, you might consider how you'll be using your new office space.
Your answers may help inform what types of design features you should incorporate into the space to make sure those goals are realized, and may determine how you'll negotiate your lease. Roa's space is comfortable for his 60 employees, but his firm negotiated terms that will allow them to expand and build out onto other floors in their historic landmark office building when the time comes.
The waiting area at ÄKTA.
Consider including your employees in discussions around what a new office space should look like to help create a space that works for the entire team.
"It was important for us to get our employees' input on the environment they spend eight to 10 hours a day in," says Carol Keogh, CEO of ESI Ergonomic Solutions, based in Mesa, Arizona. Those conversations led to an office redesign that prioritized health, facilitated communication between different departments and worked for members of the intergenerational team.
4. Consider Retrofitting
If it doesn't make sense to move into an entirely new space, consider retrofitting your existing office to meet your new needs. "Configure some of the existing furniture and storage areas [to] creatively make use of spaces that are underutilized or too large for the way it operates now," advises Lloyd Rosenberg, AIA, president and CEO of DMR Architects in Hasbrouck Heights, New Jersey.
5. Build in Flexibility and Movement
"When designing for a fast-growing business, flexibility is our number-one priority," says Sabrina Ahern, associate AIA of Leo A Daly, an international architecture, planning, engineering and interior design firm. "Flexible workstations are easy to move, combine and change as the business's needs change."
"All our desks are IKEA modular desks," says Charfen of CHARFEN. "Rather than go out and buy a ton of cubes, we've found it's less expensive to have a handyman build really cheap walls where we need them."
"Demountable walls are becoming better and more popular," Ahern agrees. "They're more pricey, but they make it easy to change the layout of a space to accommodate new needs."
Consider allowing freedom of movement for your workers. Standing desks and different pathways to move around the office may be important and appreciated features in today's offices.
"In growing companies, you can work in a building with 15 people, [but] the primary mode of communication is email and the team spends most of the day at their desk," Charfen says. "[But sometimes] you have to get up, move around, come back and reset."
"Provide employees with flexible, adaptable work tools that they can adjust to their body type and their individual needs," says Keogh of ESI Ergonomic Solutions. "For example, monitor arms [that] allow employees to position their monitors at the most desirable height and viewing distance."
"Movement equals good health," she continues. "Good health equals happy employees, happy employees are productive employees, and productive employees equal profits."
6. Create Spaces for All Types of Work
It may be one of the unavoidable parts of working in a growing office: Once there's no place for privacy, it may begin to feel as if there isn't a place to do your work. Making sure there are a number of different spaces for different types of work, meetings or rest that can be booked with an easy-to-use (and impossible to double-book) system, may help. 
"We built out 18 bookable spaces that range from very small rooms for one to two people to very large, executive-style conferencing rooms," Roa says. "Every single room is designed differently; we put a lot of care into looking at the different ways people work and building out every variation of meeting space for them. Every room has a different aesthetic, different furniture, different heights of furniture, different ways that you sit, different phone systems. Some have whiteboards, some are all glass, some are caged in, some are private, some are open."
ÄKTA's atrium and glass-enclosed meeting room.
If you've created an open layout, consider also creating space for peace and quiet.
"Good quality carpet and finishes on the stations and ceilings reduces the noise factor" inside an office as well, according to Rosenberg of DMR Architects.
7. Incorporate Technology
Consider issues beyond laptops and charging stations. Take ÄKTA, for example.
"Every single room except one that we've deemed as an unbookable quiet room has beacons installed so we can get location proximity data on people," Roa says. "Not to police or to [be] Big Brother, but to create interesting interactions where rooms and meetings are booked automatically. We can locate people if they're needed in a space. If a big group is still working at 6 p.m., we can automatically order them a beer and pizza."
These types of tech implementations may help create a hyper-connected office and encourage interactions that may lead to new discoveries and innovations that benefit your company.
8. Mesh Company Culture With Design
Your office may act as a calling card for what your company stands for, and may be a visual reminder of your mission for your team—and future team members.
"If you build a space that is reflective of the culture of your organization, it will naturally attract those who should be there and keep everyone else out," Charfen says. "Creating a good office space is definitely something that supports a culture, but when you create the culture first, your people fill the office space."
For more tips on building a strong company culture, access our exclusive guide by author and leadership expert Jon Gordon: Build a Winning Organizational Culture.
Read more articles on company culture.
A version of this article was originally published on September 12, 2015.
Photos: iStock; Nick McDonald, ÄKTA