Imagine this scenario: Two of your employees are acting extra-friendly toward each other, stopping by each others' desks at random times, arriving and leaving together…and you're suspicious. Needless to say, you have a situation on your hands.
Office romance is incredibly common in today's work-obsessed society (see graphic below). Almost everyone is working more than 40 hours per week, which means almost everyone is spending more time with co-workers than, well, anyone else.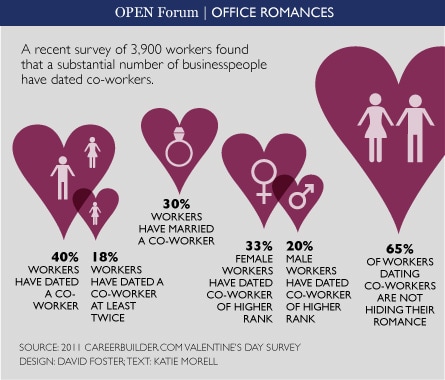 You may wonder what all the fuss is about. After all, your employees are adults and can take care of themselves. Who cares if two of them are spending time together after hours? What's the big deal?
Turns out, office romances are a big deal.
"They can have a huge impact on businesses of any size, but especially small businesses," says Tom Armour, founder of High Return Selection, an HR consultancy in Toronto. "These situations can lead to conflicts of interest and even potential litigation down the road should the relationship fall apart."
Then there's the issue of loyalty. Chances are each member of the couple is sympathetic to the others' situation. If you're unhappy with one and decide to let them go, there is a danger that the other may leave as well, Armour says. "It can really negate your ability to manage employee performance," he says.
These partnerships can also have a negative impact on fellow workers, making them feel uncomfortable in a professional environment, especially when managers are dating subordinates.
So what is a small business owner to do?
1. Establish a fraternization policy
Although it may seem extreme, consider instituting a policy against romantic relationships of any kind at the office. This will not only establish your standing on the topic, but will also provide legal protection should something go awry later. Make sure to communicate this policy to everyone in the organization.
"I recommend creating a policy that states under no condition should employees date each other," says Paul A. Falzone, CEO of elove.com, a dating service.
2. Confront the situation
Now it's time to talk to those involved—as awkward as it may be.
"Sit down, look into their eyes, and tell them you've heard rumors; ask if they are true," Falzone suggests. "It is really important to confront them—a good manager should know. Don't look the other way.
"Then explain the ramifications, i.e. possible termination. From there, make sure to note it in their personnel file. It will protect the company later."
Office romances are not always innocent either. In this case, swift action is necessary.
"If a superior is taking advantage of a subordinate, you really need to crack down," Armour says. "At the end of the day, a company is responsible for its people and that is where you get into harassment suits. I strongly advise companies to have a zero-tolerance policy for people fooling around."
3. Separate
Regardless of whether you are dealing with employees in a fling or a serious relationship, it is important to separate the couple at work. This can be difficult in a small business environment, but is still worth a try.
"The ideal situation is to keep both of them employed, but move them away from each other," Armour says. "For example, you can't have one influencing the performance review of the other."
4. Document everything
"It's a good idea to ask the two people involved to document it," Armour says. "Have them write down how they got into the relationship, what their intentions are, and how they will manage their workplace responsibilities. This will be a useful document should the romance fall apart and one member claims harassment."