There's a lot of talk about Corporate Culture lately. Or perhaps since I'm starting to read about it, that makes it seem like it's everywhere. 
Be it a trend, or a self-manifested trend, it's something every business needs to pay attention to as soon it grows to more than two or three people. Thus "Corporate" Culture may not even be the best term to use. While the alliteration is nice, perhaps Business Culture, Work Culture or Emotional Environment would be more apt.
Leaving behind office politics is probably part of the joy of having a small business and being your own boss. But as a small business, you reach a point where you have to bridge the gap between where you are and that larger team you need to have -- while both mitigating potential drama/tension and creating a space to nurture growth of the genius of your coworkers!
Kevin Kelly's recent post, Don't Mistake a clear view for a short distance, has a diagram that shows how I view this process beautifully: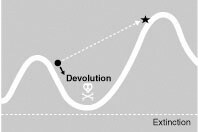 As he states, "Enduring a period of less than optimal fitness is doubly difficult when a very clear image of the new perfection is in plain sight." And this couldn't be more true than when transitioning from a single-person business to a small startup to a large company. Accepting that some things have to be sacrificed momentarily or de-prioritized in order to get through the valley to the next major peak is natural when you are looking at the big picture -- but far harder when you imagine yourself staring down the first cliff.
I think NOTCOT is currently somewhere a little past the skull in the diagram today... and it hasn't been easy! I've been lucky enough to watch enough other companies I've known and loved attempt the leap across from the circle to the star (Yes, I imagine them more like catapulting from peak to peak ... with a few casualties falling off along the way). Hiring isn't about finding the right person for the job. Well it is, but that isn't even the half of it! Making sure the people you bring on are aligned philosophically with the company's goals, and more importantly, the work ethic, pacing, working style of the others in the company is critical! 
Great people in the wrong situation will make an even worse situation and actually pull your existing high performers down quickly! Don't mistake great work progress for high morale amongst the team. The work happening is great in the short term, but the morale will help your team survive any valleys you may run into.
For NOTCOT, we've been carefully curating the members of our team as closely as we curate content. We have a team of inspired, passionate self-starters -- each independent enough to be trusted to handle their day-to-day tasks. They live their lives (all in different time zones across the globe!) on their own schedules and balance their own special pet projects on the side. As long as what needs to get done, gets done... no need to micromanage! 
Everyone involved in NOTCOT prioritizes the quality of our lifestyles and the freedom to travel, shop, explore as needed greatly! So long as our work fits in with the needs of our lives, we're happy. Of course, curating our little group, has been no easy task, and our ability to get along both professionally and personally -- always hopping between those two sides -- has taken time to get right. In our world, there should be no difference between life and work. Both should be a harmonious balance of fun, amusement, inspiration, and passion -- with an understanding that sometimes we have to do a bit of the things we don't love to keep things going while making sure that never takes over our lives! I believe great business is built on great people -- combined with inspiration, passion, and a shared vision.
An inspiring side note: Joie De Vivre Hotelier, Chip Conely's TED talk on Measuring what makes life worthwhile ~ talks about Maslow's Hierarchy of Needs often. Where does your company fall in helping bring the individuals within up to the top of the pyramid?