It was a little more than four years ago when Grace Kraaijvanger decided to open The Hivery, a co-working space in Sausalito, California, specifically designed to empower women. A longtime independent marketing executive, the idea had been developing in her mind for more than 15 years out of her own need for a physical space dedicated to elevating the voices of women and helping them create their best work.
But not everyone, it seemed, initially understood the idea.
"I remember going to a cocktail party and getting into a conversation with a guy who said I should just launch an online platform—that brick and mortar was dead," she says. "I told him that I was part of many online communities and still not getting the fuel I need—the fuel that could only come from in-person interactions. I really pushed back on him, and that was just before we opened."
Turns out, Kraaijvanger's hunch was spot on. In February 2014, she launched The Hivery with just a few founding members. Within months, membership outgrew her Sausalito location and she moved into a larger space—a former dance studio in Mill Valley, a town a few miles north.
And while there was some confusion over a co-working space being women-focused, the idea caught on quickly.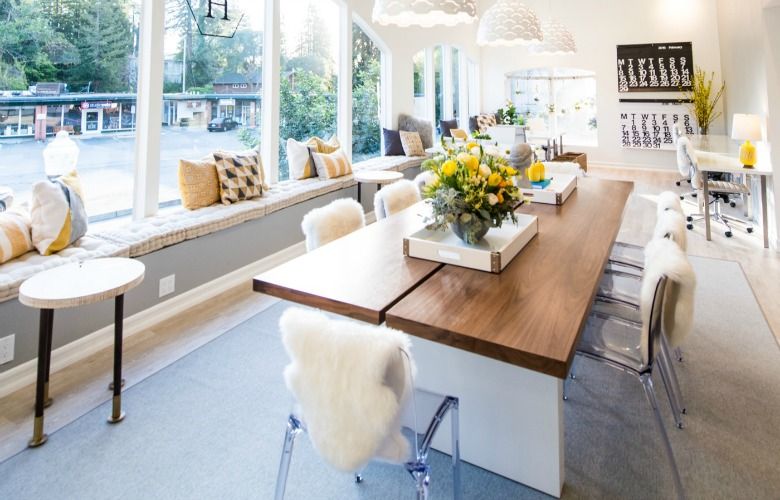 The Hivery
"About a year in, I started getting a deluge of emails asking me to bring The Hivery to this town and that town, and from people who wanted to open similar spaces," she says. "I started seeing other spaces open up, spaces with different voices, different tones, but all with the same female-centric focus."
This trend [of women's co-working spaces] is pointing to the importance of us not being an afterthought, it stands for the importance of women needing a space that allows us to be our best selves and do our best work.
—Jessie Kibbe, co-founder, Ladies Room Chicago
Today, many metropolitan cities now have a co-working space designed for women—often more than one. Some of these are explicitly women-only—such as The Wing, a VC-backed "social club for women" that launched in New York City—and others which welcome all genders, but focus on raising the voices of women. (The Hivery falls into this category, as does The Riveter, a Seattle-based space with a location in Los Angeles.)
But regardless of if spaces are exclusive to persons identifying as women or not, it seems like the concept is widely resonating.
"Culturally, we are looking more than ever at biases against women and realizing the importance of women having their own spaces," says Karen Hawkins, co-founder of Ladies Room Chicago, a space located in the city's River North neighborhood that opened in fall 2017. "I think it is the perfect storm: the co-working trend is growing and now we are realizing that it is great idea to create a completely new business model that has women in mind from the very beginning."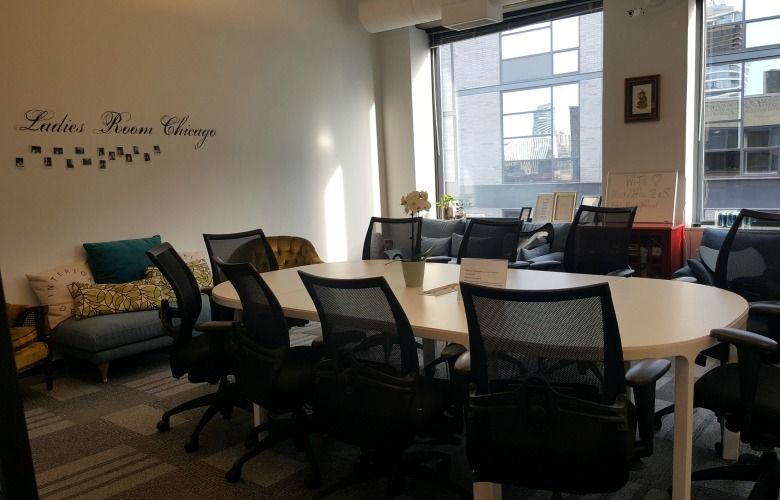 Ladies Room Chicago
Jessie Kibbe, Hawkins' co-founder, agrees.
"There is an idea that women work differently and relate to co-workers differently, so it makes sense that we'd want to have a different working environment," she says. "This trend is pointing to the importance of us not being an afterthought, it stands for the importance of women needing a space that allows us to be our best selves and do our best work."
Part of enabling women to do their best work, it seems, is the concept of intentional community building. For many women-focused spaces, this concept goes far beyond organic water cooler conversations to carefully curated programming. Ladies Room Chicago hosts "Feminist Freelancer Co-Working & Cocktails" once per month, and The Hivery hosts programs on everything from how to build your business to author panel discussions to meditation seminars many times per month.
Just down the street from Ladies Room Chicago, Alicia Driskill is another entrepreneur hopping on the women-focused co-working train. She opened EvolveHer in January 2018 after 17 years in the corporate world and going through her own transition into consulting.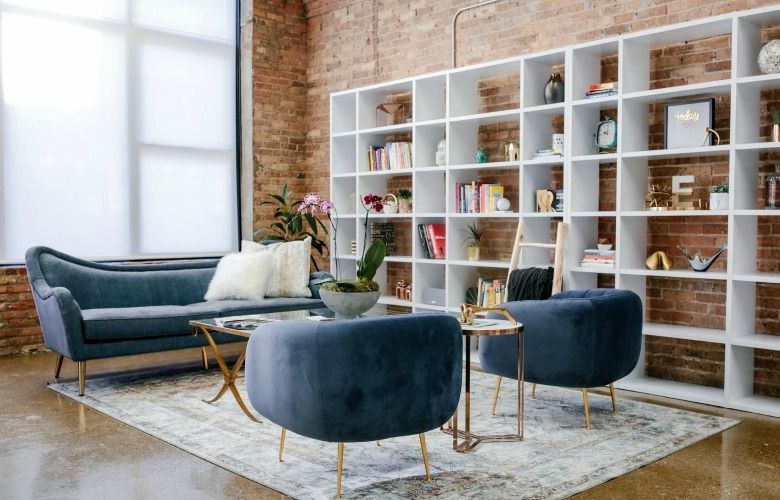 EvolveHer
"I was going through this career shift and realized that I didn't know any entrepreneurs," she says. "I realized there was an opportunity to build a space for people just like me—a space to provide a connection for people going through transition."
Like The Hivery and Ladies Room Chicago, EvolveHer has a strong focus on community with various levels of membership for people who want space to work or even help build their businesses, and a wide variety of events, including fitness classes.
High design seems to be another ingredient in the rise of women-focused spaces nationwide. These aren't just rooms with desks; instead, think open concept, airy sanctuaries with loads of natural light, unique furniture, original artwork on the walls and often hanging plants.
"As women, we like our spaces to be peaceful and look beautiful," says Kibbe. "There is a lot of consideration to design and functionality."
Other spaces include Hera Hub, with locations in Southern California, Washington, D.C., Sweden and Phoenix, and plans for openings in Atlanta, Seattle and Houston; RISE Collaborative Workspace in St. Louis; and The Jane Club, a space geared towards working mothers, created by actress June Diane Raphael, that includes childcare on-site.
"[This trend] is really exciting," says EvolveHer's Driskill. "I think there has been an awareness shift in the past year or two because of shifts in our political landscape and culture. You look at #MeToo and Time's Up Now—those things have elevated the conversation. People are starting to use their voices—people who didn't have voices are finding their voice. And I think when there is unity, there can be impact."
Photos from top: Getty Images, Courtesy of The Hivery, Courtesy of Ladies Room Chicago, Courtesy of EvolveHer