Whether hosting a 747 Club dinner in his 300-square-foot Upper West Side apartment, Murphy bed tucked into the wall, or al fresco in Times Square, Chris Schembra seems most comfortable managing many moving parts.
From a co-working space in Midtown Manhattan, the 29-year-old speaker, connector and producer operates his growing empire with a staff of zero, reliant on a team of "advisors, associates and interns."
With the Serenity Prayer tattooed on his forearm and a worldview reflected by his brand pillars of authenticity, empathy, vulnerability and safety, Schembra is focused on hospitality and paying goodwill forward. In his home kitchen, while mincing garlic for his next batch of pasta sauce, he shares his hopes and plans for the future.
How does The 747 Club fit into your career as a whole?
Right now, it's my passion project that brings in some income. I'm active philanthropically and dedicate a lot of time to the nonprofit Easterseals, one of the country's largest service providers to people with disabilities and special needs. I also work with my family's real estate investing company and advise, consult and speak. I give my time to startups, and I mentor through a great program called Techstars Connection.
What was the genesis of The 747 Club?
In July 2015, I returned to my apartment after producing a play in Italy. I was just fiddling around and accidentally invented a pasta sauce recipe. I figured I should feed people with it, so I combined a few tables, gathered folding chairs and invited fifteen people. They liked the sauce. They liked meeting each other.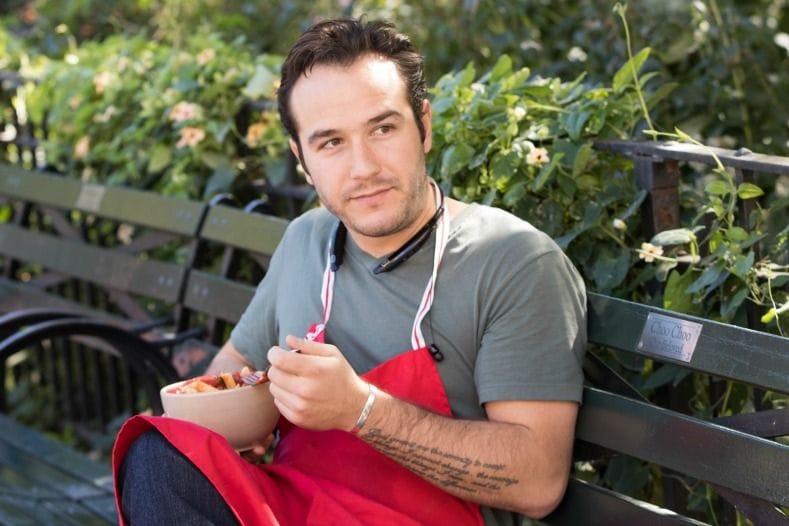 Chris Schembra, founder of The 747 Club
I fell in love with the joy of connecting people and did it again the next week—same pasta sauce, same homemade ice cream, same procedure. I haven't stopped since. In my apartment alone, I've hosted 66 dinners and fed 1,100 people at no charge beyond their contributing a bottle of wine. I spend just $100 on each diner.
What's a typical dinner experience like?
It starts with an invitation. The first time you come, you come alone. The second time, you bring a friend. After that, you're eligible to nominate a new guest.
Every minute for three hours is perfectly placed and structured. People arrive at 6:30 for cocktails, and dinner is served at 8:00. It takes 13 minutes to cook pasta al dente, and at 7:47, we delegate 11 tasks and empower attendees to be part of the setup process. At 8:30, I bring out dessert. At 8:32, I stand up and tell a joke—the same joke every week.
At the dinners I host, I rarely speak a word. I listen and connect people.
—Chris Schembra, founder, The 747 Club
At 8:35, I infuse conversation with my own vulnerable content—something that came to me in meditation that day. Then everyone goes around and gives voice to something personal. It could be about their mother or dog or first-grade teacher. Everyone finds something in common. If fewer than three people cry around my dinner table, I consider it a failed night. That's how deep we dive.
The feelings generated don't change regardless of who is at the table. That impact is a scalable product, whether generated by a 16-person dinner or 250-person event. Our events are powerful. We're using this model to awaken the best in people and organizations.
What kind of business model do you envision for The 747 Club?
Just two months ago, we started selling event packages. We charge corporations $5,000 for our standard 16-person dinner focused on team-building and client engagement. They're held at my apartment or off-site.
747 Club events are anything but regular. Our experiences are higher end, costing anywhere from $5,000 to $15,000, but what we do in three hours is more impactful in terms of relationship building, team building and connecting than most people can achieve over months or years.
What's an example of a successful event?
Our first client engagement dinner was for a real estate broker trying to close a $100 million dollar deal. I said to my client, the broker, "Let's build a dinner around that key account holder." We sat him across the table from me in this apartment and built an impressive roster of people around him. In line with our values of authenticity, empathy, vulnerability and safety, we worked him to the bone.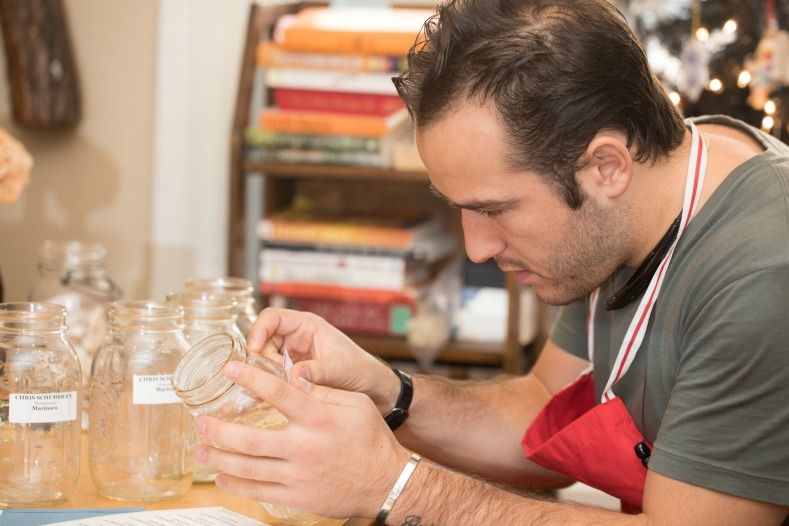 The 747 Club started with founder Chris Schembra creating his own pasta sauce recipe.
The key account holder emailed me the next morning and said, "You have a gift the world has never seen." Then he wrote to my client—who was also at the dinner—and said, "You've got the deal." Just like that.
Has connecting people always come naturally to you? 
I was always a connector based on insecurity. I never felt like I had value. Connecting people was my value-add, and now The 747 Club is helping to monetize that. If a potential client says, "Chris, I know you have access to 15 HR executives. I'd like to sell a benefit insurance package to HR executives of 50- to 100-person small businesses. Can you curate a dinner for that?" I say, "Of course."
What drives you now?
I want more businesses to wake up and focus less on the vertical climb to get new clients. I want to encourage them to look around and ask, "Who do I already know?" Most people fail to see the goldmine that's horizontal.
How can people get involved with The 747 Club?
You can either attend a ticketed event or you can hire us to host your own event. If you're tired of reservations and distractions at restaurants, we can host a dinner for your friends or social media followers. If you're a nonprofit, you can raise funds by selling tickets to an event we produce.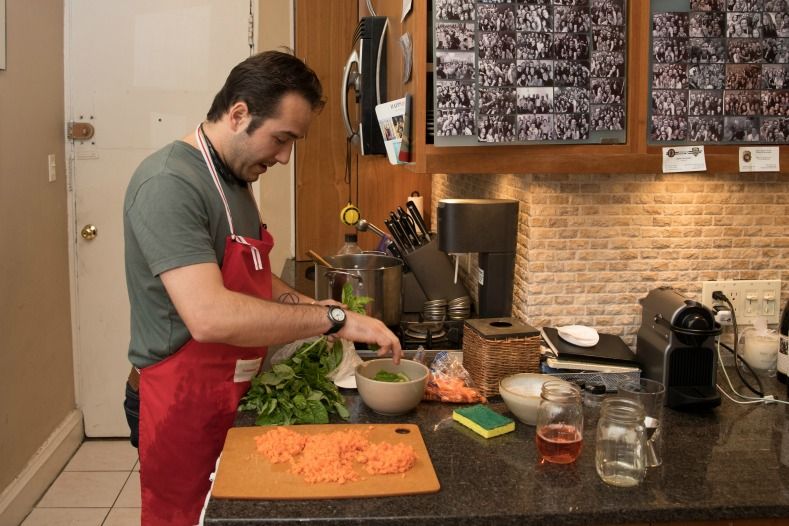 Schembra has hosted more than 60 dinners since July 2015.
You can also look into being a sponsor. I'll host 30 free dinners over the next year, and I won't say no to someone who wants to give me $100,000 to put the right people at those dinners.
How do you hope to grow The 747 Club?
Dinners are only one vehicle of the overall brand. As a community-building and connecting platform, the next vehicle is publishing thought leadership content, followed by management consulting and branded housing developments.
The buildings will be branded on our pillars of authenticity, empathy, vulnerability and safety. I come from big real estate background. My family's residential real estate company has done more than a billion in sales—it's in my DNA. In the 1970s, my dad helped develop Hilton Head into a family-oriented golf and beach destination. Community development is in my blood.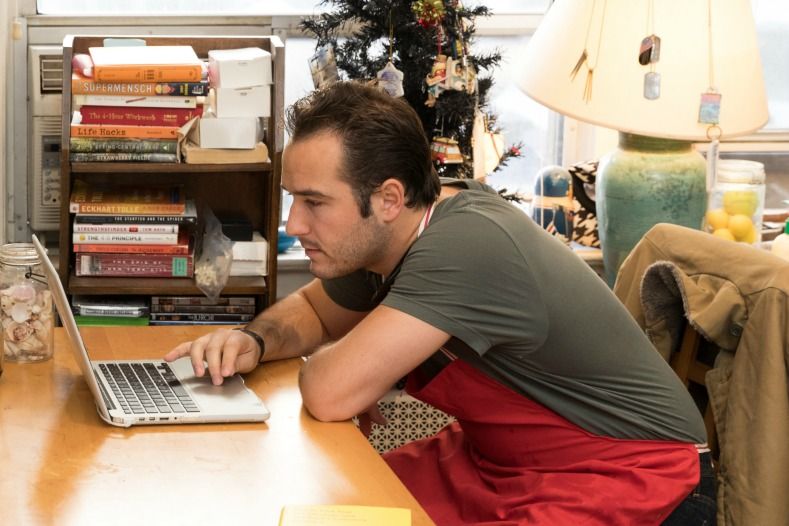 The 747 Club recently began selling event packages.
The 747 Club is really a marketing arm. The big play is in investing, advising and consulting. With everyone I meet, I'm going to start building companies—brokering and founding teams and getting percentages. I'm excited to mentor at Techstars and learn the startup ecosystem as an advisor.
At the dinners I host, I rarely speak a word. I listen and connect people. Then I retreat back to the kitchen. I'm a college dropout, but listening to so many conversations over the past 14 months—that's been my master's. I have a pulse on society.
Photos: Christopher Lane