Recently, my business partners and I celebrated the anniversary of our first year in business. We reviewed our strategic plan and noted how we hit many of the milestones we set for ourselves a year earlier. Most significantly, we secured three significant contracts and were on track to having substantial growth in year two. I marveled at how different this experience was from being the sole owner of my previous business. There was tremendous value in bringing people with varied backgrounds together for a shared goal.
To find out about other partners' experiences, I spoke with Ian Hilton who owns several Washington, DC, restaurants with his brother, Eric Hilton, including American Ice Company and Brixton; Tamon George, who is co-founder with Gary Williams of The Creative Theory, a content marketing firm based in Washington, DC; and Michele Gilliam Morrissey of Lucidity and Patrina King of Golf Women Mean Business, who collaborated to help grow their respective businesses.
Ian, what strategy did you use to open your first restaurant, and how did strategic partnership aid your expansion efforts?
Hilton: The first one was absolutely, positively, 100 percent a bootstrap. We financed it ourselves and with two minority equity investors. We also had a third partner who was going to be our on-the-ground managing partner of the business. And that partnership relationship was extremely successful. And subsequent to that, we opened about five places. [To achieve that], we used the model of taking some of the providers that we paid cash to do design or architecture or construction [in the previous venture], and offered them the opportunity to be equity partners rather than vendors.

Ian (left) and Eric Hilton, restaurateurs in Washington, DC
What background did you bring to the table versus your brother?
Hilton: My brother is the design and creative. He determines the look and feel—the five senses of how the business is going to look. My expertise is more in the business side of things. Eric's job is more front loaded, meaning 90 percent of what he does is completed by pre-opening and 90 percent of what I do is post-opening.
What has been your biggest business challenge and how did you resolve it?
George: The biggest business challenge for The Creative Theory thus far has been finding the time to complete all the designated tasks that are necessary to help our business grow. For many small businesses—including our own—there is a never ending list of long-term and short-term goals that are paramount in the continued success of the business. These goals, both big and small, require commitment, planning and expert levels of execution.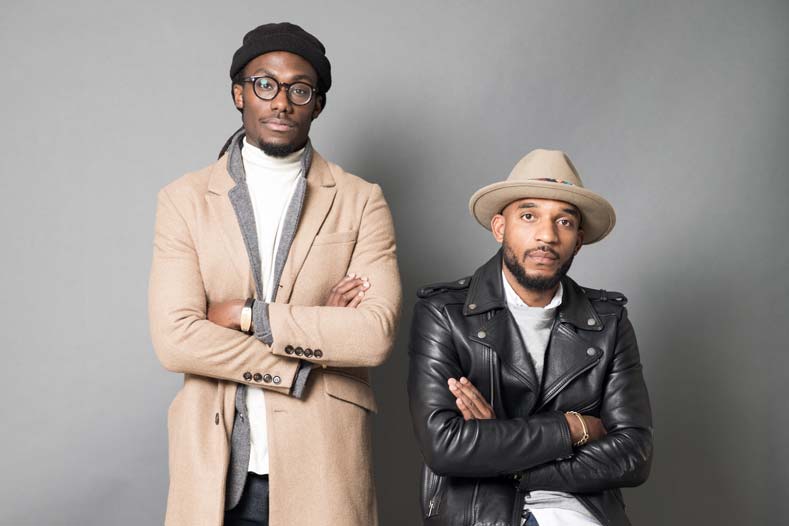 Tamon George (left) and Gary Williams, co-founders of The Creative Theory
To ensure our success, we needed to grow our team to perform effectively in all areas of our business. Instead of filling our plates, we needed to bring on more staff to manage channels remotely. The shortsighted view told us to take on the majority of the proverbial pie, while the farsighted view told us to grow the pie. We took on two interns and hired a team member to work remotely and manage two of our marketing channels. My business partner and I now have the time to focus on writing, pitching and promoting the business.
What are the main ingredients for a successful partnership?
George: I believe many of the ingredients for success are synonymous with the same traits that create a successful sports team. It's imperative each person understand their role and respect the other person's strengths and weaknesses. Along those same lines, you must be on the same page in regard to the overall vision and direction of the business. And finally you must both possess an equal passion and work ethic toward the business. I could list many more, but these are a few of the main ingredients that resonate with us.
I believe many of the ingredients for success are synonymous with the same traits that create a successful sports team. It's imperative each person understand their role and respect the other person's strengths and weaknesses.
What are the key ingredients for an effective collaboration?
Morrissey and King [via email]: Our relationship was founded on our being convinced of mutual value and credibility. A sense of brand alignment was discovered from the beginning and has continued to be the essence of our relationship. We also admire each other's knowledge and expertise in our industries and subject matters. We have tremendous respect for each other professionally. We are truly grateful to know one another. Not only do we have shared hopes for our partnership, but believe in and support each other as individuals.
Read more articles about partnerships.
Photo: iStock; Courtesy of The Creative Theory