When Sarah Kauss started her search for an office space to house S'Well Bottle, her line of reusable and fashionable water bottles, she knew she wanted an open office for her team. "It makes a lot of sense for businesses to have flexible space," Kauss explains. "I wanted S'Well to be a special company, and I wanted us to have a special home."
She landed on an actual home, a brownstone in New York's Union Square, with open office space that still has many of its turn-of-the-century features and fun additions, like a potting shed frame Kauss's boyfriend built that serves as the team's conference area.
But even though Kauss and her team love their new home, they haven't been able to escape the number-one issue associated with working in an open office: noise. "We have someone on the team who loves to sing the song from Frozen," Kauss says with a laugh. "We've all heard it quite a few times and we encouraged her to get a set of headsets, which she has now."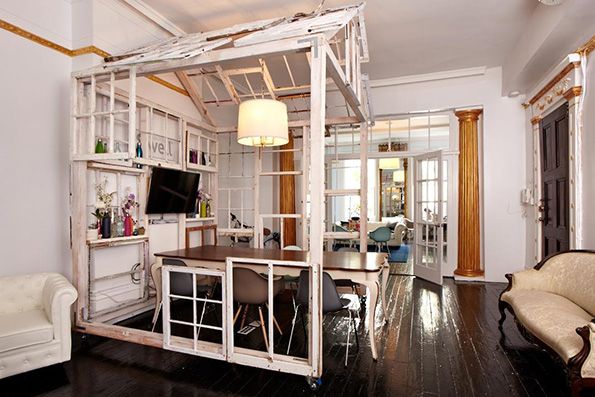 Like most trends before it, open offices are experiencing a bit of a backlash. Once considered a signpost of innovation and collaboration, these office layouts—which eschew architectural dividers, rows of cubicles and private offices for seating plans without walls—have come under fire in blog posts, think pieces, productivity research and Gchat conversations. It's a backlash so pervasive, some business owners are wondering what to do about their put-upon employees.
"The open-office movement is like some gigantic experiment in willful delusion," Jason Feifer of Fast Company wrote recently in an annoyed screed calling for offices for all. "Maybe we can spend less on space, the logic seems to go, and convince employees that it's helping them."
In a New Yorker piece called "The Open-Office Trap," Maria Konnikova reports on data point after data point detailing how far the open office has fallen out of favor with employees. The sound of fellow employees doesn't foster a can-do spirit, but a get-me-out-of-here reaction: In a study conducted by Cornell University psychologists, "clerical workers who were exposed to open-office noise for three hours had increased levels of epinephrine—a hormone that we often call adrenaline, associated with the so-called flight-or-flight response," Konnikova wrote. "What's more … people in noisy environments made fewer ergonomic adjustments than they would in private, causing increased physical strain."
Along with being bad for your back, "workers in two-person offices took an average of 50 percent more sick leave than those in single offices, while those who worked in fully open offices were out an average of 62 percent more," Konnikova wrote.
Besides the health consequences, research from the University of Sydney found that "the loss of productivity due to noise distraction … was doubled in open-plan offices compared to private offices, and the tasks requiring complex verbal process were more likely to be disturbed than relatively simple or routine tasks," the Harvard Business Review reported.
"Currently, only one in four U.S. workers are in optimal workplace environments," states the 2013 Workplace Survey from Gensler, an integrated design company. "The rest are struggling to work effectively, resulting in lost productivity, innovation and worker engagement."
With 70 percent of American employees now working in an open-office environment, that's a lot of stressed out workers with poor posture and reduced effectiveness. So what's the best way to boost productivity in your employees in this new office reality? 
The Best Intentions
Around half a century in the making, open offices weren't always so hated. The idea originated in Hamburg, Germany, in the 1950s, in an attempt "to facilitate communication and idea flow," according to The New Yorker. But the steno pool gave way to the windowless "cubicle farms" that were parodied in the 1990s movie Office Space and comic strip "Dilbert." Offices reflected an organization's hierarchy, with top brass cloistered off in offices with doors and privacy and everyone else toiling away in those cramped, hard-plastic boxes. But the 1950s concept began to catch on again as technology advanced and America's economy became more knowledge-based.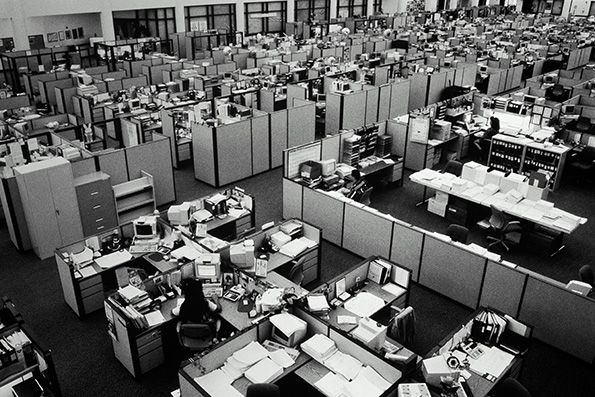 "Office architecture, long taken for granted, is badly in need of radical redesign," a 1993 report reads. "The object of the new office is to attract and retain brilliant staff, to stimulate their creativity, and to multiply organizational productivity. In order to do this ... life must be breathed into how we approach office design." "Management gurus," as a past Businessweek article referred to these office space innovators, called for more interaction, more collaboration and more shared spaces.
The open-office revolution came swiftly—walls were razed, cubicles collapsed and light streamed in, first in dotcom offices and then in places trying to capitalize on that air of innovation.
"Another reason behind that was to create a bit more of an egalitarian space and bring some parity in the workplace to dismantle the hierarchical structures," says Nicole Coughlin, a spokeswoman for Knoll, an office furniture design company. Opening up offices also helped with "sustainability efforts to bring natural light in and make people feel better about their work environment," she adds.
Huge desktops in single offices gave way to light laptops on long tables. And it wasn't just for the sake of increasing collaboration—a business owner can't ignore the cost-benefit of these open spaces. A Bloomberg Businessweek article reported that at NEAD App Development, for example, "instead of leasing a cramped office for $2.50 per square foot, [founder and CEO T.J. Sokoll] got 4,000 square feet of industrial space at 69 cents a square foot." A study by Knoll found that there was a 5.5 percent reduction in business process time and cost when offices moved to open plans.
Out in the Open
But as the open-office option became more popular with business owners, employers began to feel the squeeze. "I think over time, the densification that we've seen happen in the open-office environment had just gotten out of control," says Sonya Dufner, principal and director of workplace strategy for Gensler's New York office. "People densified until they can't densify any more."
And the bar keeps getting lower: "From 2010 to 2012, the average square foot per person dropped from 225 to 176," the Gensler workplace survey states. "This number is predicted to drop to as low as 100 square foot per person by 2017."
The economics of space are why open offices are probably here to stay, at least for the foreseeable future, Dufner says. "[Business owners] know they need flexibility to accommodate change," she explains. "They know they're going to change as an organization, [but] they can't really tell us how because things are happening so fast."
That flexibility to change a space based on ever-evolving needs is one of the things that attracted Rick Liang, co-founder of Modko, an urban lifestyle design company based in Brooklyn, New York, to the industrial warehouse that now houses the five-person business's open office.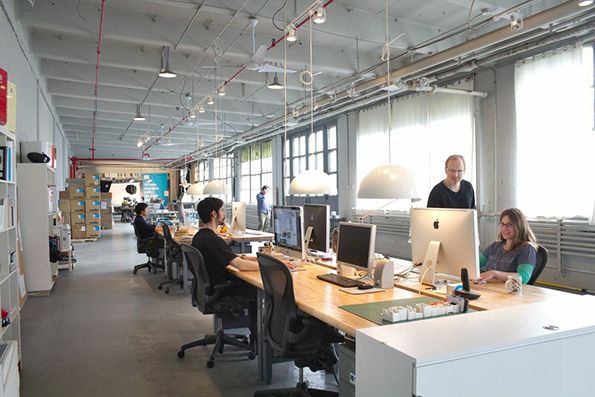 "We expect to grow a lot this year," Liang explains. "We're hoping to grow our business by three times, [and hiring] however many employees or additional staff are required for that. We have a lot of products coming out this year; having the space gives us that flexibility in our business model."
Making Everyone Happy: A Case for Space
Flexibility is also important in shaping an open-office experience that benefits both the employee and the employer.
"Businesses that offer autonomy and choice [to their employees] grow four times faster than the rate of firms that didn't," says Dufner of Gensler. "Doing this really does help your business grow."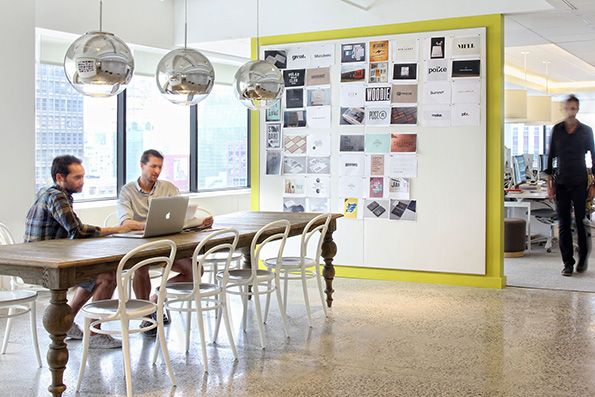 "People feel more connected to a workplace where they have the ability to shape their work environment and decide when and where they're going to work," says Coughlin of Knoll. That freedom increased the likelihood that people would report being happy with their job by 12 percent and increased overall job performance. 
This sort of mutual satisfaction can be found within the four walls of an open office. First, employers have to understand how the office can support and inhibit their workers' productivity. Then, empowered by that knowledge, they can reevaluate how the office is being used and make appropriate changes.
We enter in and out of four different work modes throughout the day, according to Gensler: focus (the type of work that demands one's full attention), collaborate, learn and socialize. Open offices were meant to foster collaboration, and that's something—despite the attendant annoyances—people still want to experience on the job. While "the average employee does want fewer distractions, they also want 35 percent more frequent interactions within their teams; they want more energy and buzz in the workplace than less," wrote David Craig, a senior vice president at CannonDesign in New York.
Even so, collaboration isn't happening as often as open offices were planned for: It dropped by 20 percent between 2008 and 2013, while time spent focusing has increased by 13 percent, according to the Gensler survey.
What frustrates most employees is when collaborating, socializing and learning happen in spaces designated for focusing. "We only spend 50 percent of our time in our primary work stations," says Knoll's Coughlin. "It's important to create different user experiences so someone can pick and choose what kind of environment they want to have throughout their day." She suggests zoning off open-office areas that indulge these five different types of interactions: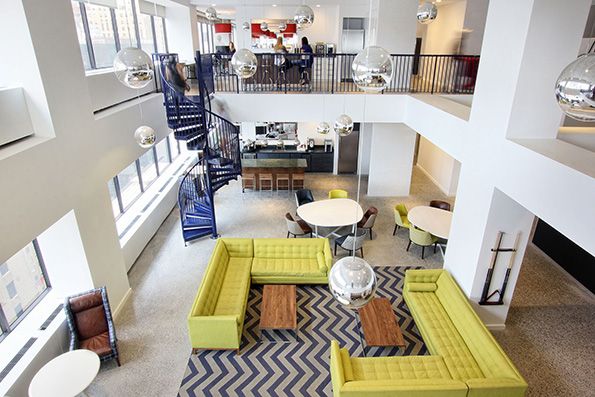 Refuge: "These are spaces for one or two people when they need quiet time or have a confidential conversation," Knoll explains. "It provides visual and acoustic privacy." Phone booths are a popular refuge space solution.
Enclave: "Enclave spaces are for three to four people to quickly get together and have a meeting on the fly," Knoll says, "but they do it in a way that won't interrupt the focus work that people are doing around them. It has a little bit of visual and acoustic separation so they're not disturbing others."
Team-meeting space: This space should be able to hold up to eight people, and can either be dedicated to a specific team that meets frequently (i.e., your tech guys), or be booked in advanced. These spaces should be set up with the proper technology to conduct business, and also a number of outlet options to charge up so work can get done. "That will allow them to connect with teams—to work virtually and collaboratively," says Gensler's Dufner.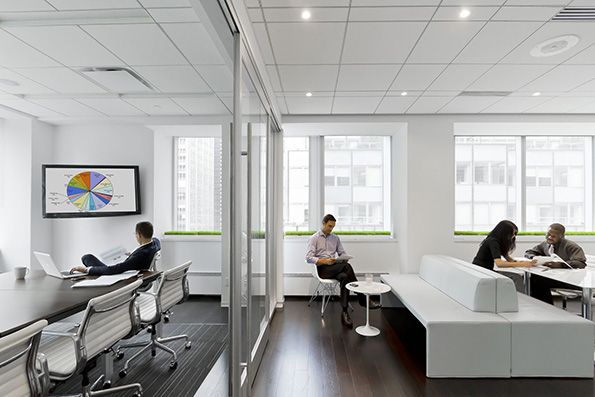 Assembly: Usually a space seen in larger companies, these are bigger conference areas used to promote "connectedness to the organization," through all-hands meetings and the like, Knoll says. These spaces probably already exist in your company as the conference room with traditional trappings—a large table surrounded by swivel chairs, a credenza, tech wall, etc. But make the space feel more relaxing by taking out the formal furniture and bringing in some decorative elements for an informal feel.
Community: These spaces are mainly for socializing, Knoll says. "A lounge area, a cafe where everyone gets together for lunch," she says. "It could be an outdoor space. Now that we have technology and WiFi everywhere, being able to go outside and have a meeting is really great to give to your people to spurt new ideas and creativity."
"It turns out people who can focus are three times more satisfied with the noise levels in their office, and they're much happier with the functionality of the work space," Dufner says. "It's really about the ability to have a balance of focus areas for heads-down work and collaborative areas."
Making Everyone Happy: Office Culture
Despite the backlash against open offices, many small-business owners say these open spaces are integral to the how their team works.
"Whatever anyone is doing, everybody can see," says Brett Teper, co-founder of Modko. "If I'm in the back making a mockup of something, Candy [an employee] might come by and we'll start talking about it. It's a totally open thing for everybody. There's certainly a lot more give and take, which is a nice thing. When you're designing, you have a tendency to get into your own world and forget about what's going on outside."
Sarah Kauss of S'Well Bottle agrees. "Yes, we have a sales team, we have a marketing team and we have team meetings," she says. "But because there's a real equality by being so open and being in a creative place, everybody seems comfortable enough to jump into a meeting and say, 'I know I'm not in product development and that I'm on a different team, but I feel inspired enough to jump in [with] an opinion, too.'"
Creating a workplace where everyone feels comfortable talking about their needs also goes a long way until you're able to set up that refuge space or acoustic paneling, business owners say.
"We deliberately talk with everyone about their challenges, and if too much noise becomes an issue, we will have them sit somewhere else," explains Mike Ortner, CEO of business solutions software provider Capterra. "For example, the tech team sits far away from the sales team.
"Is it perfect? No. Do we ever have problems with it getting too noisy? Occasionally," Capterra continues. "But would the grass actually be greener if we went toward offices and cubicles? I don't think so."
Read more articles on open offices.
Photos: Garrett Rowland, S'Well Bottle, Modko, Chris Leonard