Almost every company's web presence is dotted with icons and links encouraging people to "share this!" But what they usually mean is, "share my marketing message." 
When it comes to actual products and services, the message is "consume this and don't share it!" But what if we encouraged people to consume less and share more? That goes against many business instincts, but it is the way most people consume, thanks in part to the social web and technology. 
We're in the age of Collaborative Consumption, owning less and sharing more. It's not just limited to music, television shows and movies either. If you're selling power drills, accounting services or designer handbags, your sales could go up if people shared more.
Think about ZipCar. You don't need to own a car, you can just use one as needed, 24/7, wherever you are. This isn't the same as a rental car agency intended for out of town jaunts. You are skipping out on buying your own car and instead sharing one with your neighbors -- it's just that a company manages the sharing schedule for you and takes on the burden of car maintenance... for a fee. There's also AirBnB, which allows you to rent out all or part of your home to travelers looking for an alternative to hotels. Like ZipCar, there are fees involved, but what about sites like NeighborGoods that let you share the power drill you bought and only used once, or borrow a DVD you only want to watch and don't really need to own? How can that NOT hurt sales?
As a designer myself, and someone who cover incredible design, often of products, I couldn't help but be concerned that quality and great ideas could get pushed aside or products could become even more expensive if consumption drops too much. Yes, as a consumer it is awesome that you can save money by buying less, possibly even earn some money from sharing your goods, and help create less waste in the world. But what if someone trying to break into the power drill industry with an amazing new design couldn't because the cost of design, and development couldn't be recouped if they were only able to sell one in each city because everyone was sharing? (Yes, that's an extreme example, but you get the idea!) Would this mean some gorgeous, innovative designs may not happen?
But here are three reasons that a culture of Collaborative Consumption helps small business overall:


1. When people own less of what they don't need, it frees up more money to buy the things from businesses they might otherwise never have been able to support. A family that doesn't need to buy its own power drill because they can share one can buy local art, hand-crafted designs, or accounting services they never would have been able to consider before.
2. People will hold the things they buy for themselves that are not shareable in higher esteem. The value of a painting goes up if people stop comparing it directly with less-subjectively valued goods like a washing machine. Small businesses are more direct and personal and can benefit from a culture that prizes that uniqueness over price.
3. If people know that an item won't go to waste, they'll be more likely to get it. Even the most whimsical person feels a little guilty about the awesome toy they bought that they only use three times a year. Most will just not buy that item in the first place. So you can have 999 people who don't buy a product and one person who does and uses it twice, or you can have 1,000 people who collectively buy one product, use it once happily, pass it on, and repeat that process with other things.
Now you must watch the amazing (and gorgeous!) video that inspired these thoughts. Sadly, I can't embed the goodness here, but you can watch it here! These videos are part of Rachel Botsman and Roo Rodger's lead ups to their new book What's Mine Is Yours: The Rise of Collaborative Consumption. And if you don't have time to get to the video now, here are a few of my favorite moments to get your juices flowing!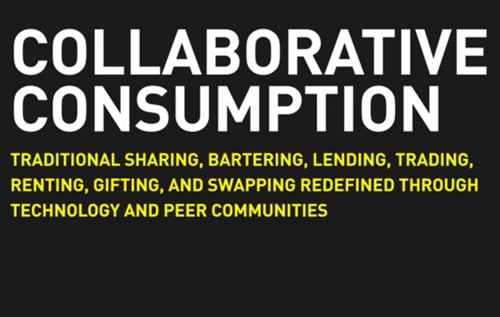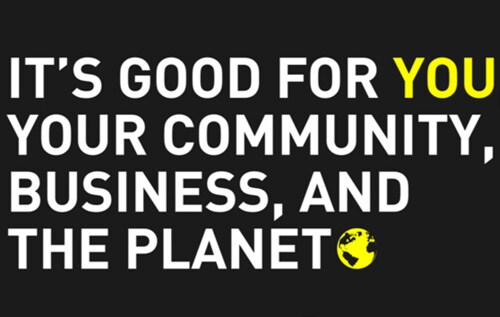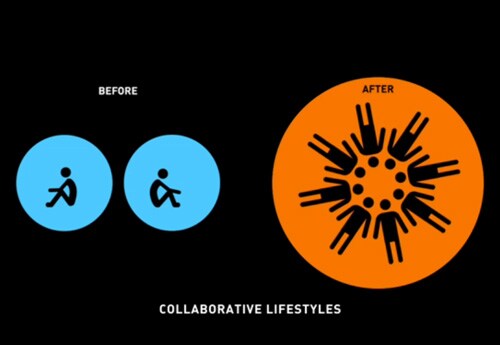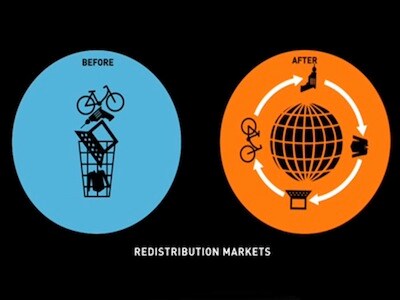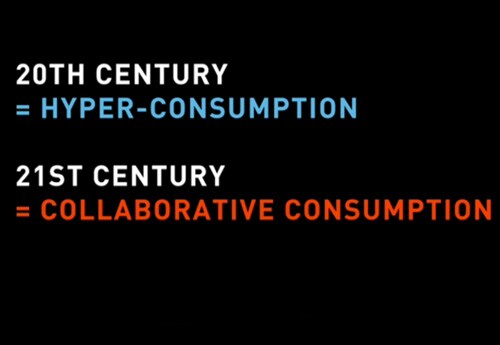 So, the question now is, what will you share? Or what will feel worthy enough to spend what you save on? How will you use this idea to revolutionize your business? I love the idea that the concept of Collaborative Consumption not only helps you save and share, but can also help you reassess and prioritize what is of quality and worth spending on even more!