When Tracy Foster planned a trip to South Africa in 2008, she was only looking for an adventure with her husband. "It was definitely a big deal. It was our first time to Africa," she says. "I wasn't going with the intention of finding inspiration for a new business."
During her travels, Foster's mission was to document everything she saw in photos, but she soon realized that the bag she was toting her camera in wasn't perfect. "I was carrying a very boring, ballistic nylon camera bag. I felt very strongly that there should be a more stylish option," says Foster.
After leaving South Africa, she returned to Maryland (her home at the time) and continued her job as the chief of staff at a private high school, where she helped with fundraising and communications. But she spent her free time researching the perfect, stylish camera bag. With no experience in accessories design and what she calls good old-fashioned Googling, she was able to connect with designers who might be willing to help. "I developed one bag and after about a year and a half I launched ONA Designs in 2010," recalls Foster, who named the company after the Swahili word "ona," which literally means to see or experience with the eyes.
In an initial production run, she had 100 handbag-style camera pouches produced. While all of this was happening, the aspiring bag maker had convinced her employer to slowly phase out her duties, which meant she could use the money she was making to fund the startup on her own. "It was a risk to take, but it was not going to be life shattering if for some reason it did not work out," she says. The risk, however calculated, and her evident passion proved to be a winning combination.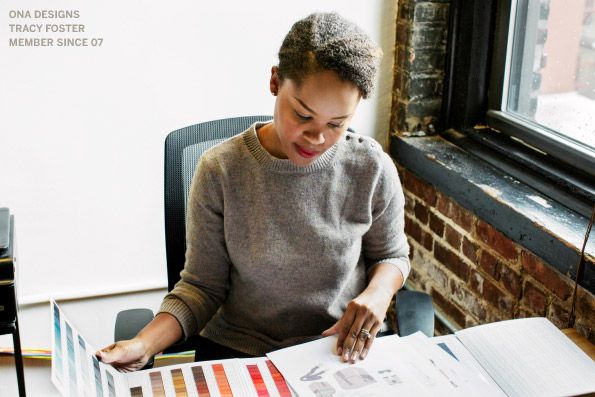 "We're really just trying to provide photographers—whether they are professionals, enthusiasts, travel writers or bloggers—a stylish, alternative way of carrying their camera gear," says Foster. She worked hard to source canvas from the U.S. and leather from Italy, and was fortunate enough to find a great manufacturing partner just a few hours' flight from New York in the Dominican Republic. In addition to the handbag style models, Foster also expanded the line to include camera backpacks in 2011.
Through a growing network of retailers and the company's website, ONAbags.com, sales have soared. But Foster has put much of the cash back into the business and also used credit cards when needed. "As a company that wasn't funded I did need to take advantage of using lines of credit," says Foster. That gave her the flexibility to hire an experienced team to help her scale the business, including Jillian Wishart, who was a fan of ONA before joining the company.
"I shot weddings. That's actually how I found out about ONA," says Wishart. When the young photographer was looking to move on from wedding shoots, she thought ONA might be an interesting place to work. "I reached out over Twitter because I saw that they had an active social media account," she says. With one Tweet and a series of emails, Wishart was soon interviewing for the position of sales manager. Her background in hotel sales was also a major plus. "It's been a really fun place to work. It meshes my experience with sales and my love of photography. I got my dream job pretty much," says Wishart.
What's interesting about the tale of ONA is how particular both Foster and Wishart can be about the retailers they work with. The two don't want just anyone selling the bags. "We want to be in reputable stores—people with good Yelp reviews that sell other high-end items," explains Wishart. It's this attention to brand that Foster believes has buoyed her line of products. "I think people are drawn to the brand because it feels aspirational. Our price points are not inexpensive; the average cost of a bag is probably around $300," says Foster. "But it's still accessible in the sense that you see your favorite Instagrammer or your favorite person on Twitter wearing the bag, enjoying it and being out in the world."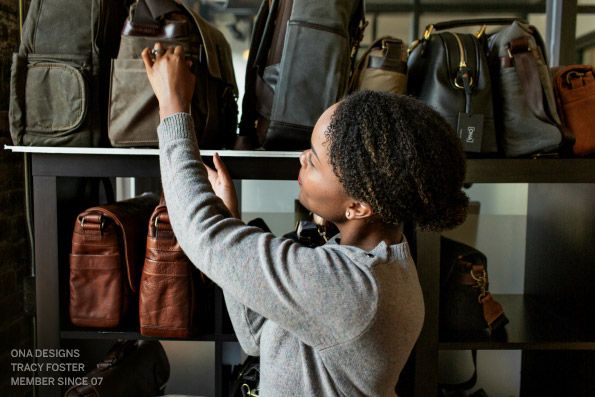 In terms of what sets her products apart from the competition, Foster says it's about discretion. "Not only do customers want something they like, but if you're carrying around $5,000 to $10,000 worth of camera gear, you don't want everyone to know," she says, referring to the design of her bags, which look more like hip accessories than technical camera gear.
Foster has spent very little money on advertising and marketing, and has instead relied on seeding products to influencers with a large online following, such as bloggers and photographers. This means she literally gives a free bag to the people she thinks would be able to best tell ONA's story. "Basically, they just become ambassadors for ONA," she says.
Despite the large fanbase, building her business hasn't always been easy. In the early days, Foster had challenges with her supply chain. "We struggled to meet demand and often found ourselves in a backorder situation for best-selling bags," she says. "We've been able to significantly improve in this area since hiring an experienced director of finance and operations last year."
With supply chain issues handled, Foster can now focus on the future; she hopes to produce less camera-centric accessories, such as handbags, soon. And, after successful collaborations with well-known camera and luxury brands in 2014, Foster says 2015 will be a year in which she and her team will make strategic partnerships their number one focus.
Photos: ONA DESIGNS, TRACY FOSTER, MEMBER SINCE 07