In February, thousands of fashion devotees descend on Manhattan for New York Fashion Week, a semi-annual hurricane of runway shows and events showcasing trends the rest of us won't see in stores for months.
While photos from the week focus on style influencers, models and designers, there's a separate group of people integral to the week's success, without whom the event might not be able to take place. And as founder of LDJ Productions, Laurie DeJong is one of them.
Since 2013, LDJ Productions has had the distinction of being "the production agency of record" for New York Fashion Week, according to the company's website. DeJong and her team "[handle] all aspects of the design, production and operation" of the event—60 to 80+ shows around 10 to 12 minutes each—two times a year. LDJ's involvement in Fashion Week is both macro and micro: Along with managing one of the biggest industry events in the world, LDJ Productions also has a team that produces and directs individual designer shows, including some of the top names in fashion. They've even had a hand in landmark changes to Fashion Week and the way it operates.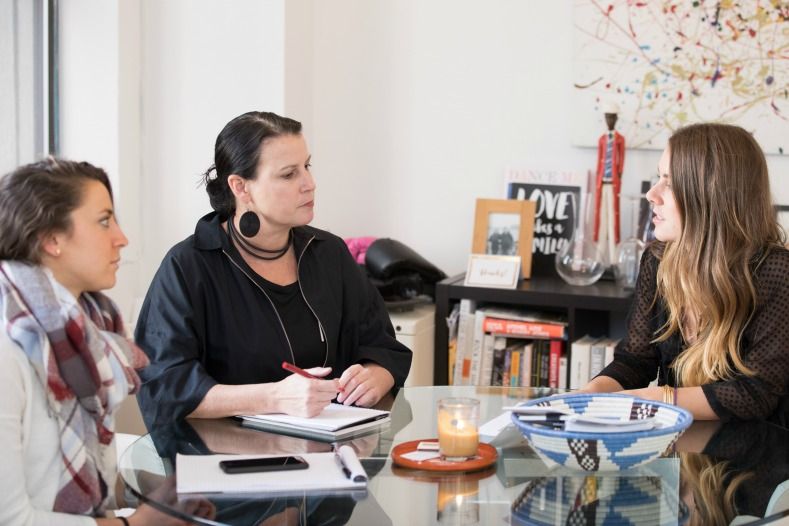 LDJ Productions founder Laurie DeJong (center) with executive assistant Dale Mauri (left) and project manager Danielle DeZao (right)
"Fashion, for us, is our marquee event," DeJong says. "We're very fortunate that we're responsible for executing the vision of the team of people that own that property."
Along with Fashion Week, LDJ Productions produces major events for a who's who of media, entertainment, tech, fashion and beauty companies throughout the year. The company also has a nonprofit arm: The Paper Fig Foundation, which "empowers women and supports sustainable community development" in Rwanda, Uganda and five East African countries. "It's part of our culture," DeJong says. "I wouldn't even hire anybody who didn't have an interest in the foundation—it's part of our DNA."
LDJ's reach is quite impressive, especially when you consider its size.
"The [companies] that we're competing against [are] usually much bigger than us," DeJong shares. "We've been hovering between 10 to 15 full-time employees since around 2010."
There were times when we were really struggling, but everyone was really good about giving up the time they needed to pay the bills. Playing with the big boys, you kind of have to be willing to find a way to make it work.
—Laurie DeJong, founder, LDJ Productions
How does a relatively small business land such huge contracts? By growing "incrementally, as slow as we could," DeJong says.
That steadfast approach has worked for DeJong for years—you can see it throughout her company's history and in her early career.
DeJong had a family friend who worked for a famous clothing designer, and she interviewed for several job openings there, she explains. As luck would have it, the opening she eventually got to fill was in events. It wasn't glamorous—"I was like the janitor," DeJong recalls, laughing. "I was like the Girl Friday to the Girl Friday"—but the job established her love of event planning.
After five years, DeJong left the designer to work as president of her husband's clothing line, JR Morrissey. She later decided to become a stay-at-home mom to spend time with her two children. But when her kids got older, DeJong made moves to get back into events, founding LDJ Productions in 2000.
LDJ Productions started out with just DeJong operating on the little revenue she was getting from a few clients, mostly nonprofits and socialites planning benefits in the Hamptons. At the same time, DeJong was trying to leverage her contacts from her fashion days to secure bigger budgets and contracts with clients like the Council of Fashion Designers of America (CFDA), which was behind Fashion Week at the time.
"I was doing anything that I could to get my foot in the door," she recalls. "I was an adult volunteering at Fashion Week."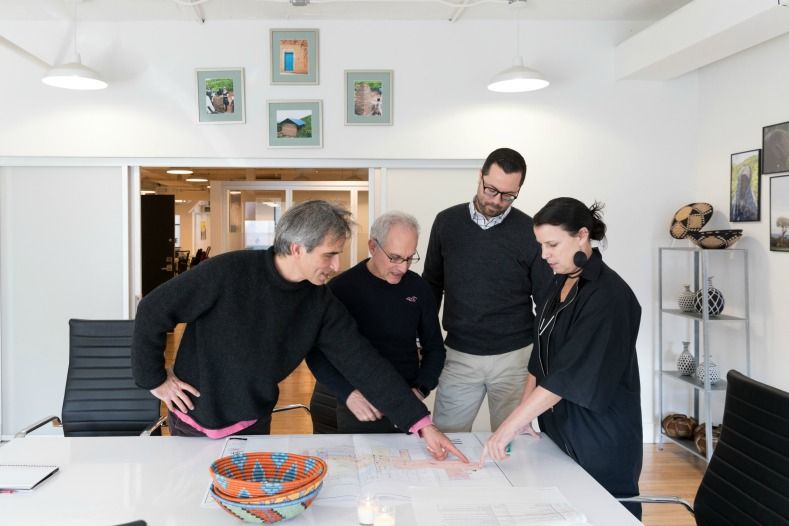 L to R: SVP David Steinberg, technical producer Bruce Weinstein, CFO Adam Cook and Laurie DeJong
"The best way I've found to build the business is [knocking on doors]," she continues. "When I say 'knocking on doors,' I mean really, really pursuing them and leaning on industry newsletters, finding names of people, and then just emailing them and following up every other week. I was trying to be as persistent as you could be without getting annoying."
DeJong's persistence paid off when LDJ Productions got two life-altering breaks: In 2002, they were brought on by CFDA to provide venue management services for Fashion Week. And in 2004, a major cosmetics company tapped LDJ Productions to produce a launch event, thanks to "a contact from a friend of a friend of a friend."
The contract with the major cosmetics company led to LDJ Productions doing a 5,000 person event for them—a far cry from their Hamptons party days—and working with a number of different brands under the parent company umbrella. And the relationship with Fashion Week blossomed into the robust relationship it is today after years of vetting and collaborating.
"We started doing the venue work in the mid 2000s. Throughout the last 10 years, we've been given other pieces of the business," DeJong explains. "We had to prove to them that we could manage a bigger piece of the puzzle."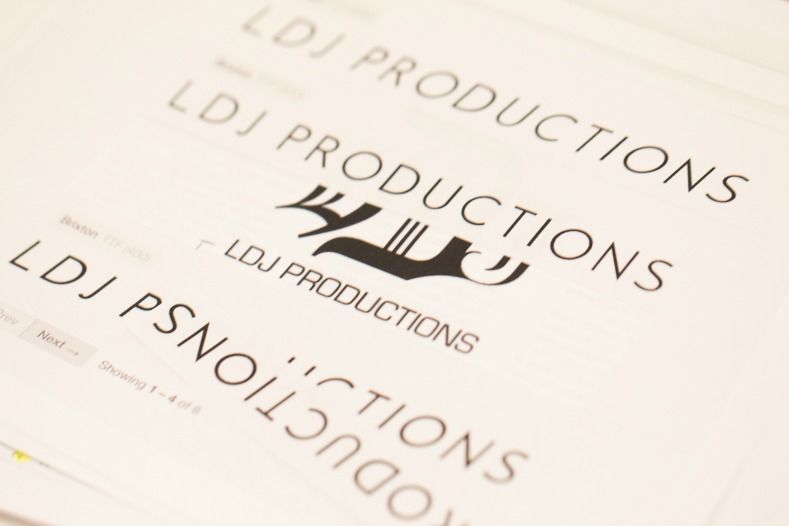 Depending on the events they're producing, LDJ Productions hires contractors on an as-needed basis.
With those two wins on its resume, LDJ Productions started growing at a very fast clip. In 2004, she brought on her first employee (who is still with the company) and began picking partners that could help them produce the large-scale events their new clients wanted. But having larger clients created a cash-flow problem.
"We were working with the big companies—bidding against companies that are 100 times our size—and they would give us a contract that said 'net 90,'" DeJong says. "We're a service provider. We're not selling anything, so it's not like we have collateral or anything. We're selling ourselves. I would have to knock on the door of the CFO and explain, 'Look, we're a small company. We really need a deposit of this amount.' Sometimes they said no, and sometimes they said yes."
DeJong credits having loyal partners to the company's success in those early days when they couldn't front the money to put on events for their clients. "In most scenarios, you would have to pay your vendors before they would even do the work," she explains. "But in our situation, if I was net 90 with a client, they were going to be net 90. There were times when we were really struggling, but everyone was really good about giving up the time they needed to pay the bills. Playing with the big boys, you kind of have to be willing to find a way to make it work."
DeJong kept the company's overhead low by working with contractors on an as-needed basis, which helped her avoid a large payroll. Today, the company still relies on this method, growing and contracting based on what's on the horizon. (For Fashion Week, the company can balloon up to about 200 people.)
DeJong now leads a team of about 15 full-time employees.
In its decade-plus history, LDJ Productions has become one of the big boys in its industry. DeJong takes great pride in cultivating a team that helps LDJ Productions manage its marquee events, the "bread and butter" productions that keep the lights on and the foundation that inspires her and empowers women entrepreneurs. Where there was once only two people running the show, there's now an executive team DeJong has ceded many of the operational decisions to, and employees doing a lot of the "knocking on doors" work she used to do.
"Not much has changed, just more people!" she says, laughing. "We have someone that chases down our AR, because if you're not calling, a lot of times they're not paying. We've got a really good attorney who does solid contracts and tries to get us better terms than what's offered.
"I try not to play any integral role in any main event. I try to work as an oversight team member," she continues. "A lot of the day-to-day operations of the business has turned over to our CFO so that I can really focus on a) the people and b) servicing the clients. Keeping them happy, and dealing with problems."
But there are times when she gets called in, and this year's Fashion Week was no exception.
"I [left] Fashion Week for 24 hours to go down to Mexico and direct the show for [another big client]," she says. "That's the kind of prowess the client really wants to see. Clients don't want to hear that you're too busy, and we're not going to turn down a project that we really want to work on."
That drive is what keeps LDJ Productions in season all year long.
Photos: Christopher Lane