It was in the middle of a chilly night in October 2008 when Phil Libin started feeling, as he describes it, "like an adult." His company, Evernote, an online service enabling users to create, catalog and search for notes (in the form of video, audio and text), was going under. Investors were fleeing and Libin had a measly three weeks worth of cash to his name.
As he walked into his bedroom that night, he resigned himself to the fact that the following morning he would shut down his company and lay off all 20 employees. It was an adult decision and one that he was dreading. But just before his head hit the pillow, he checked his email one more time. It was 3:10 a.m. In front of him was an email from a man in Sweden whose life had been changed by using Evernote. At the end of the email was the line, "If you are ever looking for any investments, just let me know."
Less than 40 minutes later, Libin was on a Skype call with the mysterious man, and just two weeks later, was on the receiving end of a $500,000 wire transfer.
Today, Evernote is one of world's fastest growing Internet companies. In more than seven countries and with around 290 employees worldwide (200 of them in its Redwood City, California, headquarters), the company has upwards of $200 million in investment capital.
Katie Morell: Are you telling me that you really didn't know the random guy that emailed you from Sweden?  
Phil Libin: Nope. He was just a computer nerd and entrepreneur. He had some money and fell in love with our product, simple as that. It was just good luck. Had I gone to bed 10 minutes earlier, I wouldn't have opened his email right away and probably gone into work and closed the business.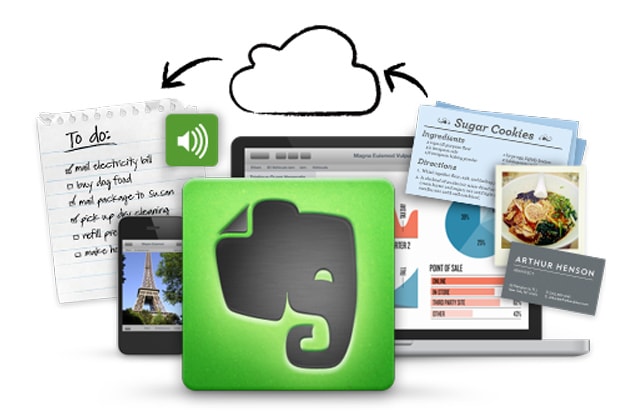 evernote.com 
KM: So what happened after that?
PL: The money he invested helped us gain traction. By 2009 and 2010, we were attracting more and more users and it became easier to raise money. Pretty soon we had multiple term sheets from VCs.
KM: Evernote is only in its fifth year as a company. What is it like to grow at such a meteoric speed?
PL: It's very tough. But we are also really lucky. It's easy to get high-quality employees because most people who come to interview really want to work at Evernote; it isn't just another company on their list. That is a huge advantage for us. 
KM: Why do you think that is?
PL: I think it is our passion. I've launched companies before that offered products for other people—for banks, governments, retailers—this one is for me, the consumer, to use, and I love it. When I launched the company with my partner [Russian inventor Stepan Pachikov], we realized that if we like it so much, then there was a good chance that another billion people will like it as well. I think it is easier to recruit people who are on the same mission that you are.
KM: Is it true that you give $1,000 spending money to employees who take a week off?
PL: Yep. We have an unlimited vacation policy and when we instituted it, I was worried that no one would take any vacation. So I told them that if they go somewhere for a week—on a real trip, not just to see the in-laws—we'd give them $1,000 of spending money. We do it once a year per employee. It has encouraged people to take vacation, which is always a good thing, especially in a knowledge-based business where you need rest to be effective and productive. 
KM: Are you thinking of going public anytime soon?
PL: Yes, I think going public is the right thing to do, morally. We are asking people to trust us with lifetime memories; I think the right thing is to allow people to share ownership in the company. I don't see an IPO as a goal, though; I see it as a milestone. We are a few years out.
KM: What advice can you give to business owners just starting out?
PL: Don't start a business just to start a business. You need to be infatuated with what you are doing or you won't get people to follow you. Don't focus on the money. Focus on the passion. 

Meet more successful entrepreneurs in our Building an Empire series. 
Katie Morell is an independent journalist based in San Francisco. She regularly contributes to Hemispheres, USA Today, Consumers Digest, Destination Weddings & Honeymoons, Crain's Chicago Business and others.
Photo courtesy of Evernote