Hot Bread Kitchen's local and global inspired homemade bread has earned a cult following among New York City foodies. New customers understand why as soon as they walk into the East Harlem bakery—it's hard to resist the sight and smell of the freshly baked varieties, from upstate multigrain and toasted walnut raisin to Armenian lavash and Moroccan m'smen. But behind the scenes, Hot Bread Kitchen offers so much more than its 30-plus types of bread. Founder Jessamyn Rodriguez offers women and minorities an opportunity to change their lives.

Rodriguez came up with the idea of starting a nonprofit bakery while traveling the world as a former immigration policy analyst for the UN and nonprofit organizations. A self-described "committed foodie," she noticed that, while women are considered the master bread bakers in most other countries, men dominate the baking industry in the U.S. "It was that inequity I sought to change," Rodriguez says. She started Hot Bread Kitchen in 2007, with a mission of helping low-income and foreign-born women to "proactively get positions in the baking industry."
These women have changed Rodriguez's life as well. When some of them expressed interest in starting their own food businesses rather than finding employment in bakeries, Rodriguez was inspired to start the second phase of her organization, HBK Incubates, in 2011. This business development program helps women and minorities from upper Manhattan build food businesses using Hot Bread Kitchen's commercial kitchen space, and provides support in every aspect from  financial advising to culinary coaching.

Here's an inside look at the magic that happens when Hot Bread Kitchen combines delicious bread with a social mission.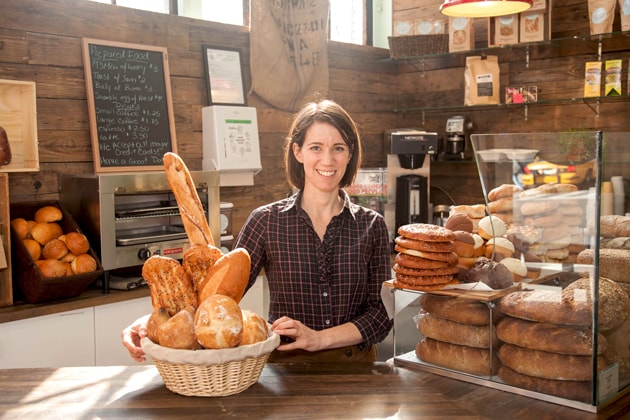 After helping so many people start their dream business, Rodriguez says she believes succeeding as a woman entrepreneur means "making tough life choices." She considers perseverance the key characteristic to starting a thriving business. "Someone can have the best food idea," she says, "but if she has the wrong mindset, it won't succeed."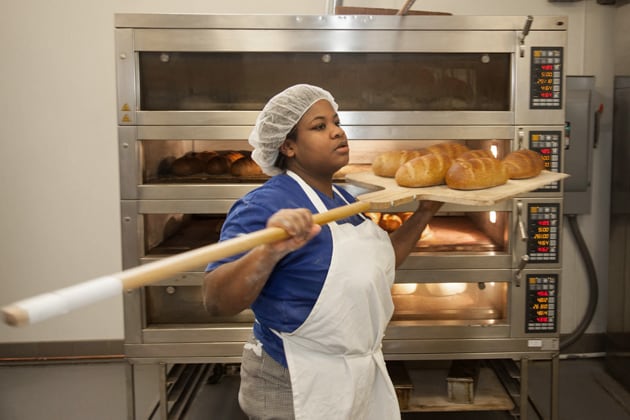 Hot Bread Kitchen employs 47 people, including women bakers who immigrated from countries ranging from Bangladesh to Morocco.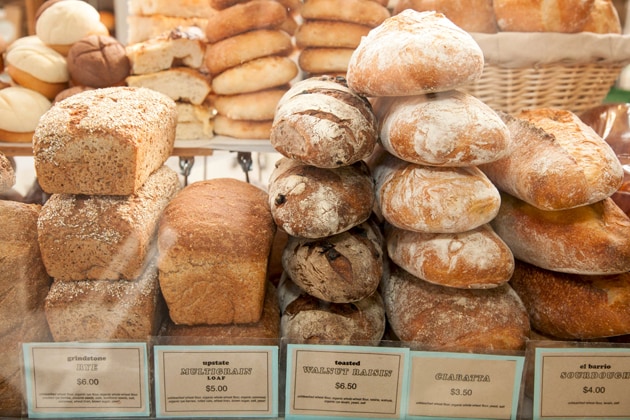 The business sells 35 different types of breads through its bakery location in East Harlem as well as to restaurants and retailers including Whole Foods and greenmarket shops. The bakery's products, from rye to sourdough, have been praised by publications such as The New York Times.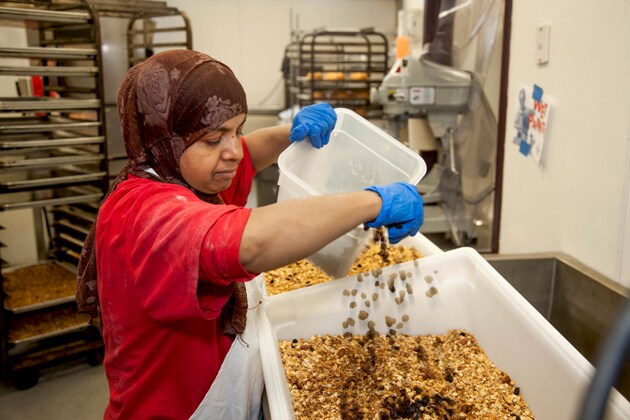 One of Hot Bread Kitchen's most popular products, My Mom's Nutty Granola, is a throwback to the 1970s hippie culture, inspired by Rodriguez's mother's own recipe of rolled oats, almonds, peanuts, unsulfured raisins, wheat germ, seeds and pepitas, which workers mix and bake with organic honey.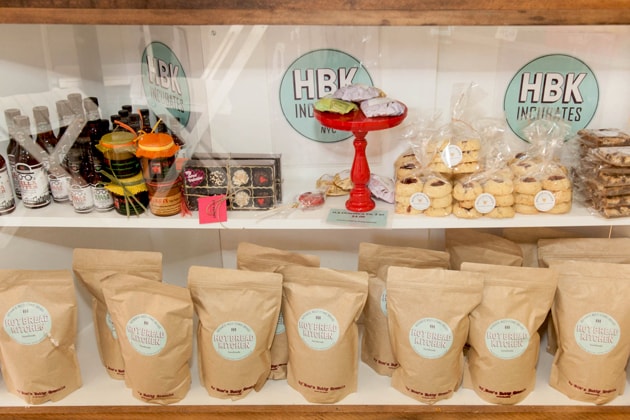 HBK Incubates has helped 36 food businesses to start up, selling everything from cookies to cake pops, and seasoning to tamales.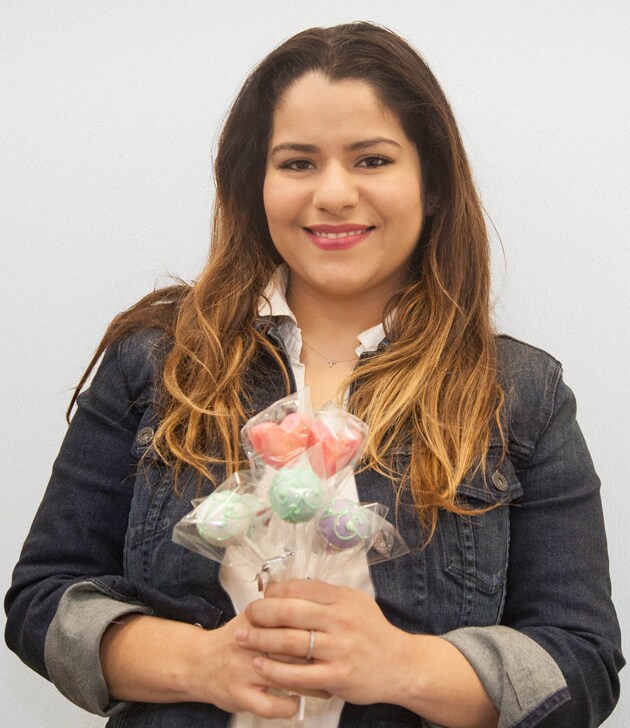 Just a couple of years ago, HBK Incubates member Lerida Mojica was making cake pops from her kitchen for her kids and her friends' kids. As word of mouth spread, she posted some photos on Etsy and started getting huge orders from corporations and celebrities including Hugh Jackman, as well as media attention from publications such as Martha Stewart Living and People Style Watch. To deal with the demand, she joined the incubator. Today, Mojica says she and the other entrepreneurs who operate in the kitchen space are "like a family."
 

In 2012, NYC Cake Pops sold about 90,000 cake pops and earned revenues of $200,000. Now Mojica hopes to have her own production space, to eventually open a storefront and satellite shops, and even to expand to other cities. "As my business grows, my goals change," she says.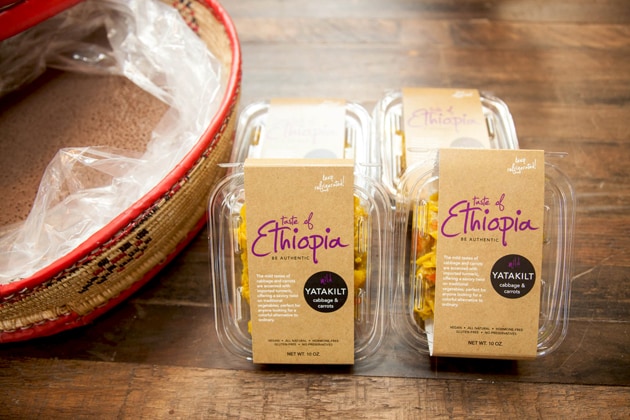 Another HBK Incubates entrepreneur, Hiyaw Gebreyohannes, started Taste of Ethiopia to "bring Ethiopian food to the masses" through grab-and-go packaging. He says he chose to start through HBK Incubates "to grow steadily and get into the right stores." Today, Taste of Ethiopia is sold in 40 stores, including Whole Foods.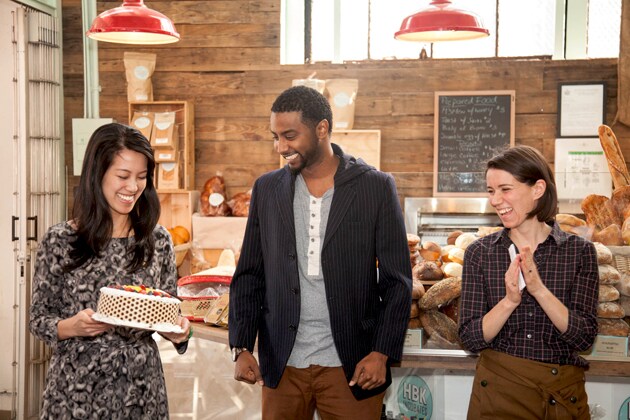 As the third graduate of HBK Incubates, Gebreyohannes has expanded into his own 60,000-square-foot production facility, but says he hasn't outgrown his relationship with his fellow incubator members. "Being able to be around a whole bunch of other entrepreneurs, to get new ideas, to be mentored and to be a mentor" has been valuable to his success, he says.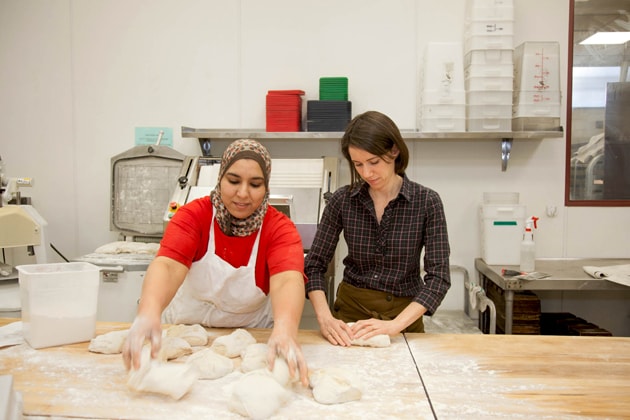 Meanwhile, Rodriguez is following her own recipe to success, as Hot Bread Kitchen graduates to a new level of influence. She says, "we're looking at scaling to other cities," to help women bakers and minority and women entrepreneurs across the nation.

Photos: Dina Kantor for OPEN Forum