Asheville is a city on the rise. Located in the beautiful mountains of western North Carolina, Asheville has long attracted visitors looking to get away from the big cities during the summer or hoping to catch the bloom of autumn color.
That's been especially true in recent years as Asheville has experienced a resurgence fueled by local entrepreneurs and developers who've revitalized the city's downtown. Today, there are dozens of restaurants, bars and retailers on just about every street in town, which has increasingly helped place Asheville on various Top 10 lists of the best places to live or visit in the United States.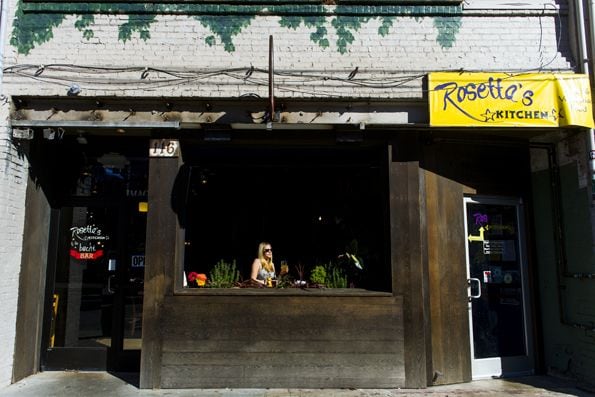 Rosetta's Kitchen in Asheville, North Carolina.

Power to the People
Franzi Charen moved to Asheville 13 years ago, so she's had a front row seat to all the changes the city has experienced, especially in its downtown district. Charen had moved to Asheville from Oakland, California, as a way to escape the high cost of living in a big city and to find a place that embraced its artists and independent businesspeople. A bit of a serial entrepreneur with several ventures under her belt, Charen currently co-owns Hip Replacements, a 20-year-old, vintage-inspired retail shop located in downtown Asheville that Charen and her business partner, Kip Veno, bought in 2008.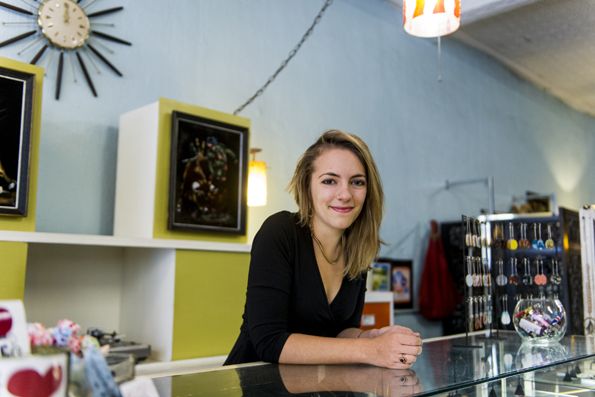 Sales associate Emma Hutchens at Hip Replacements in Asheville.
The partners' first big challenge arose in 2009, when they learned that Urban Outfitters, a national retail chain, was planning to move to Asheville—smack in the middle of downtown. Seeing that as a threat not just to their store, but to the local independent business community as a whole, Charen and her partner joined up with other retailers like them to come up with some kind of response.
"We joined forces to find a better way we could market locally owned businesses as a way to stand out from the national chains," Charen says. "We wanted to help educate residents and visitors about the kind of impact we have on the local economy."
The group of retailers and restaurateurs spent several hours together at a local restaurant hashing out ideas and potential strategies, trying to find something that showed they were united in a cause. But it wasn't until a few days later that an idea hit Charen while she was taking a shower: T-shirts.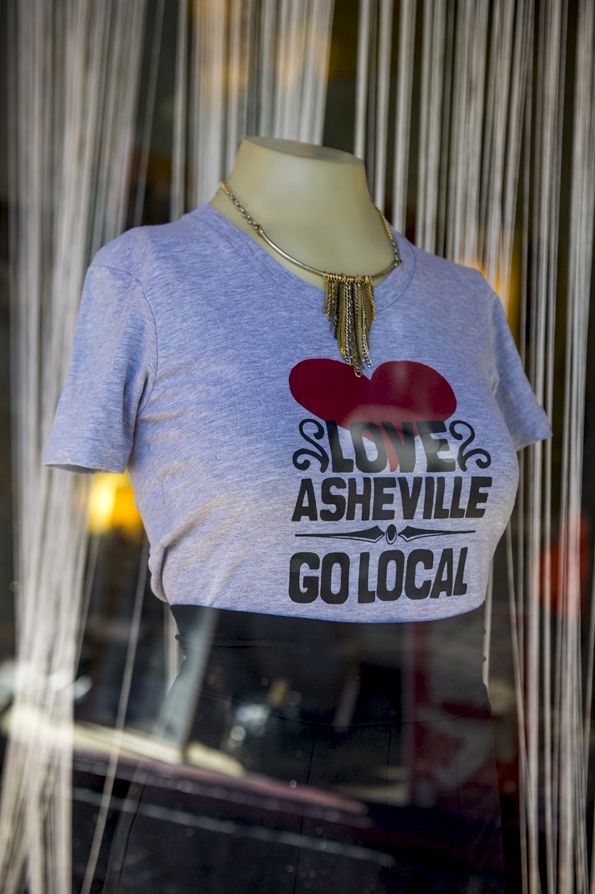 Buy local t-shirt at Hip Replacements in Asheville.
"The idea that came to me was that all the downtown business employees should wear a shirt that said something about buying locally," she says. "If we all wore the same shirt and logo, we could really create some buzz from our solidarity."
The idea—and movement—took off from there, after a local designer created the slogan and logo—"Asheville Grown/Buy Local"—and a local printer agreed to make up about 200 posters to be hung up around town. The T-shirts and posters were a big hit with customers, and business owners from other neighborhoods including the River Arts District and towns like West Asheville adopted them as well.
Eventually, Charen was getting so many requests from businesses wanting to participate, she realized she needed something more formal to help keep everyone organized. So, in January 2010, she created a steering committee with five of her fellow business owners, and the Asheville Grown Business Alliance (AGBA) was born with a goal to help promote locally owned and operated businesses in town. The organization, which is non-membership based, is still going strong today.
"It was such a fun and inspiring experience for me," says Charen, who, through her work with AGBA, has also helped launch subsequent pro-local campaigns, such as the "Love Asheville" campaign born around Valentine's Day 2010 and the Go Local card, a fundraiser for local public schools that get to keep half the money raised from the sale of the $12 card. Now in its fourth year, the "Love Asheville Go Local Card" includes a network of more than 400 businesses that offer perks and discounts to card-carrying customers. Since its inception, sales of the card have raised more than $45,000 for Asheville schools.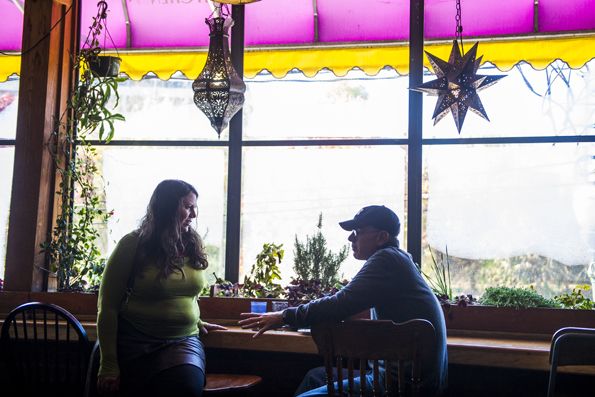 Business owner Rosetta Buan interacts with customer at Rosetta's Kitchen in Asheville.

Local Matters
While buying locally and supporting businesses in your community isn't exactly a new trend, it's one that gathered significant momentum in the wake of the recession that kicked off in 2008, says Kalyn Rozanski of Rozanski Trends, which studies trends in business on behalf of creative agencies and brands. One factor that's contributed to an increased "local focus" is the rise in number of the people working as freelancers: According to Rozanski, there are now more than 53 million freelancers in the United States, which has really helped the local movement grow and flourish in communities nationwide.
"Communities want to support local businesses that directly impact their local economy," Rozanski says. "For the economy, I think this means we're becoming more differentiated. We're coming out of the 'big retailer age,' and this movement puts more power and control back in the consumer's hands to impact and protect their own local economies. It also creates more jobs, because consumers can effectively start their own businesses, and [they] have more resources than ever before to be successful."

Customers shopping at Hip Replacements in Asheville.

The statistics bear out Rozanski's point: Research conducted by economic analysis and strategic planning firm Civic Economics showed that for every $100 spent by consumers to purchases products or services from a non-local business, $43 stays in the community. But when consumers buy from local businesses, the amount of money that stays in the community increases to $68.
Author Michael H. Shuman, who has written several books on the power of consumers spending their dollars locally, has noted that supporting local businesses doesn't mean walling off the outside world. Rather, as he writes in his book Going Local, it means "nurturing locally owned businesses which use local resources sustainably, employ local workers at decent wages and serve primarily local consumers. It means becoming more self-sufficient and less dependent on imports. Control moves from the boardrooms of distant corporations and back into the community where it belongs."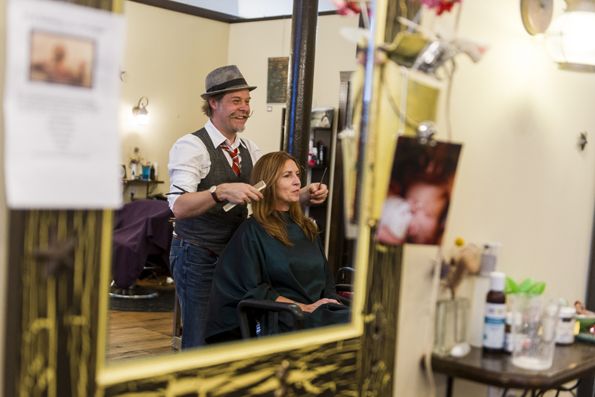 Holiday Childress cuts a client's hair at Adorn Salon & Boutique in Asheville.
Shuman is one of the founding board members of the Business Alliance for Local Living Economies (BALLE), an organization that supports the local economy movement and is seeking to change how we think about the purpose of business and the economy. "Localism is about building communities that are more healthy and sustainable and are backed by local economies that are stronger and more resilient," says Anna Ghosh, BALLE's director of communications and marketing. "It means we use regional resources to meet our needs—reconnecting eaters with farmers, investors with entrepreneurs, and business owners with the communities and natural places on which they depend."
Eating Close to Home
The notion of buying locally has clearly been boosted by the rise in popularity of the local food movement, with the prolific rise in farmer's markets around the country creating a new way for consumers to buy directly from their local farmers.

The Tempeh Reuben at Rosetta's Kitchen in Asheville.
That's a trend that entrepreneurs like Andy LaPointe of Traverse Bay Farms, a gourmet food business in Bellaire, Michigan, has tapped into with his nationally award-winning, fruit-based products including fruit salsa and BBQ sauce, dried fruit and more. In addition to selling his products online, LaPointe also sells his products at two retail stores in Northern Michigan with plans to open a third store in the near future.
LaPointe says his business is growing, thanks to increased demand from customers wanting more fruits and vegetables they can trace back to their source. "We not only promote our products as made with local [ingredients]," says LaPointe, whose business is smack in the middle of prime cherry-growing country, "but we also promote the overall experience of our region by talking about the local treasures and natural attractions. This gives people a sense of belonging and [being] part of the community even if they're only visitors for a day."
But LaPointe admits that price is still a barrier for some customers since they can get cheaper alternatives that are likely imported from other countries. That's why he finds it so crucial to play up the difference consumers make by buying locally. Even if they have to pay more for the local product, he explains, "they understand who they're supporting by doing so."

Goods available for sale at Hip Replacements in Asheville.
The appeal of buying locally isn't something big companies are ignoring either, Rozanski notes. Just look at how retailers like Whole Foods highlight locally farmed products on their shelves, she says, or even how Nordstrom has announced plans to feature local designers on its shelves later this year.
"As a society," Rozanski says, "we'll begin to expect these bigger businesses to give back and boost the local economies."
Made in the U.S.A. Makes a Comeback
As consumers become more educated about the power of buying locally, they've also begun to spur demand for products that have recently been made overseas.
According to a recent survey conducted by the Consumer Reports National Research Center, 78 percent of Americans would choose an American-made product over an identical product manufactured abroad. They'd even pay more for those products. Those kind of choices can have a powerful economic impact: According to the President's Council of Advisors on Science and Technology, for example, every dollar spent in American manufacturing distributes about $1.35 into the wider economy.
The apparel industry is one example of a once-strong American industry that—in the wake of global competition and shifts in trade brought about by agreements like NAFTA (the North American Free Trade Agreement)—seemed to be gone for good. Most clothing sold through big box retailers is now made overseas, leaving areas that once relied on textile manufacturing to support their local economies devastated by the change.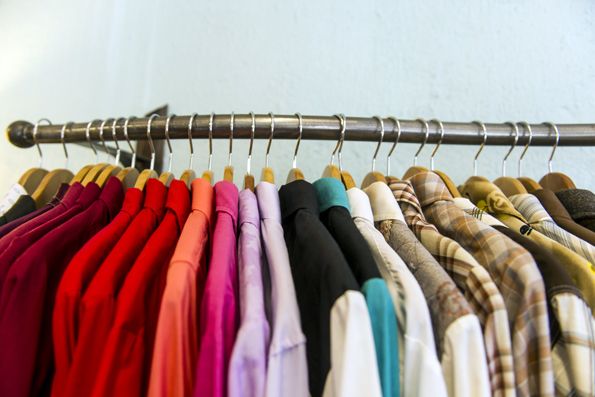 Shirts at Hip Replacements in Asheville.
Case in point: North Carolina has seen its share of jobs in the textile and apparel manufacturing sector shrink from 40 percent of total employment in 1940 to just 1.1 percent of all jobs in 2013. The community of Burlington, North Carolina, which lies in the middle of the state at the junction of two major interstates, is a community that was hit particularly hard when those jobs went overseas.
"Downtown Burlington was devastated by globalization," says Eric Henry, president and co-founder of TS Designs, a custom T-shirt manufacturer, whose business was also hammered as the effects of NAFTA spread throughout the United States.
Henry is now leading the charge to revitalize his hometown by reinventing the local apparel business and giving customers the chance to buy locally made shirts manufactured using cotton grown right in the state. Henry says the idea was inspired by the local food movement—if people cared where their food came from, Henry thought, shouldn't they also care where the material that goes into their clothes is grown and made?
"Instead of closing shop or moving overseas," says Henry, whose business is also a certified B Corporation, "we reinvented ourselves based on a triple bottom line of people, planet and profit to provide the highest-quality and most sustainable T-shirt. Today, through our brand Cotton of the Carolinas, we go 'dirt to shirt' in 600 miles, while impacting 500 jobs in a completely transparent supply chain."
As TS Designs has grown under its new model, it's also given Henry the chance to give back to his community, where he's helped bring new life back to his hometown by starting a downtown food co-op called Company Shops Market. That, in turn, has led to other new projects and developments in town like the Burlington Beer Works and, just a few miles away, the Saxapahaw Rivermill, which rose from the husk of an old textile mill.
"The co-op was the seed we planted that helped connect all the people in our community who'd been disconnected," Henry says, "and it was all spurred by our ability to tap the upside our community had in making textiles and apparel."
That kind of strong connection to its community is something that characterizes B Corps like TS Designs. "It's vital for business to help foster thriving communities," says Katie Kerr, a spokesperson for B Lab, the organization that certifies companies as B Corps on a variety of measures, including its roots in its community. "By taking care of people and place, we create a shared and durable prosperity. When a business is more connected, [business owners] make decisions with their impact in mind and, at best, they produce things that are directly beneficial to the community. And it's a two-way street: Their neighbors will most likely support them in turn, creating a stronger company."
Looking Into the Future
While Charen and the Asheville Grown Business Alliance deserve significant credit for putting Asheville on the map in terms of its growing national profile, Charen is also concerned that despite all the support consumers have shown for locally owned businesses, big national chains are continuing to show interest in moving into the town as well.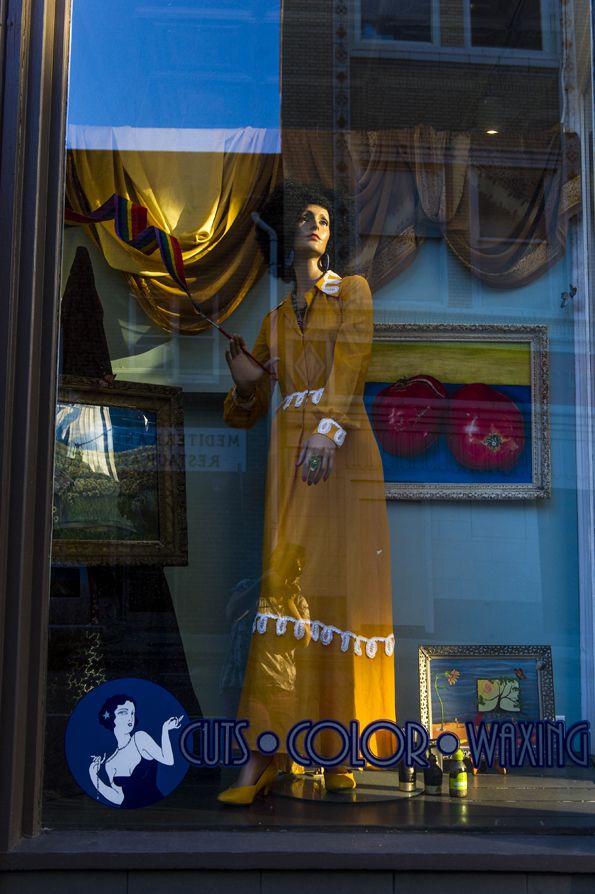 Storefront of Adorn Salon & Boutique in Asheville.
"I fear for the homogenization of Asheville," Charen says, "because Asheville has no official policy for keeping locally owned businesses healthy or for supporting a more level playing field, especially when it comes to property ownership."
Charen says she'd like to spend even more time working on public policy, though, as a business owner herself, time is a precious resource. "It's a juggling act for me," she admits.
Nevertheless, she remains passionate about supporting locally owned businesses in Asheville. "As exciting as the growth of Asheville has been for me and my business," she notes, "we can't just cater to the tourists who want the same stores that are in every big city. If we ignore our local businesses, Asheville will become Anywhere U.S.A.

Customers enjoy tea at Rosetta's Kitchen in Asheville.
"My biggest fear," she adds, "is that we ignore the potential to grow local supply chains and lose our resiliency due to shortsightedness and short-term profit."
Read more articles on local businesses.  
Photos: Susannah Kay for OPEN Forum