By now, most of you know that social media is a powerful ally for small businesses. But are you taking advantage of all it has to offer? The social platform Pinterest calls itself "a visual bookmarking tool that helps people discover and save creative ideas." And it's a great way for your own customers (potential and existing) to discover what you have to offer.
To learn more, I talked to Joel Meek, the head of partner online sales and operations at Pinterest.
Why should a small business be on Pinterest?
Pinterest is a visual discovery tool helping people find ideas. They come looking for answers to personal questions—and those answers are something we call discovery. We're building a discovery engine to help billions of people explore their interests and plan for their futures. If Facebook is about the past and Twitter is about the present, Pinterest is all about the future.
Something we believe differentiates us from other services is that businesses are a natural, welcome and essential part of Pinterest for our users. Businesses have the opportunity to get discovered by millions of users asking questions, wanting connections and taking action. This is one of the most powerful ways to drive business goals.
How can you best use Pinterest if you're an accountant, for example, and don't own a visual business?
You don't have to be a visual business to be on Pinterest. Pinterest is the place where people plan for their futures. People are searching for information to help them save money, or ideas to be smarter about their taxes—by establishing a Pinterest profile, you enable more people to discover what makes your business stand out.
What's the difference if a business signs up for Pinterest with a personal or a business account?

I recommend all businesses sign up for business accounts. You get more features than with personal accounts, including:
Analytics. Pinterest analytics enable you to see what people are Pinning from your website, how Pins from your Pinterest profile are performing, and which of your Pins and boards are driving the most impressions, clicks and repins. And analytics tell you which Pins drive engagement across different platforms. You also get access to your audience demographics, which show the regions of America or foreign countries you're getting interest from.
Awareness. There are many ways to get discovered. What you Pin gets picked up by the search engines. You should also add a Pin It button to your website (it is available in various sizes and colors) next to the items you want to share.
Promoted Pins. We launched Promoted Pins in beta in 2014. Participating brand advertisers achieved about a 30 percent bump in earned media (free impressions) from their campaigns. That's from people who saw a Promoted Pin and thought it was good enough to save to one of their own boards. The program is now available to all U.S.-based Pinterest partners.
Using Promoted Pins, which is still in beta, you pay to amplify the reach of your content to targeted audiences on Pinterest. We recommend you start by Pinning your own organic content, learn what works and then try Promoted Pins. If you have signed up for a personal account, you can convert it to a business account at no charge.
Once a small business has signed up for Pinterest, what's the best way to get followers? How do you get your existing customers to follow you?
The obvious answer is to promote through your existing marketing channels, in your store, on your website and on your other social media platforms. Holding contests, for example, is a great way to encourage your audience to engage with you. But, make sure everything you Pin is authentic, meaning you should only Pin things that are representative of your business. For help, read our brand guidelines or tips on Pinning like a pro. You should also check out our "Acceptable Use Policy."
Artifact Uprising, a small business that uses beautiful photos to make products such as calendars and cards, has experienced a lot of success from using Pinterest. After one of their photo books was repinned and then written about by a blogger, many more repins followed, leading to 48,000 hits to its website in the week following the initial post. Artifact Uprising, which adds Pins to its page several times a day, has, in just 18 months, grown to a multi-million dollar company.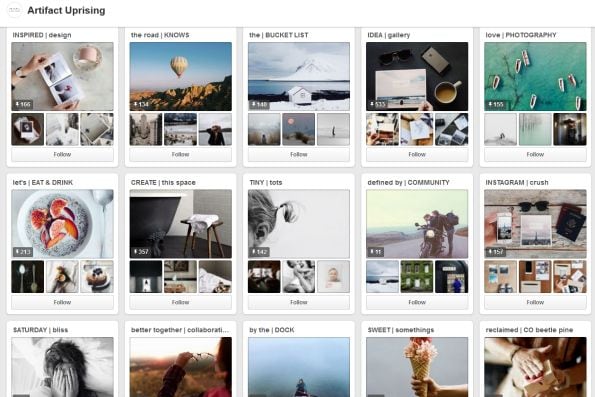 Some of Artifact Uprising's Pinterest boards
As I mentioned before, you should promote your Pins to existing customers by putting the Pin It button on your website, emails and other social channels. In your store, highlight any top-Pinned (popular on Pinterest) items you sell. Be sure to ask your customers to follow you (hang signs around your store or restaurant, print it on your receipts).
What should businesses Pin?
Quotes are very popular, as are infographics. A yoga studio could Pin educational material; health-related companies can Pin about living a healthy life and offer information about food and exercises. Travel agencies often Pin pictures of destinations and links to booking information, while hair salons Pin popular or new styles.
What are some of Pinterest's best practices for small businesses? Can you share some examples of small businesses using Pinterest especially effectively?
You should:
Put Pinners first and consider what your customers really care about. We don't yet know the optimal distribution between Promoted Pins and organic content yet. But, as I said earlier, we recommend all businesses start with organic content, use our analytics product to find out what works and then use those learnings to determine which Pins to promote.
Curate your collection. The best boards are inspiring, with beautiful images that draw people in.
For local businesses, add your location in the Pin description to improve relevance in Pinterest search results.
Pin the things that represent your brand, but don't just show off your products or services—show the ideas, places and people that inspire your brand.
Pin regularly and make sure your Pins link back to something helpful, such as your website where customers can purchase products, directions to your store or recipes of your restaurant's most popular dishes.
Doing these best practices also improves your search engine optimization (SEO) on traditional search engines. Test and see what works best for your brand and business goals.
As for successful businesses, Heather Cleveland Design, a residential design firm in San Francisco, saved a client a lot of time by shopping online and Pinning items to a group board. Heather Cleveland, the firm's founder, also signed a $40,000 bathroom remodel project after posting a board from a prior customer project.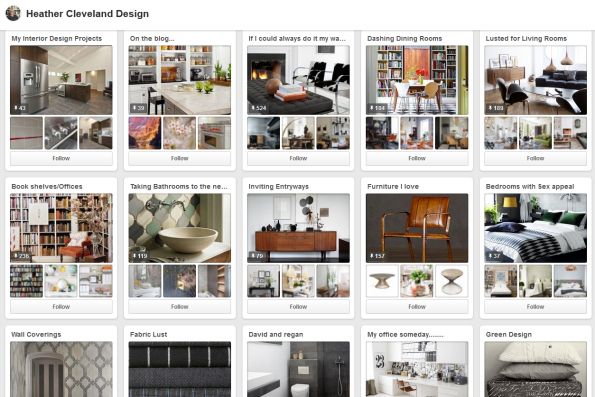 Examples of Heather Cleveland Design's Pinterest boards
Blue Apron, a meal delivery service, has Pinned over 4,500 Pins to educate users about the benefits of eating and cooking with fresh, seasonal ingredients. They amplify their best performing organic Pins with Promoted Pins. Every month they reach millions of users and get an average of 25,000 repins.
As Joel Meek's answers prove, there's plenty of marketing power in visuals—they keep customers online longer and can influence human emotions and buying behaviors—leaving little doubt that adding a visual medium like Pinterest to your marketing arsenal is a smart and profitable strategy.
Photos from top: Shutterstock, Pinterest.com