On a recent rainy evening during business hours, the door to Prohibition Bakery on Clinton Street on New York's Lower East Side is closed. Behind a mounted sign marked "NOPE" (with the same letters spelling "OPEN" on its reverse side), owners Brooke Siem and Leslie Feinberg work together to mop up their 200-square-foot shop. "We have a leak," Feinberg explains, emerging from the combined commercial kitchen and retail space with a box of mini cupcakes.
With their unique recipe for alcohol-infused cupcakes, Siem and Feinberg have been countering expectations of two young, apron-clad women creating confections since their partnership began in 2011. "We're not pink and adorable," says Siem, a 29-year-old native of Reno, Nevada, and graduate of Middlebury College in Vermont and the Institute for Culinary Education in New York. "The cupcakes are adorable, but we're not."
Until a back injury sidelined her restaurant career, Siem worked in the kitchens of two of Manhattan's top culinary destinations. Unable to find stable employment, she had plenty of time to play around making Cosmopolitan-flavored cupcakes for a friend's bachelorette party. From there, despite a lack of expertise in mixology, she got the subversive idea to make a line of cupcakes based on cocktails.
"That's when I talked to Leslie, because I knew she could make things taste like cocktails," Siem says. At the time, the now 30-year-old Feinberg was in transition from a job in publishing to tending bar, after graduating from Sarah Lawrence College in Yonkers. She and Siem—a friend she met on a trip to Israel in 2011, and a regular bar patron—brainstormed about which cocktails could translate into cupcakes and how to get the flavor balance right. A few years later, Feinberg calls their Old Fashioned cupcake (whiskey, bitters, orange, whiskey-soaked cherry) her favorite. Depending on the day, Siem goes for one of two flavors: Pretzels & Beer (beer, hazelnut spread, pretzel, white truffle) or Margarita (lime, tequila, triple sec, fleur de sel).
In their early, experimental concoctions tested on friends, the two wanted to create something more upscale than the boozy cupcake recipes littering the Internet. Applying experimental techniques learned in commercial kitchens, Siem was shocked to discover that they worked. "It was pretty easy, actually," she says of their proprietary method, which involves adding the booze after cooking, so it doesn't bake off. "That's the secret part."
"We decided to become business partners over instant message," Feinberg recalls. "Considering where we are now, it was ridiculously low-key: 'Do you want to start a business making alcoholic cupcakes?' 'Sure.' 'I'm serious.' 'Me, too.'"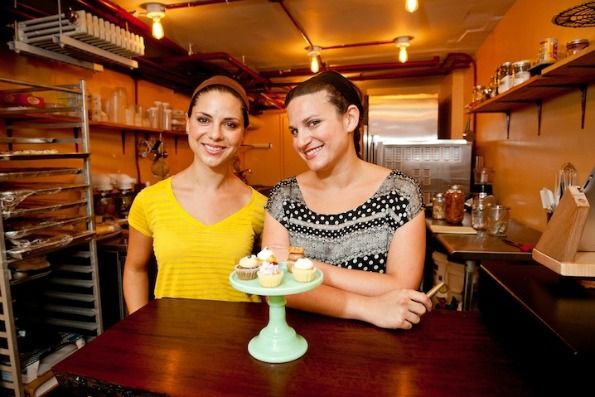 Brooke Siem and Leslie Feinberg
They baked out of their apartments, adopting a "fake it till you make it" attitude common to so many eventually successful entrepreneurs. Through an acquaintance who acted on Broadway, they got a gig making boozy cupcakes for openings of two productions. From there, business picked up through word of mouth.
When they envisioned a combined retail and production space, they knew they wanted to be on the Lower East Side, and in August 2012, they moved into the first location they visited with a real estate broker. The rectangular, basement-level space is wide open so that customers perched on a little bench at the front can see the whole operation, which runs on one convection oven, a refrigerator, a slightly-too-tall sink, about 20 feet of counter space, and a speed rack stacked with cooling cupcakes sold over a counter made from an old wine barrel. Sepia-tinted photos of the owners' grandparents and great-grandparents and a framed front page of a newspaper published in 1920—on the first day of Prohibition—enhance the throwback effect. "And we don't have air conditioning, so every summer it's like we step back in time," Siem says.
Aside from the retail sales, the company boasts a number of corporate clients, and the owners are currently developing partnerships with large-scale catering operations focused on tech companies. "That's our target—young professionals, forward-thinking people, foodies, quote unquote," Feinberg says. Prohibition Bakery cupcakes are now in demand at Fashion Week events, and they have regular accounts with some New York hotels.
"We use a third-party delivery service called Caviar these days, so we don't necessarily know who customers are in advance," Feinberg says. "It does take some personal interaction out of the whole process, but they're fantastic, and they've helped us so much. They really provided a solution to a problem we didn't anticipate when we started out."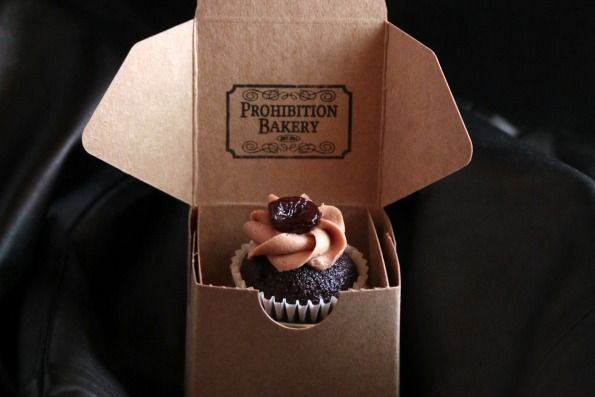 With a lean staff of just two additional part-timers, Feinberg focuses on interpersonal tasks like customer service and vendor partnerships. Siem, who handles social media and more behind-the-scenes brand development, says, "If we had a curtain, I'd be back there all the time. But everything bleeds over. It's pretty difficult to clearly draw lines, as much as we try."
On a day-to-day basis, their roles might overlap, but Siem and Feinberg arrived at the business through divergent routes. Feinberg grew up in the kitchen with her mother, developing a sense so intrinsic that she can smell when neighbors' cookies are done baking in her apartment building. Siem says that she was drawn to cooking in reaction to her mother's aversion, adding, "My father's definition of dinner was a can of chili and a sleeve of crackers, so I decided to cook for myself."
As they develop their next product—a yet-to-be-disclosed sweet treat also reminiscent of childhood, but this time, shelf-stable—the two are focused on franchising nationally and internationally. With a cash-flow-positive business, which began with an initial investment of personal savings and $12,000 in Kickstarter campaign funds that helped open their doors, they're hoping for investment in the near future. "We worked on a shoestring budget during the early days and had very low overhead. That, combined with a lot of talented friends who were willing to do things like build a website or design a logo for the fraction of their actual costs, allowed the business to be self-sustaining. Now we've reached a point where we're looking for investment in order to get to the next level," Feinberg says.
"We're selling cupcakes for $1.66 each—there's a level we can't surpass until we get a big injection of capital," Siem says, citing hopes of opening far-flung locations across the globe one day. "It's not like we're a tech company and can sell to Facebook. In the meantime, we're lucky to have our own business to mop up."
Photos from top: Siem Photography / Courtesy of Prohibition Bakery (2), Stacie Joy / Courtesy of Prohibition Bakery
PROHIBITION BAKERY / BROOKE SIEM AND LESLIE FEINBERG / MEMBER SINCE 12