Post-Katrina New Orleans is a hotbed of entrepreneurial activity for a wide variety of young companies, including ones I've previously covered, such as The Solomon Group, Chapter Spot and Jolie and Elizabeth. Leading universities, such as Tulane, Loyola and University of New Orleans, provide a skilled and willing workforce, and incubators and accelerators as well as co-working organizations like The Idea Village and Launch Pad all contribute to a vibrant ecosystem for startups. Propeller, the latest rising-star accelerator and co-working company, is feeding off this momentum, and serving a fast-growing niche in New Orleans: social entrepreneurs.
Fast Track
Propeller's executive director Andrea Chen, who was with Teach for America, founded Propeller's predecessor, Social Entrepreneurs of New Orleans, in 2008. But the company really took off at the beginning of this year, after partnering with Green Coast Enterprises to build out a 10,000-square-foot former rim shop with co-working spaces, open-area desks and private offices. "Within two and a half months, all of our 16 private offices were full," Chen says. "We already have a waiting list for our spaces."
The company now hosts a total of 36 companies, all of which pay varying monthly fees for space. Tenants include FitLot, which builds outdoor fitness parks, Rural Revolution, which connects female artisans with sales reps, and Uptown Solar, a designer and installer of solar systems.
RELATED: 4 Legal Resources for Your Social Enterprise
In addition to offering co-working spaces, Propeller provides accelerator services to startups. "If we're going to scale social impact, we need ventures that are sustainable," Chen says. "We need to take their passion and also help them understand business principles." To that end, Propeller offers intensive technical assistance by leveraging over 100 professional volunteers who help its tenants with, for instance, business plans, strategy, government regulations, legal issues and graphic design.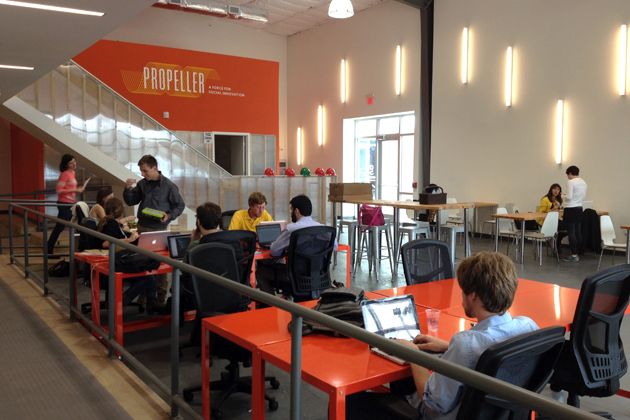 Secrets to Startup. Still, not everyone with fire in their belly for a particular cause should start a social enterprise, cautions Chen. Here are five tips she offers to those considering that path:
Measure your impact. Every social entrepreneur has a mission—that's the easy part. "But you have to figure out how you'll measure your social impact," Chen says. "You've got to have a goal—'if I meet this, then I'm successful.'" That could involve the number of clients served, landing a key strategic partnership or hitting a revenue number.
Define your market. One of the biggest challenges for social enterprises is that the people they most want to serve often cannot afford to pay them. "You have to determine where your resources are coming from," Chen advises. For example, one of Propeller's clients, Birthmark Doula Collective, provides support to pregnant women before, during and after labor. "For every woman who buys their service, they serve one woman who cannot afford it," Chen says. Propeller helped the company forge a partnership with a local hospital that uses Birthmark Doulas to help reduce the number of C-sections.
Know your competition. "People don't like to acknowledge that they have competition," Chen explains, "so we call them potential collaborators." Young, idealistic entrepreneurs are often so focused on their ideas that they neglect to conduct market research on who else may have similar goals. "Half of my job is to convince people not to start another after-school program," Chen jokes. It's often better, she says, to partner with an existing company or organization.
RELATED: Social Entrepreneurs Set Out to Change the World
Marshal the right resources. "People think about social impact, but not about how to scale," Chen says. Very often, that involves an honest assessment of what resources you have and the ones you desperately need. For example, Propeller helped the founders of Jack and Jake's, a regional food hub that connects local growers to big customers, get their operation up and running by pairing them with a CFO. "The CFO made sure their accounting systems were tight," Chen says, which in turn helped convince investors to finance the startup. "They were able to rent a warehouse and buy a truck," Chen adds.

Plan for the worst. This is a tough one, because no one likes to think about the worst-case scenario. "People get upset, but you really need to think through all the different ways that you will fail," Chen cautions. "And you need to have a plan for how you will overcome that."
It's not easy, but then again, it's not supposed to be. What incubators like Propeller offer, beyond solid advice, is a sense of community. And that in itself can be surprisingly valuable. "We had two tenants who didn't know one another get together to create a free app that maps out all the recreational facilities in the city," Chen says. Likewise, a flower farmer in need of land found just what she needed from another entrepreneur in the incubator. "She just harvested her first crop of daffodils," Chen adds. Granted, those are baby steps on the long road to sustainable business. But for Chen, they're indicative of Propeller's growing number of successes and proof that when like-minded people get together, things get done.
Read more articles on leadership.
Photos: Courtesy of Andrea Chen