The glass door to San Francisco-based Quid is so nondescript—with just four light blue letters spelling the company name—it's easy to pass by without noticing. There's no indication that inside, 42 people are aiming to change the way we see the world through data analytics. And they just happen to work in one of the coolest office spaces in the country. 
Quid launched in late 2009 when University of Oxford graduates Sean Gourley and Bob Goodson branched off from startup YouNoodle to create a software product that analyzes complex data and spits it out into digestible formats. The data is designed help companies and government agencies make more informed decisions and predict future events.
When looking for an office space, Gourley and Goodson wanted a clean slate. They found a 5,200-square-foot warehouse that hadn't been rented in more than three years. Although they'd raised more than $12.5 million in venture capital funding by early 2010, Gourley and Goodman felt skittish about non-product spending and tasked design firm Studio O+A with outfitting the entire space for a mere $25,000. By spring of 2010, they were all moved in.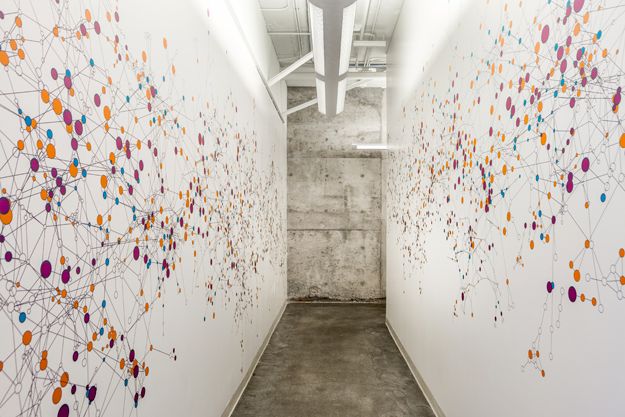 Walls lining the company's cement entranceway are decorated with connected dots, a common graphic used in presentations on Quid's functionality, which combines machine intelligence with people smarts to produce predictive and highly sophisticated analyzation technologies.
"We use our minds with machines to interface with data," Gourley says. "It isn't artificial intelligence; it's augmented intelligence."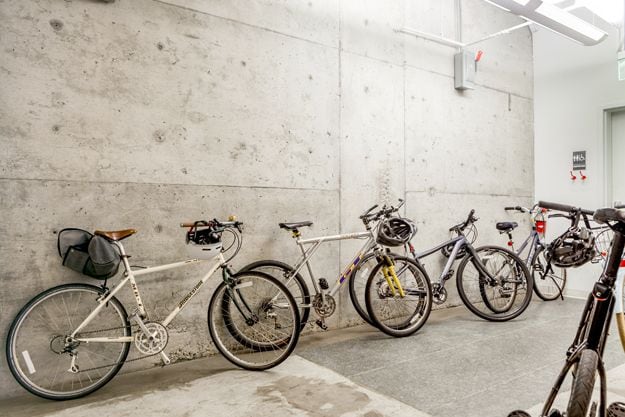 Bikes are scattered near the end of the entrance hall, in front of the office's main atrium. Several Quid employees prefer biking to driving or taking public transportation.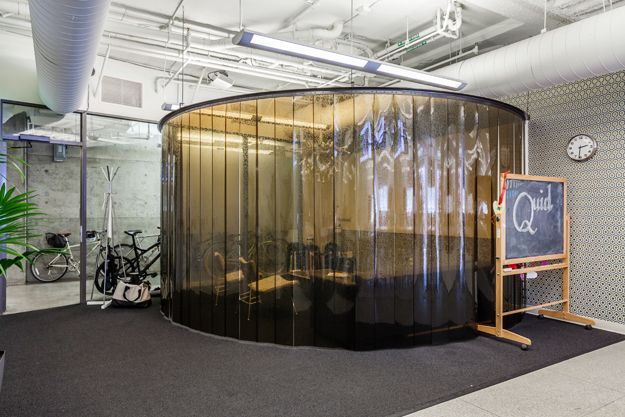 The Quid office opens with a space labeled "the meat locker," a collection of rubber strips put together in a semicircle with chairs in the center.
"The meat locker is such an innovative space," Gourley says. "After Studio O+A built it, several companies wanted to replicate the design. Today the same concept is inside six offices, including Microsoft's headquarters."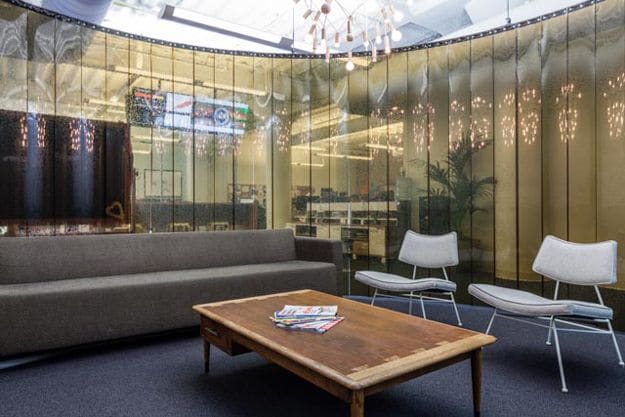 The interior of the meat locker doubles as a waiting room space and conference room for creative conversations.
"It is one of the last spaces we book for meetings, but I think it is one of the best spaces for gatherings," he says. "You have this sense of semi-privacy where people can hear if they really listen and pop in if they want to contribute."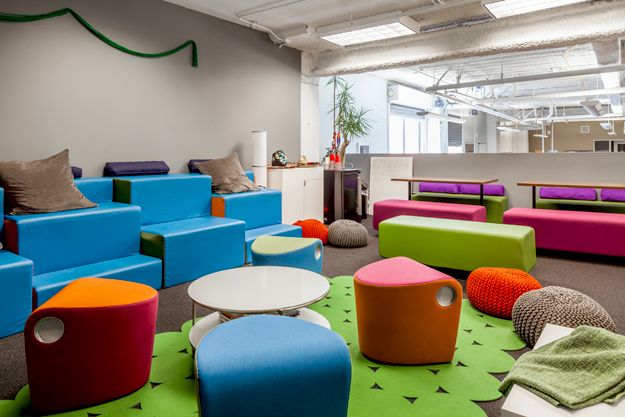 Nearing the back of the office space is the "mezzanine," where staffers often gather to work together in an informal environment and discuss shared projects. Outside of a few dedicated collaborative areas, Quid's offices are nearly silent with bullpen style tables consisting of wall-less cubicles. The environment is open, but noise levels are still kept to a minimum.
"[It is so quiet because] a lot of people are on their headphones. No one will talk to you if you are on your headphones; it is like you are in your own sacred space," Gourley says.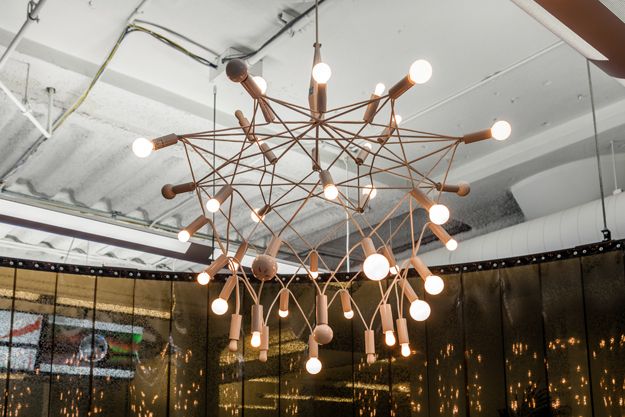 A creatively designed light fixture hangs from the ceiling in the meat locker, adding to the unique feel of the space.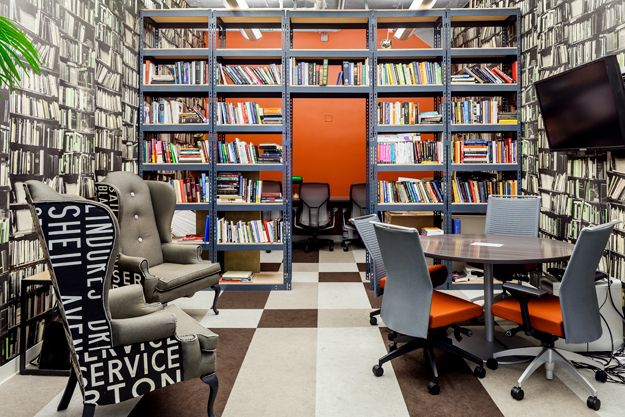 The library, Gourley's favorite part of the office, serves as a meeting room and place to relax. Bookshelf wallpaper helps give off the vibe of a college library—exactly what Gourley and Goodson were going for.
"At Oxford, the common question is, 'What are you are reading?'" Gourley says. "We really wanted to recreate the feel of a library where there would be a human element of searching for a book and that feeling of discovery." 
Employees sit on block furniture pieces on the mezzanine while collaborating on a project.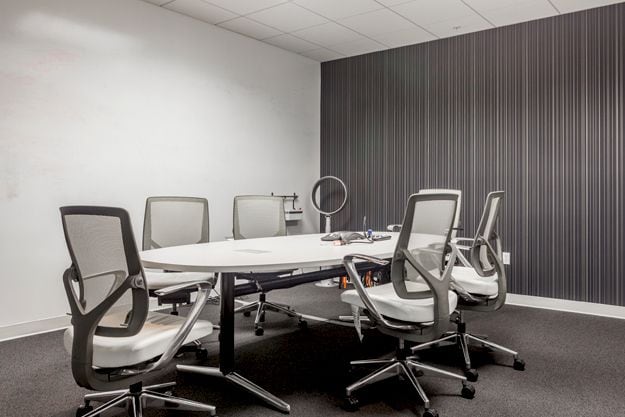 One of Quid's traditional conference rooms is austere in its design with little color and a whiteboard wall, perfect for brainstorming sessions. A sign lists the company's values: authenticity, community, knowledge, leverage and simplicity.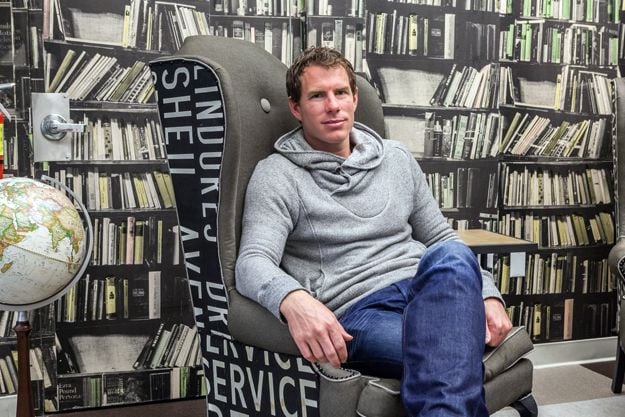 Gourley relaxes in a wingback chair in the office library. The chair, made by a local designer in Alameda, California, is decorated with signs sourced from bus stations in Oxford, England, a creative and personal touch. 
Quid isn't the only company enjoying the effects of this innovative office design. Studio O+A, which created the cool environment on a budget, is also reaping the benefits. "We thought it would be a fun challenge for them and that they could replicate their innovative ideas in other office spaces in the future, which is exactly what ended up happening," Gourley says. 
Photos by Christopher Stark for OPEN Forum