The Rodon Group is a family-owned business, but one employee in particular will never be mistaken for anyone's relative—Baxter, a factory robot.
It isn't surprising that a robot would be at a manufacturing facility, of course. "We've had robots in one form or another at the company since the mid-1990s," says CEO Michael Araten.
But Baxter looks and acts more like the robot of the future than the robots of the past. 
Not Your Father's Robot
For one, Baxter isn't just some robotic arm. He has expressive eyes that set him apart from the kinds of robots that appear to be just another piece of factory equipment. And unlike the other company robots, Baxter can actually be trained, in about 10 minutes, to do new and varied tasks by his co-workers.
The Rodon Group, a Hatfield, Pennsylvania-based, injection molding company with 100 employees making everything from shower curtain rings to plastic caps for bottles, purchased Baxter for $25,000 from Boston-based Rethink Robotics. According to Araten, it was the first company to buy a Baxter, which debuted in 2012 (since then, Rethink Robotics has also produced another robot called Sawyer).
And if The Rodon Group's experience is any indication, employing a mix of human and robotic employees could become a more mainstream staffing strategy among small businesses in the near future.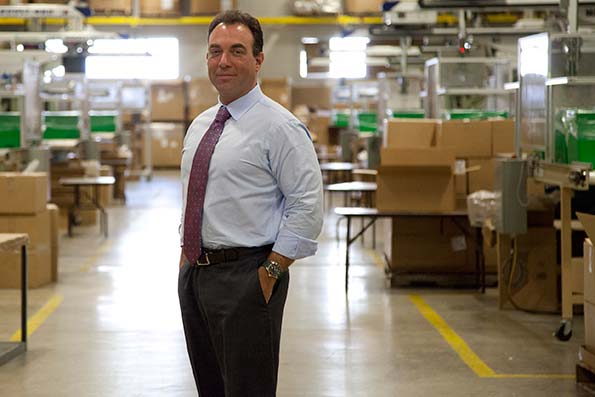 What are the benefits that could appeal to small businesses? First of all, Araten claims the expense was worth it. While $25,000 could easily be a human employee's yearly salary, with Baxter, that $25,000 was paid just once. And though the robot does add something to the electric bill (minimal and less than comparable equipment, according to Araten), Baxter doesn't require health-care costs or workers' comp or ask for time off.
Baxter tackles unexciting tasks such as packing boxes, which may be why Araten claims there wasn't any pushback from employees. In fact, employees can also work side by side with Baxter, since Araten claims no extra safety gating is required. "With most robots, you have to be careful around them. If you get in their way, they're coming at you with a lot of force," he says. "But if he bumps you, or sees you coming, he'll slow to a stop."
Having a robot has made the company more efficient and thus more competitive. "In our environment, where we make billions of parts a year, everything has to be precise, and quality control is very important," Araten says. "We want to pack the parts in boxes as fast as possible, so we can get them shipped in a cost-effective way."
Baxter packs so efficiently that the Rodon Group uses fewer cardboard boxes than it had in the past—about 20 to 40 percent less than when a human does the packing. "Baxter has given us more business, and we've grown our employee base," Araten says.
How Robots Can Help You Save Money
"Robots, as they currently exist, require a lot of programming upfront, and afterward, you have to either be reliant on programmers you might have in-house, or outsource your programmers," Araten says. "Either way, it's costly. But with Baxter, employees can teach him literally by moving his arms and legs and showing him what needs to be done, and then as he works, he learns how to do what he needs to do more efficiently."
Many of the businesses The Rodon Group competes with are from countries where labor costs tend to be lower. Having a robot work for a relatively cheap price, basically 24/7, has allowed The Rodon Group to remain competitive—and save money.
All in all, Araten claims, Baxter has "allowed us to take on those projects that otherwise would frankly go offshore to countries that can [employ] cheap labor."
Where to Get a Robot
If you're considering buying a robot, Araten indicates several places you could do your research, such as approaching industry competitors.
"We do this a lot. You see what the most forward-thinking people in your industry are doing. Usually some are a couple steps ahead and comfortable sharing that type of information. Some will be so far ahead that they'll give you a tour, recognizing that it's better for everyone if their industry is strong," Araten says.
He also suggests using the "underutilized" chamber of commerce as a resource for what type of robot you may want to use, and points to industry trade associations as good places to find out what types of robots, if any, are being used in your field.
The Futuristic Factor
Araten is excited by the prospects of what's to come with robots in the future, as future Baxters and Sawyers evolve to do more. "If they never get better than they are today, it's still a good tool," he says.
And there's yet another reason to consider "hiring" a robot, beyond efficiency and cost. There may simply be a lot of intangibles that come with having a robot on the premises.
"The employees love it. They've personalized the machine, and it feels like you're living in the future when you have a friendly-looking robot working alongside you," Araten says. "And there's the coolness factor. When we're giving tours to customers and potential clients, they're impressed. They'll say things like, 'You don't see that every day,' and, "You know, I think I saw something like this at the Epcot Center.'"
Read more articles on productivity.
Photos Courtesy of The Rodon Group