Late one Friday morning, a small refrigerated delivery truck pulls up to the front door of The Rogue Gentlemen, a restaurant in the historic Jackson Ward neighborhood of downtown Richmond, Virginia. Chef Will Longoria steps outside to heft and smell the fresh produce for sale. Spotting some local ramps, he agrees to buy all eight pounds and carries the cardboard box back to the kitchen.
The transaction takes only a few minutes—far less time (and lower cost for some seasonal items) than Longoria's traditional sourcing strategy of calling big food vendors and arranging deliveries. More Richmond restaurants are following suit. About 30 area restaurants, grocers and food businesses have joined together to form Real Local RVA. The organization started in 2013 and is now beginning its first season partnering with local farmers. It's a test, seeing if a group of small businesses can grow the local food industry while achieving big-company economies of scale.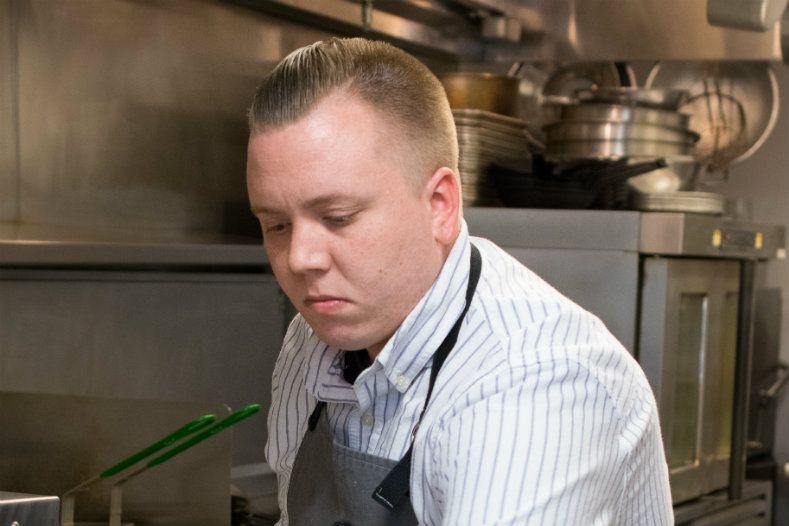 Will Longoria, chef of The Rogue Gentleman
Thinking Big While Staying Small
Many small-business owners know of the challenges of "going local" when it comes to acquiring raw materials. For the local businesses that are part of Real Local RVA, the business consortium may help them address those issues. Real Local RVA is part trade organization, part purchasing bloc. A central distributor interfaces with all buyers and suppliers (for RLRVA that's primarily Rudy Karkosak of Rudy's Exotic Mushrooms and Produce). The distributor chooses the suppliers and resells that product to buyers, and the buyers receive multiple weekly visits from the distribution truck, offering both pre-purchased and "a la carte" produce.
"The idea is collaboration, working with small independents to build the local food movement together," says RLRVA president Rick Hood, owner of Ellwood Thompson's Local Market. "The customer wants local, and they think they're seeing it and getting it, but often they aren't. So there's an element of certification as well."
To join RLRVA, members must be privately-held, local businesses in the food industry. Members pay a $240 annual membership fee, attend monthly meetings and can volunteer for various committees. They can display and advertise the Real Local RVA logo to prove that their business is indeed local, and committed to working with local suppliers.
The idea is collaboration, working with small independents to build the local food movement together.
—Rick Hood, owner, Ellwood Thompson's Local Market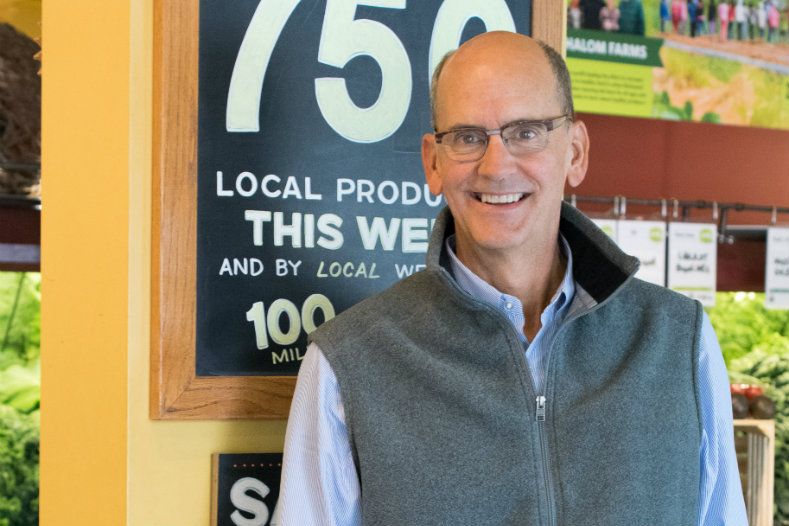 Rick Hood, Real Local RVA president and owner of Ellwood Thompson's Local Market
Vendors and Buyers Growing Together
There are also other tangible benefits, according to Real Local RVA members. "We do enormous volume. Five pounds of beets from a farmers market is nothing for us, that will be gone in an hour. We use 150 pounds of mesclun greens a week," says Michelle Williams, managing partner of The Daily Kitchen & Bar. She has had trouble sourcing large volumes of local ingredients, and estimates that currently only about 20-25 percent of The Daily's ingredients are from Virginia, including produce, duck, pork, tofu, oysters, kombucha and locally-baked breads.
A purchasing group like RLRVA benefits small buyers and vendors in the following ways:
Vendors may have consistent sales to a group of small-business clientele.  

Vendors may be able to have a long-term sales relationship with the group, even if individual small businesses close.  

Vendors can focus on wholesale versus retail sales, which may mean fewer customer touch points, lower labor costs and less marketing/advertising expense. ("I would much rather be at the farm than at the market,"

says Alistar Harris at

Origins Farm

.)

Buyers may save time with a single contact for local ingredients, versus researching and contacting multiple vendors.

Buyers may have more power to push for testing and development of new products. For example, feedback that Rudy Karkosak gathered from local chefs helped convince Origins Farm to plant mini broccoli this season.

Buyers may be able to ask the distributor to source unusual or rare items for them. (Longoria's ramps, for example, came from a forager.)

Buyers may achieve economies of scale on large-volume purchases. (RLRVA hasn't seen price adjustments yet, as the group is still in the "proof of concept" stage. But as Williams says, "

Maybe the price will come down a bit because these farmers don't have to go door-to-door selling.")
Michelle Williams, managing partner of The Daily Kitchen & Bar
The organization is growing on a promise and a handshake, without formal contracts. "It's an exploration for them and for us," says farmer Harris. "Rudy might not be able to buy and distribute all that we grow. But we may also have crop failures or decide to sell somewhere else. There's risk for both parties."
Ultimately, everyone wants both produce and business to grow. Chef Will Longoria wants a stash of pickled and preserved summer ingredients for his winter menus. Rudy Karkosak says he hopes to become the "go to" local produce distributor for food businesses in the city. Michelle Williams hopes to source up to 50 percent of her ingredients locally. Rick Hood dreams of a developed network of small producers supplying Richmond's shoppers and eaters with endless local foods.
And Alistar Harris is just happy to be back in business. Last winter, Harris shutdown Origins Farm after four years of operations. "We'd been able to get to the breakeven point, but not make a lot of profit," he says. Real Local RVA convinced him to try again, this time only wholesale. Harris and his family are hopeful about the farm's future, he says. "I have a renewed interest and excitement about growing food."
Read more articles on partnerships.
Photo: iStock; Phaedra Hise