As Harvard undergraduates, Alexa Buckley and Sarah Pierson were best friends and roommates. Pierson was on the sailing team, and Buckley played lacrosse. Both studied history and government, and each had a deep appreciation for fashion, especially color, as means for expression. In early 2014, the college seniors spent weekends in New York, seeking inspiration and daydreaming about starting their own brand.
Later that spring, Lean In author and Facebook COO Sheryl Sandberg delivered their commencement address, asking, "What would you do if you were not afraid?" Buckley and Pierson turned to one another, and in that moment, their still-crystallizing plan came into clearer focus. In May 2015, they launched the direct-to-consumer ballet flat brand Margaux, selling only from their own site.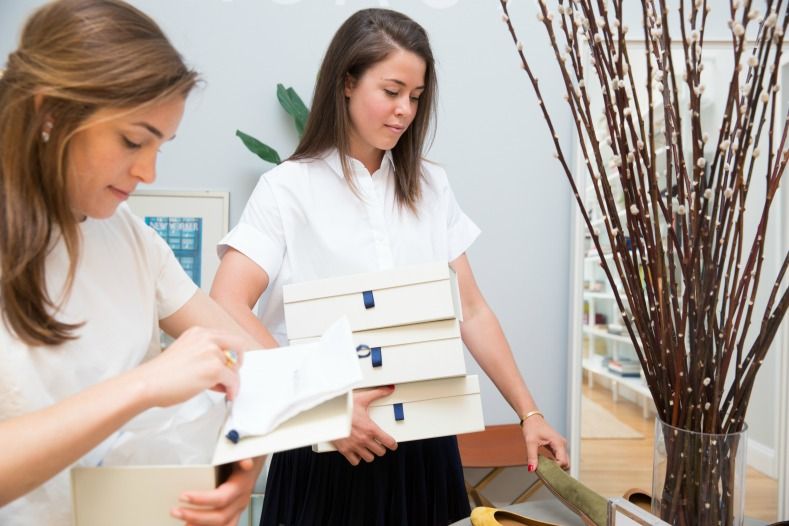 Margaux's founders, Sarah Pierson and Alexa Buckley
With a mix of faith and nerve, along with a first round of financing from friends and family, the two young women turned down lucrative job offers in private equity and consulting. A year later, they were managing their digital operation from a Manhattan co-working space.
"This was when Warby Parker and other direct-to-consumer businesses were really taking off," says Buckley. "We were intrigued by the idea of combining a digital experience with direct sales. That would allow us to deliver luxury products at a fraction of the traditional retail price."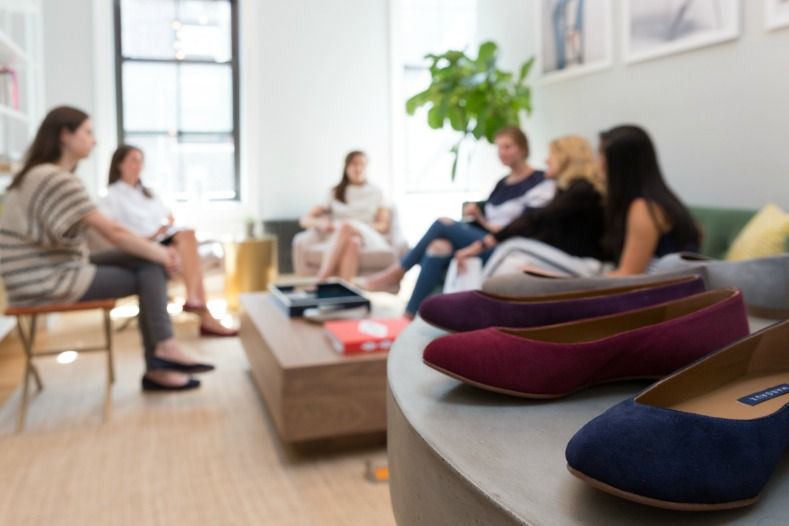 Margaux's office and showroom is located in New York City.
With a debut collection made in Spain with Italian suede in fourteen vibrant shades collectively known as the Margaux "Color Wheel," the brand reinvented an iconic shoe. Though beloved for its classic look—think Audrey Hepburn and Brigitte Bardot—the style is also known for its challenging fit, especially for women with bunions, narrow heels or feet of varying size.
Margaux's custom-fit, made-to-measure shoe option—enabled largely by a Fitting Kit containing everything customers need to take measurements at home—drives sixty percent of the brand's sales. The custom shoe is priced at $215 for a Classic pair, while Margaux's standard, ready-made European sizes cost $185. Typically, the shoes would retail for $400 or $500, the founders say, noting that their factory and tannery partners in Spain also produce shoes for the world's most coveted brands.
We like to find experts and ways to leverage them. We look for people who are top-class in their field with their own network and find ways to engage them.
—Sarah Pierson, co-founder, Margaux
"We appeal to a wide range of ages. Our customers span from young women buying their first shoes just out of college to 65 and up," says Buckley.
Margaux's Fitting Kit—with its fitting guide, fitting tool, colorful suede swatches, fabric tape measure and even a pencil and a dust bag to contain it all—was an immediate hit with customers. Popular for its novelty factor and attention to detail, the kit encourages women to measure and send length, width, volume and heel width dimensions for each foot.
Delivery of made-to-measure pairs is guaranteed within two weeks. Their separate components (soles, insoles, linings, uppers) arrive in New York from Spain and are finished to-order by hand at a factory in Queens. Standard-size shoes are imported whole.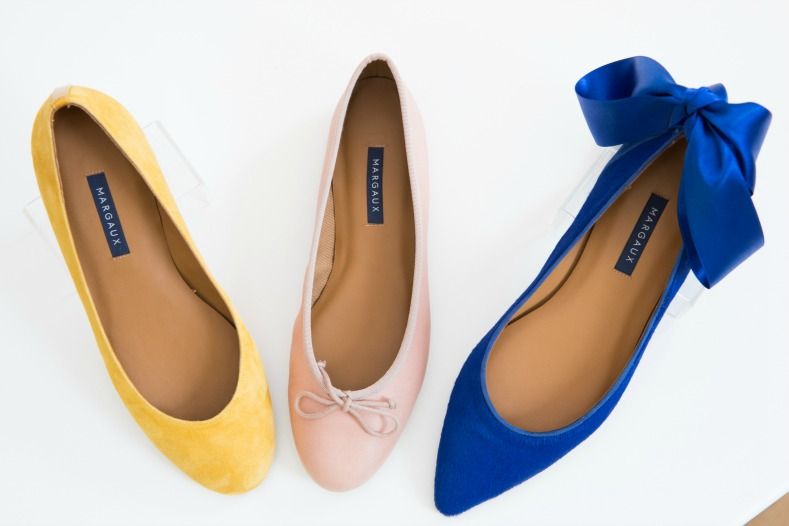 The company specializes in high-quality, made-to-measure ballet flats.
Margaux structured this unusual supply chain with help from a Spanish-speaking husband-and-wife team of footwear industry veterans. Buckley and Pierson hired the duo on a contract basis after cold-contacting them via LinkedIn, and the teams continue to collaborate. "We like to find experts and ways to leverage them," says Pierson. "We look for people who are top-class in their field with their own network and find ways to engage them."
Through demand fueled by early, high profile press and successful trunk show events with retail partners around the country, Margaux's founders quickly realized the value of in-person, one-on-one attention to customers. For a $15 surcharge, they added an in-home fitting service for customers in New York City. In March 2016, they opened a combined showroom-office.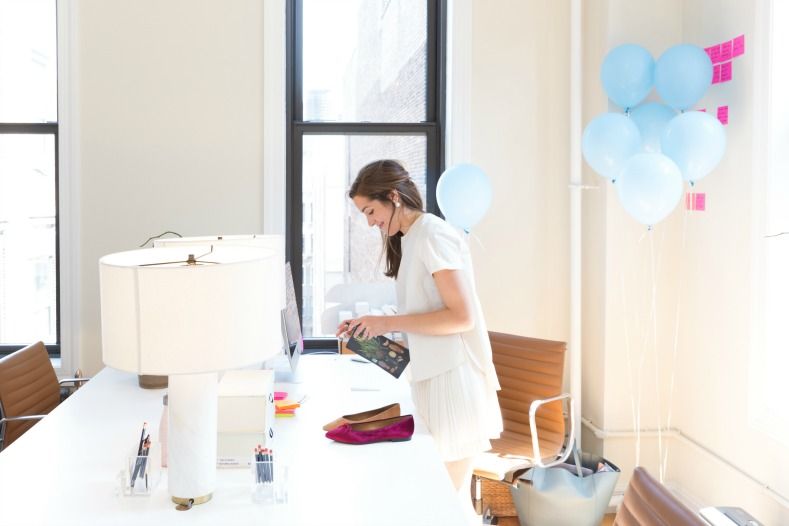 Margaux defines its customer base as women who are going places—both literally and figuratively.
In that 20th Street space—strategically located near multiple subway lines for easy access by uptown and downtown customers—Margaux offers 30-minute, by-appointment fittings with consultation by Buckley, Pierson or one of their three employees.
Once or twice a month, they host "Margaux Monday" at the showroom to celebrate the start of the week with cocktails and snacks, five-minute facials or collaborations with other brands. "We invite friends and customers on our email list," says Pierson. "That's been a great way to invite people in the door to live in the Margaux world. Whether or not they're shopping, they get to know our product and our brand."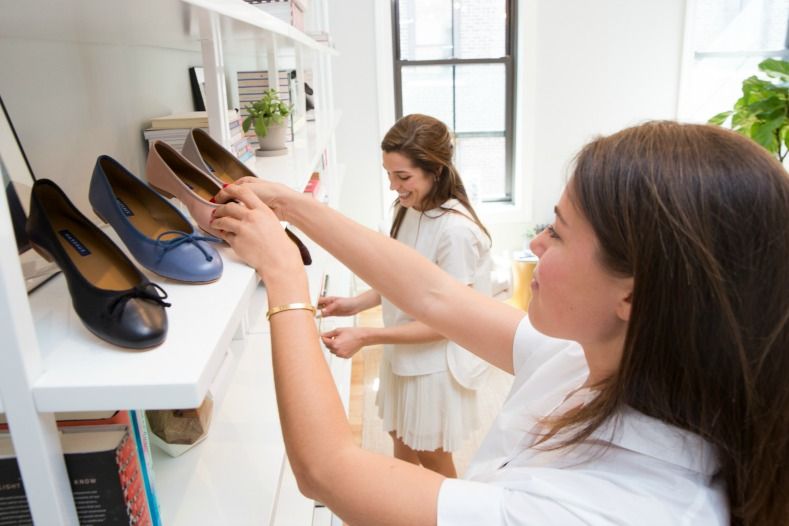 The company hosts monthly events and offers custom fittings at the showroom.
In conceiving of Margaux, both she and Buckley wanted to create something elevated—something that spoke to modern women in the way that they wanted to be spoken to. They chose the name "Margaux" for its femininity and for the strength of its 'M' and 'X,' now combined in the brand's monogram. Through features on their blog, they showcase "Gaux girls"—women, like themselves, who "embody the meaning of life #onthegaux." They define their customer as "well-read, engaged, thoughtful—literally and figuratively going places."
During college summers as corporate interns in New York, Buckley and Pierson discovered the "shoe shuffle," or the tendency for women rushing from the subway to work to the gym to dinner to slip off flats before changing into heels. To eliminate that hassle, they focused on creating a comfortable shoe stylish enough for any environment.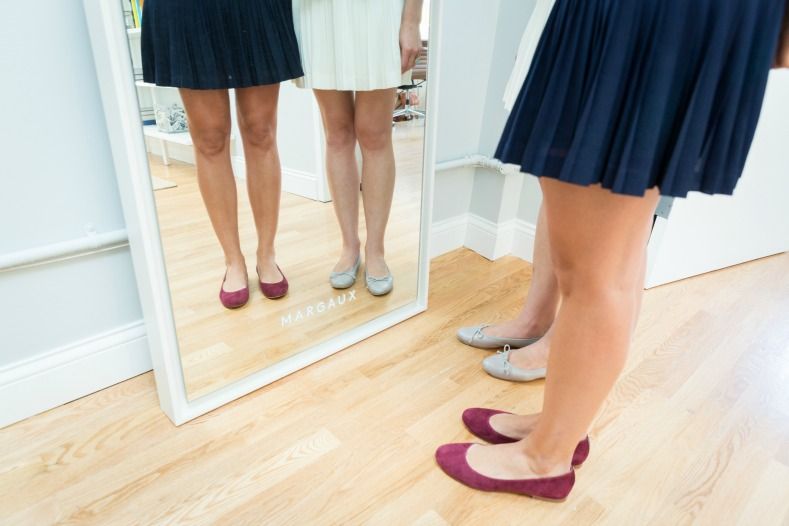 In the future, the brand's founders hope to grow Margaux from a shoe company into a lifestyle brand.
Eventually, they'd like to grow from a shoe company into a lifestyle brand with a two-pronged approach. "A strong digital business will always be our first foot forward," says Buckley, who focuses mostly on marketing, PR and special projects, while Pierson manages product, finances and operations. "And we'll continue to bring the brand to life through offline touch points, hopefully in more permanent spaces."
In the meantime, they manage fast growth one order and one customer service email at a time. Earlier this year, exhausted from four consecutive days of business travel, they scanned their phones while waiting for a rental car at LAX airport. On this particularly challenging day, they were both shocked to find a familiar name in their respective inboxes: Sheryl Sandberg.
"She must have read that she inspired us, and somehow she got a hold of our emails," says Pierson. "That turned our day around—"
"Our month around," says Buckley, finishing her best friend's sentence with a bright smile.
Photos: Christopher Lane