As a successful entrepreneur and business coach, Sandra Yancey recognizes the trappings of an overworked CEO. She's seen too many small-business owners get bogged down in administrative minutiae, and she's got a solution for that.
Each January, the eWomenNetwork CEO sits down with her team to review the company's goals—and to rewrite her job description.
"I make sure I'm doing the things that only I can do and the things that keep me passionate about the business," says Yancey, who is the face of the eWomenNetwork brand. "I don't want to grow in a way that one day I wake up and say, 'I don't like my job.'"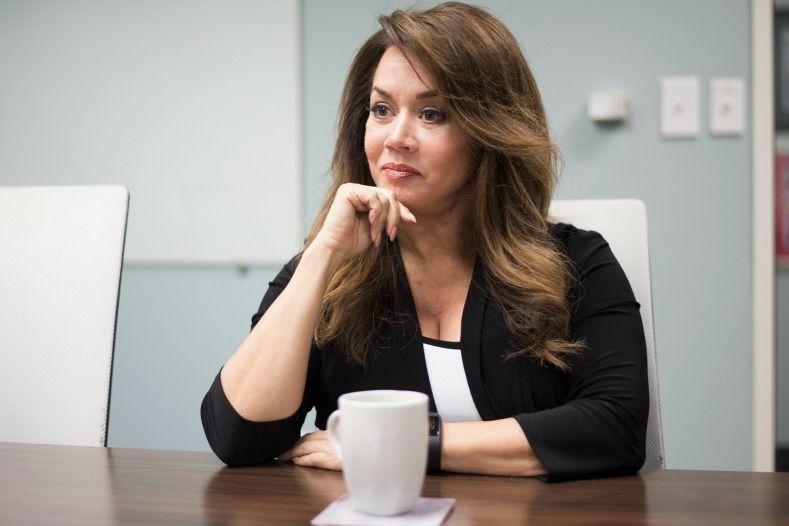 Sandra Yancey, eWomenNetwork's CEO
Her enthusiasm for helping women business professionals continues to fuel the company's growth. What started 17 years ago as a single women's business network chapter has grown to 118 chapters, adding hundreds of new members monthly. According to Yancey, it's now one of the largest women's business events companies in the world.
eWomenNetwork also offers executive coaching, video production, a podcast radio network, annual conferences that attract 1,000 attendees and "celebrity science" sessions that include branding and marketing strategies for small businesses.
The multimillion-dollar global enterprise is also in talks with a major TV network to do a show in the very near future.
Kym Yancey, Sandra's husband and business partner, handles the company's marketing and technology.
It would be easy to stretch herself too thin, but the vibrant and media-savvy Yancey is a big believer in balance, and managing what's on her plate.
"The worst thing you can do is keep adding things to your plate and not take anything off," she says. "Where your energy goes is what grows, so if you don't believe in balance you'll never have it."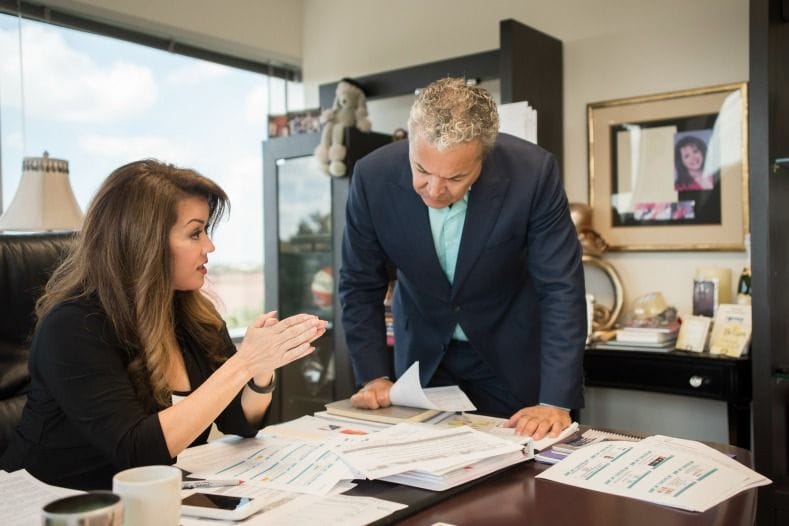 Sandra and Kym have different, but complementary, management styles.
Learning how to say no is hard for entrepreneurs, particularly in the early years of a business, but it's been key to eWomenNetwork's growth.
"I get lots of proposals to do different things," she says. "But when you get really crystal clear on your brand and your deliverables as a company, it allows you to say yes when you know you need to seize an opportunity. It also empowers you to say no."
When you get really crystal clear on your brand and your deliverables as a company, it allows you to say yes when you know you need to seize an opportunity. It also empowers you to say no.
—Sandra Yancey, CEO, eWomenNetwork
eWomenNetwork recently became certified as women-owned small business, which could result in millions of dollars of event planning business from government contracts in 2017. When the time was finally right to apply for the certification, Yancey said she outsourced the application process because it was too time consuming for her staff.
Even though eWomenNetwork is in the relationship business, it relies heavily on technology. In the last year, the company has invested $400,000 to upgrade its enterprise system, and two years ago built a bigger studio at its Dallas headquarters. The expanded offerings require a skilled team in areas such as digital media, video production and programming.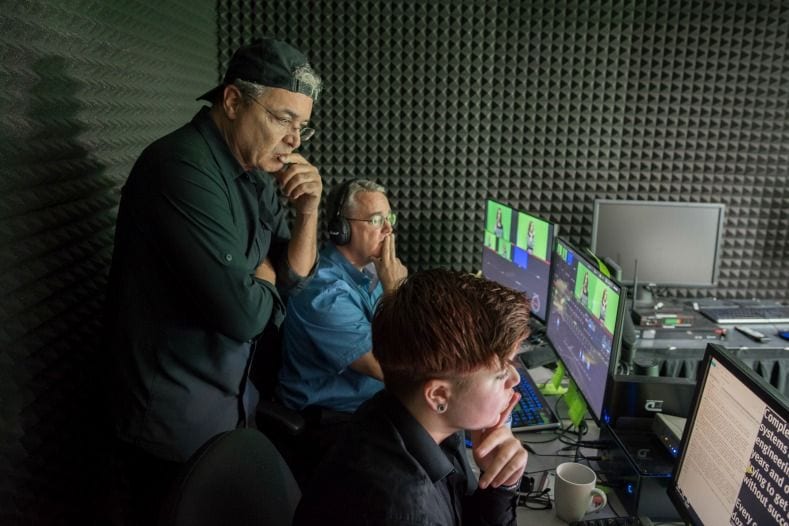 Kym Yancey, producer Tim Miller and freelance visual artist Jessica Middlebrooks produce a branding video for a client.
"You're only as successful as the people you surround yourself with," she says.
One of those people is her business partner and husband, Kym, a former ad agency owner who handles the company's marketing and technology. Sandra, an organizational process aficionado who loves rules and structure, exudes a much different style than the man she's known for 38 years. But it works.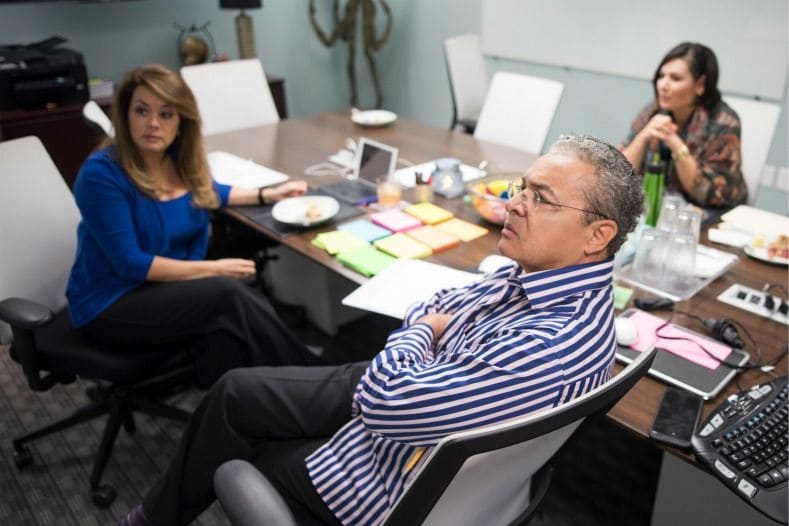 Sandra and Kym Yancey discuss ideas during a strategy session with their client, Angel De Paoli.
"What we found is a deep appreciation for what each of us brings to the table," Kym says. "We have very different functions and styles, but very complementary values and goals."
The duo knows they have the best team in place because they evaluate it every December. They play a game where they pretend they're breaking up and splitting the company. They flip a coin to see who goes first and take turns choosing an employee.
"We fight for every single person, that's how I know we have the best team," she says of eWomenNetwork's 15 full-time employees. On the occasion where an employee isn't worth "fighting" over, they know it's time to make a change.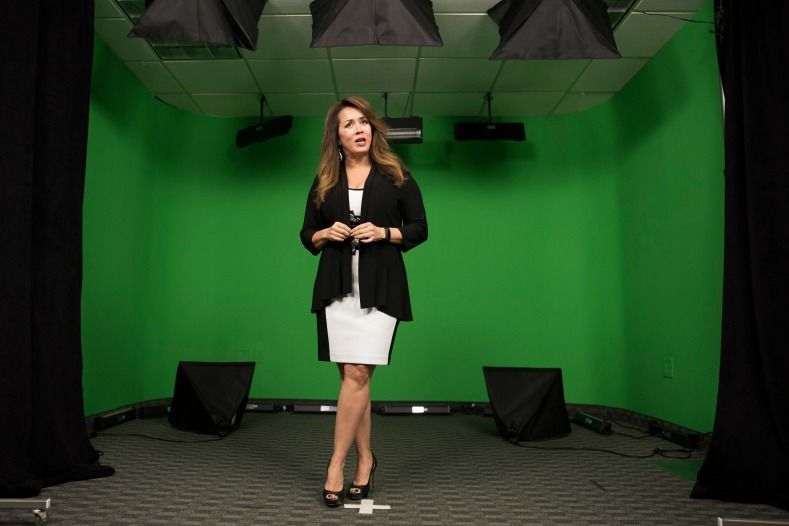 Yancey hopes to expand the company to 200 chapters.
Yancey's vision for the company is to grow to 200 chapters, and become a leading marketing and branding firm for entrepreneurs. The company now offers everything an entrepreneur needs: logo and web site design, program launches, social media campaigns, brand consults and video production. It even brings in a stylist and makeup artist to ensure professional shoots.
"People are finding out about us, and some of them could care less that we have a membership-based organization," she says. "They say, 'Do for me what you're doing for eWomenNetwork.'"
Photos: Rex Curry