Customer service can make or break a business. 
Today, it's incredibly important for businesses to realize what customers want, and many retailers have the instinct to invest in online customer service. But the vast majority of customers actually prefer getting customer service in person or over the phone, according to a recent report from Forrester Research. 
Knowing this can help brands better-allocate resources. 
"We're living in the age of the consumer meaning that customers are expecting more services and solutions to their problems," says Gina Sverdlov, the author of the report. "More than ever, it's important to think about what they want." 
More than half of brick-and-mortar consumers with customer service issues go to a physical store to solve their problems, while another 30 percent pick up the phone and call, the report says.
Even online customers are just as likely to pick up the phone or go to a store instead of using internet customer service such as e-mailing or instant messaging.
They do this because going to a store or making a phone call is more convenient than using online methods, according to Forrester.
This could be a message to online retailers to stop investing so heavily in Internet customer service. From the looks of this report, you're better off ramping up phone and in-store customer service.
Maintaining great communication with your customers is especially important for small businesses, who rely on word-of-mouth and good recommendations even more than the big chains who can afford heavy advertising, Sverdlov says.
And customer service in stores should never be underestimated, Sverdlov says. 
A recent study showed that consumers were fed up with how they were being treated by retail employees. Even major retailers are taking note: Target is trying to reduce its register wait times to under one minute. And JCPenney CEO Ron Johnson is trying to make the consumer experience more like that of his Alma Mater, Apple.
Some easy ways to improve customer service is to add some associates to reduce wait times and to make a return policy that makes it easy on consumers, Sverdlov says. 
Here's a chart showing where customers in every channel seek out customer service. Note that brick-and-mortar shoppers still make up 87 percent of customers: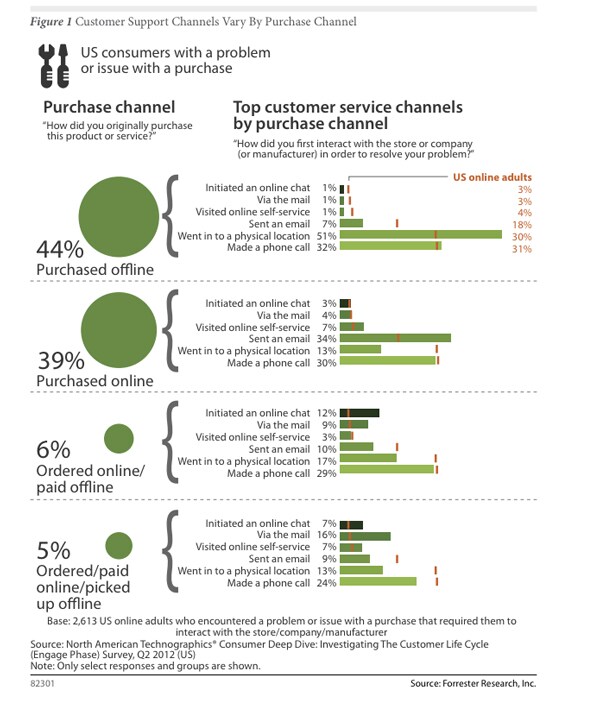 Customer service is essential to any business, and major retailers are taking note. By knowing where to invest resources, businesses can get ahead of the game. 

Photo: Thinkstock