Do you hear what I hear? Even though Thanksgiving hasn't arrived yet, big retailers have been making noise about holiday shopping for months already—I saw holiday goods on display in my local Costco back in August, I think. And online retailers have been gearing up for the holiday shopping season already, too.
Does that mean it's too late for small/local retailers to get ready for the onset of holiday shopping?
Not at all!
It's true that, in a perfect world, you'd already have a holiday-related website optimization plan in place and have started executing on it by now. But don't give up if that's not you; there are still some things you can do to attract online holiday shoppers and convert them into customers.
1. Understand searcher behavior
This is really important: People search differently during the holiday season than they do at other times of year. One way this happens is via specific brand-related searches.
Look at this chart from Google Trends. It shows U.S.-based searches in 2010 for the terms "sony hdtv" and "samsung hdtv." Both terms saw a surge of search activity late in the year. That was the case in 2009, 2008, 2007 and so on.
The same is true of plenty of other searches, like "harry potter books," "educational toys," "itunes gift card" and more.
Tip: Make sure your website is optimized around the right holiday-related keywords. That often involves searches for specific brand names, like "samsung hdtv" rather than just "hdtv." If you don't already have them, create brand-specific pages on your website and optimize for these kinds of keywords.
2. Localize your product pages and website
The most common local search scenario is this: Joe Consumer searches online for products or services, but completes the transaction offline. Yes, e-commerce continues to set records almost every holiday season, but it still represents a small fraction of the overall purchasing in the U.S.
If you also have a physical store to go along with your website, make sure to optimize for local terms that will help drive online traffic into your store. Some shoppers may be perfectly comfortable buying an HDTV online, but others will be looking for a local store that sells their preferred brand of HDTV (or any other product).
Tip: Continuing on the previous example, optimize your website for terms that will attract searchers who are looking for local stores. Create content around terms like "Spokane Samsung HDTV dealer" or "educational toys in Topeka." Chances are pretty good that you won't have much competition for specific terms like those.
3. Optimize your Google Places business listing
Many searches for local products are likely to lead Google to show local business listings from Google Places on the search results page. Retailers can optimize their business listings to try to take advantage of that.
Tip: Update your business description or add what Google calls "custom attributes" that include important holiday-related keywords like those mentioned above: "educational toys," "Samsung HDTV dealer" and so forth. This will help your business show up in the local search results when Google displays local business listings.
4. Add your products to Google's Merchant Center
Did you know that Google is showing local product inventory whenever possible as part of its Shopping search results? Look at this search for "seattle mariners caps" and notice how it gives me the chance to locate three caps in nearby stores.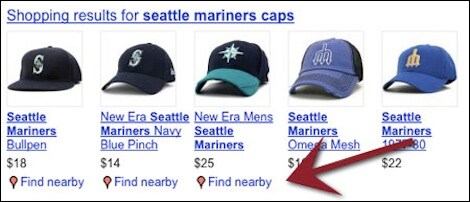 That's a pretty powerful tool for attracting online shoppers into your physical store—especially as last-minute shoppers run out of time and can't afford to risk having an item shipped.
Tip: Add your products to the Google Merchant Center. There are a couple different ways to do this, so check out each option. You'll also need to have claimed your Google Places listing(s) for your store(s). Google offers a help page that explains how to connect a Google Places listing with a Google Merchant account.
5. Don't get too politically correct
It's polite to call this the "holiday season" (as I've done many times earlier in this article) because not everyone celebrates Christmas, and no one wants to offend those that don't. But when it comes to holiday searching, "Christmas" rules the roost. Consider this Google Trends chart comparing searches for "holiday gift ideas" versus "Christmas gift ideas."

That trend holds true for other "holiday" versus "Christmas" searches.
Tip: Don't offend, but do optimize your site for the words that searchers will actually be using this holiday…err, Christmas season.
To wrap up: It's not too late to optimize your website to take advantage of local search opportunities, but if you delay it any longer, the chances of success go way down. Take action now to make sure you don't experience a lot of silent nights over the next couple months.
Image credit: Matt McGee
Want to learn more about how to build your local business? Join John Jantsch of Duct Tape Marketing for a live webinar on October 26th, 2011, at 2pm EST, and learn how to get found, participate in ratings and reviews, and other online tools and tactics to get more business. Register here.