There was a time when walking into a store with food was inconceivable, when "no food and drink" decals were displayed prominently on shop doors, right next to the "no shirt, no shoes, no service" signage. Upon entry into a boutique, you were kindly asked to either finish or depose of your coffee and pastries.
Today, you can enter those same boutiques and buy single-estate Ethiopian coffee and croissants.
There is no doubt that the world is in the midst of a retail revolution. With online and delivery transforming how people shop, retailers have had to re-evaluate their in-store experiences and ways in which they can attract and engage customers. Food, which was once looked upon as a liability (and make no mistake, no shoes still is), has now become an opportunity to invite shoppers inside. And, when activated well, food can become a tool to not only drive sales, but to develop deeper connections with customers and create new brand experiences.
A lot of retailers—from clothing boutiques to bookstores and furniture shops—are starting to integrate coffee bars and branded restaurants into their in-store experiences. But what's setting some of the better food-retail collaborations apart from the rest is a strategic approach to partnership and positioning. When Sézane, a Parisian fashion brand, opened its first U.S. store in NYC's Nolita this past September, it turned to Maman, a local French-inspired cafe to become its culinary collaborator. "When we visited Maman's Tribeca cafe," says Irene Yuan, Sézane director of marketing, North America, "it felt both familiar and French-chic, which aligned beautifully with Sézane."
Walking into Sézane on Elizabeth Street, you're welcomed by a charming cafe serving coffee and small pastries baked by Maman and immediately immersed into its brand world. "We wanted to create a full Parisian lifestyle experience," says Yuan. "The cafe is a very special part of that, with authentic Parisian bistro tables and chairs and delicious French treats." By design, Sézane's cafe sets the tone for its unique shopping experience, inviting shoppers into their Parisian home, allowing them to relax, extend their stay and explore collections at their leisure.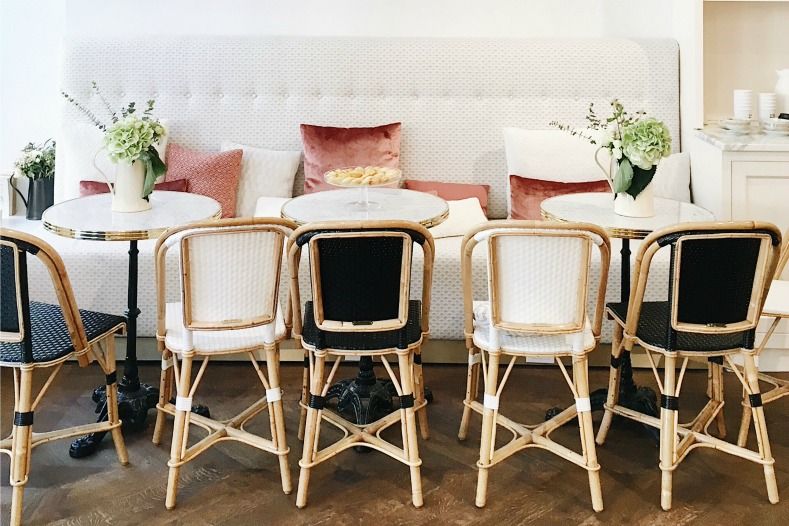 The cafe in Sézane on Elizabeth Street in New York City
Maman owner Elisa Marshall says that "partnering with Sézane affords us the opportunity to tie into our French roots and further engage new customers in a new location who share a similar appreciation to aesthetic and detail." The brand synergies between Sézane and Maman make this collaboration all the more organic, together creating a collective brand story that will hopefully drive sales for each company.
Similarly, when Canal Street Market, a multi-vendor retail market at the cross-section of Soho and Chinatown in New York City, opened its adjacent food hall this past spring, it was mindful to approach Asian food purveyors and restaurant concepts connected to Chinatown as a way to authentically celebrate the neighborhood's history and flavor. Nom Wah Kuai, an off-shoot of Chinatown's legendary dim sum house, Nom Wah Tea Parlor, was one of the first vendors to sign on to the food hall. According to Nom Wah Kuai owner Wilson Tang, "Being a legacy brand in NYC's Chinatown, Nom Wah Kuai has really anchored the market as a well-known and respected eatery."
By partnering with vendors like Nom Wah Kuai, Canal Street Market offers customers a chance to get a taste for the neighborhood's current culinary renaissance, introducing innovative restaurant concepts and providing access to a new generation in Chinatown. This energy spills over into the retail market, validating its position as a bridge to the emerging culinary and cultural community in Downtown NYC.
Across the country, both big box retailers and small businesses are harnessing the power of food to support sales and help bring brands to life.
Leveraging a connection to the local community is also translating into the grocery world. When Whole Foods Market opened its Bryant Park store in New York City in 2016, it engaged local restaurants and food vendors to set up unique experiences in-store. Seed + Mill, an artisanal halva and tahini company, offers Whole Foods Market's customers access to an exciting new food brand and a chance to discover new food cultures and trends. "We are growing a category that doesn't really exist right now," says Rachel Simons, Seed + Mill co-owner. "Most customers don't know what halva and tahini is, so the opportunity to show them how it is made is visually engaging and highly educative in terms of knowing how to eat, serve and store our products."
When customers visit the Seed + Mill cart, they can participate in tastings and even watch the sesame seeds being milled to make their tahini to order. It is these types of food experiences that can help Whole Foods Market bring new energy to the store and create new brand dimensions as a community connector and educator.
Today's retail landscape shows no signs of slowing down on the culinary innovation front. Across the country, both big box retailers and small businesses are harnessing the power of food to support sales and help bring brands to life.
Food experiences are transporting. They evoke memories, ideas and aspirations that can help to engage your customers, promote your products and services and even expand your brand in new, creative ways. Food experiences are meant to be savored. So too should be the in-store shopping experience. Of course, with a shirt and shoes.
Photos from top: Getty Images, Charissa Fay / Courtesy of Sézane