If you have an iPad, you've got to check out an app called Flipboard. It's a "personal magazine" whose content is controlled by your social network. Alltop is an "online magazine rack," so if you expect the two to work together, you would be right. You can take any Alltop topic and subscribe to it from your Flipboard. (Disclosure: I am the co-founder of Alltop.)
To make it easy for you, I've set up Twitter accounts for the most popular topics. Here's how to use them:
Click on "Add a Section"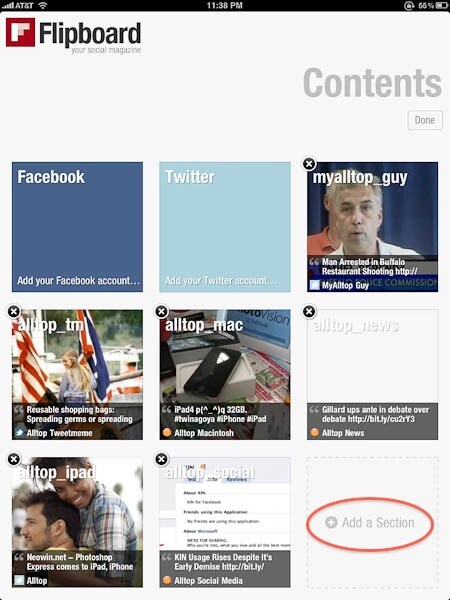 Search for "@Alltop_Bacon" or whatever you like from the list below.

Type "@alltop" and then click on the key that says ".?123"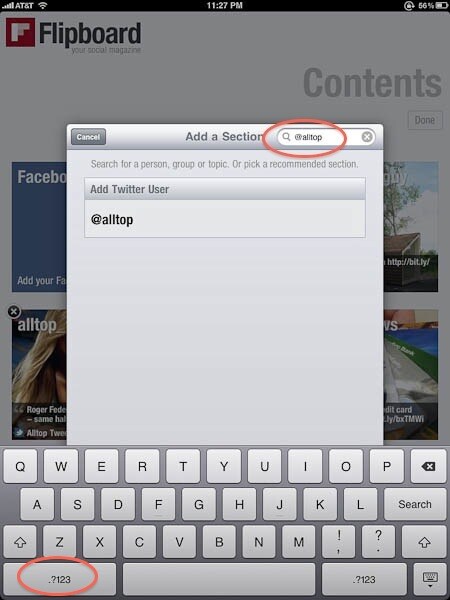 Click on the key above it that says "#+="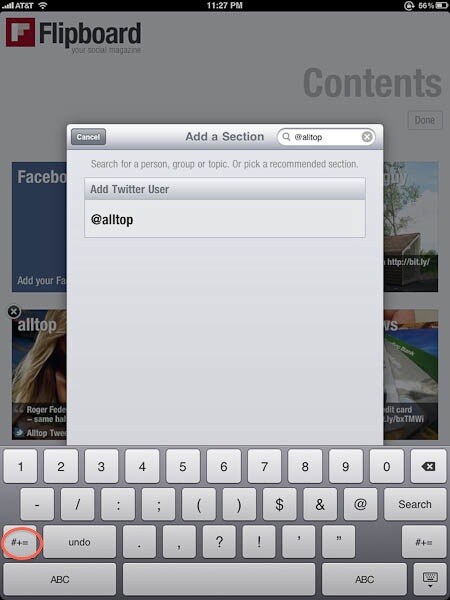 Click on the "_" key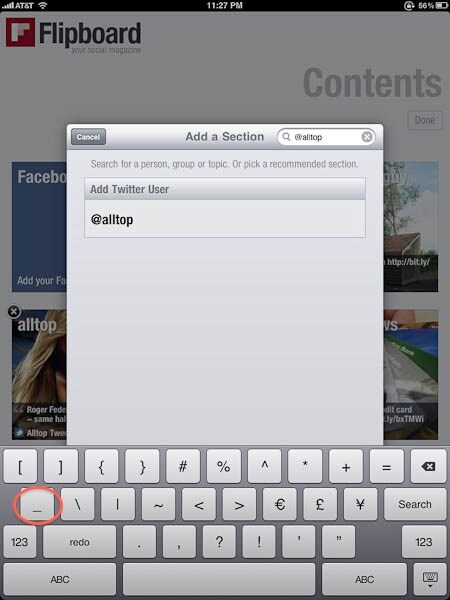 Finish typing "bacon" and then click on "Search"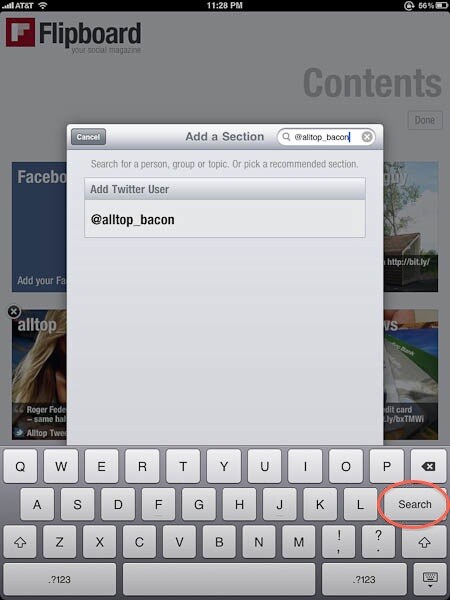 This is the result: a Flipboard section dedicated to bacon news from Bacon.alltop.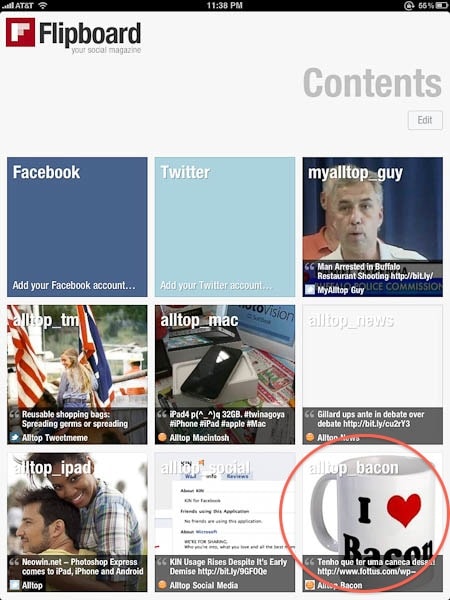 Here is a list of all the Alltop topics that we've already set up:

@Alltop_Apple
@Alltop_Bacon
@Alltop_Blogging
@Alltop_Celebs
@Alltop_Cycling
@Alltop_Design
@Alltop_Disney
@Alltop_Edu (education)
@Alltop_Facebook
@Alltop_Fashion
@Alltop_Futbol
@Alltop_Gadgets
@Alltop_Good
@Alltop_Google
@Alltop_Hockey
@Alltop_Humor
@Alltop_Innovate (innovation)
@Alltop_iPad
@Alltop_Mac
@Alltop_Mobile
@Alltop_News
@Alltop_NFL (NFL football)
@Alltop_NYT (New York Times)
@Alltop_Oddities
@Alltop_Photo (photography)
@Alltop_Politics
@Alltop_Recipes
@Alltop_Science
@Alltop_SEO
@Alltop_Smallbiz
@Alltop_Social
@Alltop_Sport
@Alltop_Startups
@Alltop_Tech
@Alltop_TM (collection of most retweeted stories as measured by Tweetmeme)
@Alltop_TW (Twitter news)
@Alltop_VC (venture capital)
@Alltop_Webdes (web design)
@Alltop_Yoga

We can do this with any of the more than 825 Alltop topics, but it involves grabbing the RSS feed from each topic, creating a Twitter account for it, and then using Twitterfeed to tweet it out automatically. It's not much work for any single feed but doing all 825 would ruin my day.

If you'd like to do this yourself for any Alltop topic, just grab its RSS feed by adding "rss/" to its URL, create a Twitter account, and mosey on down to Twitterfeed. The critical "advanced settings" in Twitterfeed is critical. You should select the options to make it look like this: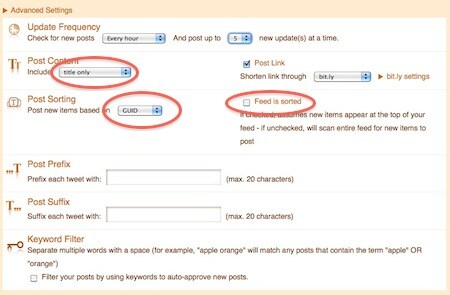 When you are at the last step of "adding a section" that is the new Twitter account, you must search for an exact match that begins with "@". (We've left punctuation outside the quote marks to help you search on these terms.)

For example, if your Twitter account is "@myflipboardfeed", you must search for "@myflipboardfeed" and not "myflipboardfeed".

You can also grab the RSS feed of your MyAlltop account and create a Flipboard section. If you'd like to see this in action, add "@myalltop_guy" and watch what happens.

Granted, the procedure of finding RSS feeds, creating a Twitter account for them, and then setting them up in Twitterfeed sounds a little hairy. It is, but it works beautifully when you're done. 

If you ask nicely, we can turn any Alltop topic into a Flipboard section for you if you can't figure out how to do it. And someday if Flipboard enables people to import RSS feeds directly, you will not have to create a Twitter account and use Twitterfeed; pray to the Flipboard gods that this happens.

Incidentally, you could take any RSS feed from any website or blog and use Twitterfeed to do the same thing. In this case, you'll create a Flipboard section that's dedicated to that particular website or blog. 

However, when you use an Alltop topic, you're creating a Flipboard section that reflects dozens, if not hundreds, of websites and blogs that cover the topic. In other words, an Alltop RSS feed is an aggregation of individual feeds, so you'll get a broad overview of a topic.