In some sectors of the economy, there may be faint glimmers of improvement, but you'd hard-pressed to verify that by talking to recent college graduates. Over half of them are unemployed or underemployed, according to an analysis of government data conducted for the Associated Press last spring. At Revl, a new jobs site that recently came out of private beta and that caters to the 18-35 market, Julian van de Steeg and Dennis Albinus are hoping to put a dent in those statistics. 
A Better Applicant Profile 
Traditional paper resumes are outdated, says Albinus, and LinkedIn is "like a Rolodex focused on executives." Younger job seekers, he says, need a career site that's a bit more like Facebook, but focused on professional life. So Revl allows job seekers to create highly customized profiles by uploading not only their professional qualifications, but also photos, videos, projects, links to their websites and blogs, and other information that gives prospective employers a more complete impression of the individual. Using all the information that its users upload, Revl then sends lists of appropriate and available jobs directly to job seekers. "We have partnerships with two job aggregators with a total of 5 million unique jobs," says Albinus.
European Roots
Revl was founded by van de Steeg and Boyd Sleeman, two serial entrepreneurs from Amsterdam whose human resources company, Aamigoo, is a now a $520 million publicly traded company. Last December, the two used a $2 million investment from the Dutch company to export their concept to the U.S., hoping to disrupt the industry by offering something fundamentally different from, say, Monster.com. After a few fits and starts and a change in management that involved Sleeman returning to Amsterdam and Albinus, also from the Netherlands, moving into the CEO's seat, the company launched in beta last June.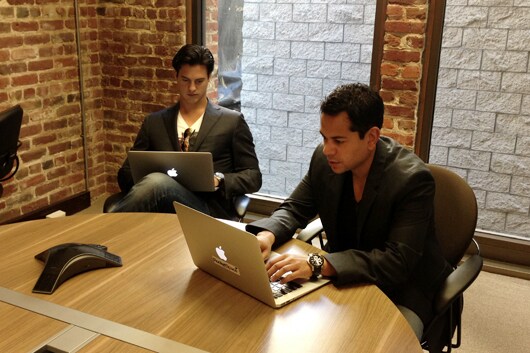 The Revl founders, Julian van de Steeg (left) and Dennis Albinus
Photo: Courtesy of Revl
According to Albinus, the site now contains approximately 7,000 profiles of job seekers. Originally populated with graduating students from University of California, Berkeley, Stanford, University of San Francisco and others, Revl has grown organically over the past few months. And, says Albinus, the company has yet to tap what he considers to be a significant demographic of job seekers: veterans who will be returning to the U.S. and entering the civilian job market post-Afghanistan. "During the time they were not here, they developed so many skills that they can now use to get a job," he says. "But we need to educate people on presenting themselves."
Revenue Streams
According to Albinus, who founded a European job board called Job-Brokers, Revl will have three revenue streams: cost per click, educational apps that will be integrated into the site starting in January, and partnerships with hiring managers and recruiters who want to search the company's data base. "SAP called us and they're thinking of using Revl as the central place for recruiting," says Albinus. "And a big job aggregating site from China has asked if we could work together."
With a staff of seven full-time employees, based in the prestigious San Francisco accelerator RocketSpace, Revl's founders have ambitious plans. Their goal is to mimic LinkedIn's strategy of partnering with large application tracking system (ATS) companies to integrate Revl profiles into the job application process at large corporations. To finance those efforts, Albinus says Revl will begin pounding the pavement to raise a $3 million to $5 million series A round of capital early next year. "We want to be the standard for how people apply for jobs," he says.
Read more Startup of the Week posts.