Back in 2011, Ruzwana Bashir was the queen of blind dates. Over a five-month span, she went on dozens of them, sometimes two in one day. A San Francisco transplant fresh from Harvard Business School's graduation stage, Bashir's dedication to meeting strangers was strategic. She wasn't trying to find a romantic partner; she was on a mission to find a startup co-founder.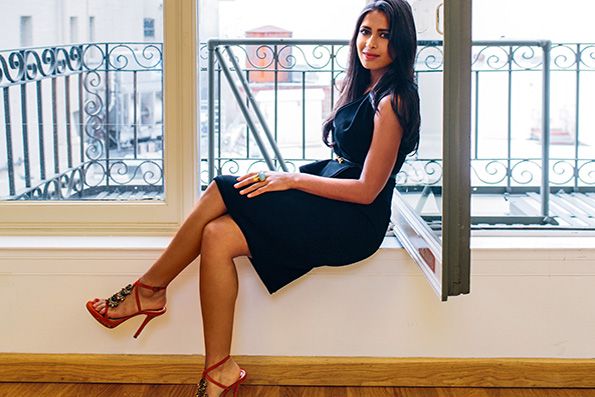 Her idea was simple: build a marketplace for adventure-seekers to purchase experiences online (think a cruise down the Chicago River or a street art workshop in Paris). She had the business brains, but didn't have the technological know-how, so she sat down for countless coffees with potential suitors to no avail. It wasn't until late 2011, when a friend introduced her to Oskar Bruening, a software engineer with an impressive resume, that things finally clicked.
"Oskar was living in New York City at the time, so I flew out to meet him and we knew we had something right off," says Bashir. "We started by having brunch, but then cancelled all other plans and spent the whole afternoon sketching out our ideas on whiteboards."
Bruening moved to San Francisco a few months later, and Peek was born. The site garnered attention right out of the gate, thanks to a January 2012 seed round from a group that included Google's executive chairman Eric Schmidt and Square's Jack Dorsey. The site has taken off since then; Peek employs a team of 20 full-timers out of an office in San Francisco's Financial District and now offers activities in 17 U.S. and two European cities.
"Oskar and I still work 16 hours per day, six days a week," says Bashir, 30. "We are so excited to serve the $100 billion per year activity market and see a huge opportunity for our company. I feel that it has the potential to be a $1 billion business.
OPEN Forum sat down with Bashir to hear about her background, her biggest hiring mistakes and the true "opportunity cost" of being an entrepreneur.
What were you up to before graduating from Harvard Business School?
I grew up in the U.K., studied at Oxford and then worked in private equity before going to Harvard. While at Harvard, I got really interested in the startup culture and spent time at Gilt Groupe and Art.sy. I worked in business development roles at both of those companies.
Your list of investors is a who's who in tech. How did you get such bigwigs to invest in your first startup?
Jack Dorsey and Eric Schmidt had invested in Art.sy when I was there and I developed relationships with them during that time. I feel so fortunate that they were receptive when I contacted them about Peek.
What do you consider one of the biggest mistakes you made when you started Peek?
That's easy: We didn't hire a lot of the right people out of the gate. Oskar and I hadn't established the core values that we really cared about before hiring. It came back to bite us later on.
How so? Did you have to fire everyone after a few months?
No, not everyone was a mistake. We made a few poor hiring decisions and had to let people go, but ... not quickly enough. I knew when things weren't working out within a few weeks, but felt like I had to give a person a chance or let time go by. We were quick to hire and slow to fire back then, which was the worst way to operate. It should have been the opposite and we've learned from that situation. [Oskar and I] sat down and established our core values and what we would look for moving forward—namely, humility and a sincere passion for participating in fun activities, like those on Peek.
Starting a company means having to deal with extreme highs and extreme lows. How do you manage the emotionality of it all?
You are right that it is a wild ride, but I feel lucky because I have experience in high-stress situations. When I worked in investment banking, it was 24/7 and there were tons of high points and low points. I really enjoy the adrenaline, but when things get hard, I contact friends I know who are starting companies and we hash things out. It really helps to call someone up and tell them about a perplexing situation and then have them say that they'd experienced the same thing two weeks ago.
What advice can you offer entrepreneurs just starting out?
I feel like the media has a tendency to highlight only the fun parts of being an entrepreneur when, in reality, there should be an awareness of the hard elements, too. There is a huge opportunity cost in starting a business. You have to be okay with not having any financial security. You have to be okay with dedicating your entire life for years to your business. It can seem really exciting to start something from scratch and control your own destiny, but it is also very, very tough.
That said, I still think it's worth it. If you are going to start something, try to work at a startup first. I learned so much by working at Gilt and Art.sy, mostly that I loved the environment. Go try it out to see if you like the lifestyle before diving in headfirst. 
Read more articles on building an empire. 
Photo: iStockphoto, Courtesy Peek.com