By now, plenty of businesses get the concept of search marketing: ensuring that customers can find you when they do searches on major search engines like Google or Bing. But you can do search marketing on Twitter, too. You just have to think differently about your approach.
"Regular" Search Marketing
At the major search engines, people are constantly asking for answers. For example, someone searching at Google is basically saying "Hey Google, do you know the answer to..." whatever they're interested in. Google responds by providing a list of possible answers, a list of search results.
How do you get to be one of the answers that Google or Bing provides? If you have a great website, perhaps helped by a little search engine optimization, you might be included in the top results for free. Alternatively, or in addition to free listings, you might also try paid search ads.
Twitter Search Marketing
Like search engines, people are also constantly asking for answers on Twitter. The difference is that they don't expect Twitter itself to provide those answers, in most cases. Instead, they're asking friends and people they know for help. Sometimes, they're also asking specific companies for help, even if that cry for assistance is hidden within a complaint.
The beauty of Twitter is that anyone can "listen in" on the questions that are being asked. This listening, and reaching out with relevant answers, is also search marketing. You're still seeking to be an answer to a question, as with "regular" search marketing. But instead of answering with a web page or a paid ad, you're answering with an honest-to-goodness real response, all contained in 140 characters or less!
Be An Easy Answer
The easiest way to do Twitter search marketing is simply to listen for when people specifically ask your company for answers. They'll do this naturally, if you're on Twitter. They'll seek you out and call to you by name, using Twitter's "mention" functionality. Here's an example:
In that, you can see someone calling out to Dunkin' Donuts, using its Twitter name of @dunkindonuts, with a complaint. But that's also a call for help. This person wants the problem solved. Dunkin' Donuts responds a link for the person to submit a formal complaint: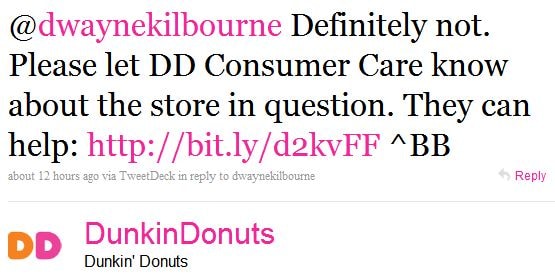 Here's another example, where someone is asking the Transportation Security Administration for advice on the amount of liquids they can take on a plane: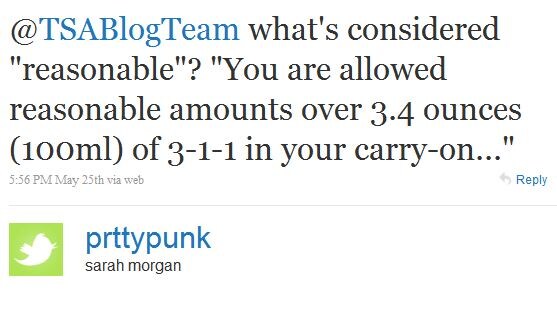 The TSA responds with an answer: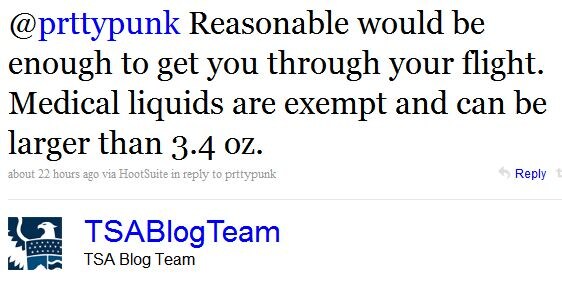 Tapping into this form of search marketing requires nothing more than having an account on Twitter and then checking for your mentions on a regular basis. But it also underscores a crucial point. If you're NOT on Twitter, then you're losing out on an important channel where people will seek you out. It's like not having a web site, email address or telephone number. You need to be there.
Beyond The Easy Answers
Sometimes people will call out to a company for help but fail to use its official Twitter name. That means their cries for help won't appear as mentions. Instead, finding them requires searching. Search can also be used to find people interested in your products and services but who might not mention your business at all.
This is the opposite of what you may be used to with normal search marketing. Instead of people searching for you, you're going to be searching for them. It's still search marketing. You're still trying to be an answer to a question. But now, you're actively seeking out those with questions, rather than passively expecting them to find you in search results.
It's more work than regular search marketing, but it's also far more personal. Rather than anonymous people coming to your website and perhaps finding what they want, you can see exactly who is asking for help and can respond with a tailored message of assistance.
Searching For Company Mentions
There are several ways to find people who mention your business but who do not use your official business name on Twitter. A simple method is to use Twitter's own search engine, Twitter Search.
Here's an example. The business Yogurtland has a hard-to-guess-at name on Twitter, @yogurtlandinc. Yogurtland could run a Twitter search for the word "yogurtland" to find people who might not use its official name, like this: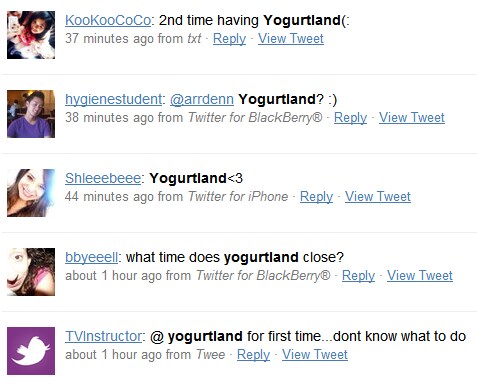 Some of tweets listed require no response. But notice the last two. The one about when the business closes is easy to answer. Just point the person to a list of locations and hours. The other about not knowing what to do on a first time visit? Perhaps a welcome, or to recommend a flavor, would be good customer relations.
Beyond Customer Service
Twitter Search is also a powerful way to get beyond the customer service channel that Twitter is so well known for. It's a way to reach out to new customers. For instance, in a
search for the generic term yogurt, I found this:

She's bored, hungry and wants frozen yogurt. That's a good opportunity for someone like Yogurtland to suggest a cure for her problem, a visit to the local Yogurtland shop – perhaps with a special discount code she can use. Since this person also lists her city in her profile, Yogurtland could even point her to a specific store.
The problem with generic searches is that there can be a lot of "noise" in the results. For every person looking for help with some "yogurt-related" question, there might be 10 or 20 others just talking about yogurt in a conversational way.
One thing to try is what I call the "anyone know" Twitter search. In this, you search for the exact phrase of "anyone know" along with a word that's relevant to your business.
For example, let's say that you sell luggage online. You do a search for:
"anyone know" luggage
By putting the words "anyone know" surrounded by quotes, you're telling the search engine that you want tweets that have that exact phrase in them, along with the word "luggage" anywhere in the tweet. Here are the results: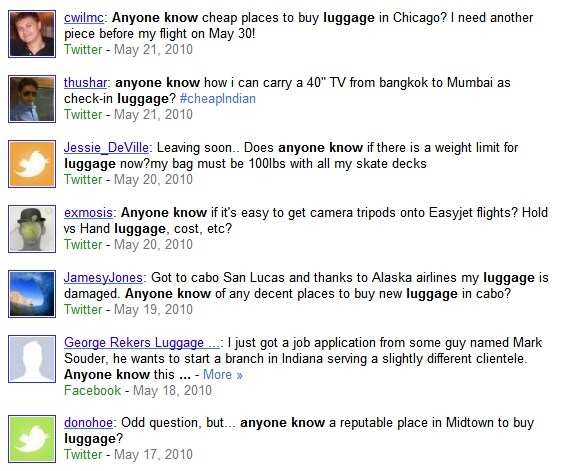 To get those results, I used Google's Twitter Archive Search, which lets me scan through tweets further back than the seven days limit at Twitter Search itself. You can see there are three different tweets where people are asking for good places to buy luggage. While these are related to specific areas (Chicago, New York, Cabo San Lucas), if you're an online retailer, pointing people to your site that can ship anywhere is relevant.
Keeping Up
Over time, you can build up a list of generic terms, along with filters, that make sense to monitor for your own business. You can also save these terms right within your web-based Twitter account. However, you'll probably find it easier to use a Twitter management tool like the ones offered from TweetDeck, Seesmic, HootSuite or CoTweet, to name only a few good and free tools out there. All allow you to save searches and receive regular alerts to matches.
Finally, Twitter is evolving as a way where people also search across all the tweets that others are making, to get results that they click on in the way they do at Google and Bing. That means new opportunities, including ad options, for business. But that's a story for another time.

Image credit: xotoko
*****
Danny Sullivan
is editor-in-chief of
Search Engine Land
. He's a widely cited authority on search engines and search marketing issues who has covered the space since 1996. Danny also oversees Search Engine Land's
SMX: Search Marketing Expo conference series
. He maintains a personal blog called
Daggle
, can be found on
Facebook
,
Google Buzz
and microblogs on Twitter as
@dannysullivan
.