When Ryan Alovis graduated from college in 2005, he was heavy into New York City nightlife promotion. With 100 promoters reporting to him, he wrangled security staff, booked famous DJs and handled large amounts of cash. But staying out at nightclubs until 4 a.m. got old: He wanted a more conventional life.
A dozen years later, Alovis is CEO of LensDirect.com (a division of The Stella Group), married with a toddler, and operating an extension of his family's 80-year-old optical business. From a Long Island office park, less than an hour from the city where he once managed the egos of club owners twice his age—and where his great-grandfather once sold eyeglass frames from a pushcart, Alovis oversees 20 employees at LensDirect, an online retailer of prescription glasses and contact lenses from popular brands.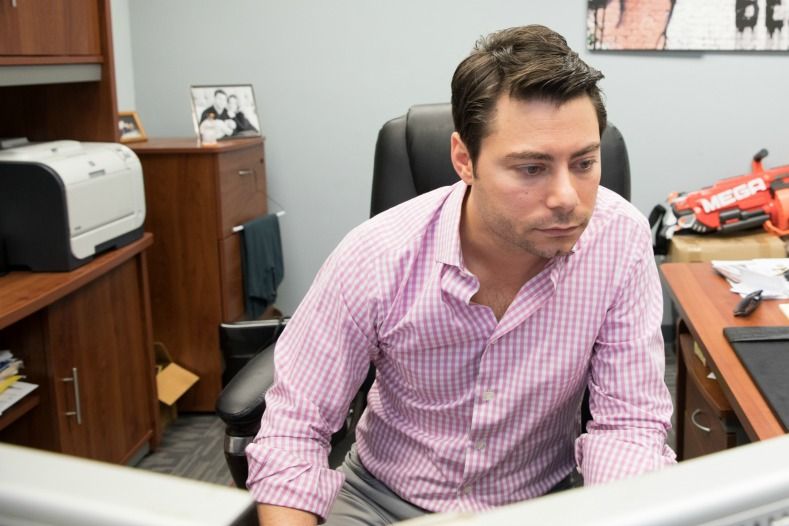 LensDirect CEO Ryan Alovis
Since 2014, LensDirect sales have jumped from $800,000 to a projected $6 million in 2017, says Alovis. While the long-term goal is to be a full-service online optical store, contact lenses currently make up 99.9% of the company's revenue. The majority of LensDirect consumers are women ages 20 through 50.
"I liked the logistics and operations of it," Alovis says of his work in party promotion. That professional experience has been key to managing the many moving parts of a fast-growing company, he says.
Since we sell medical devices, our customers have lots of questions. So now each customer has a dedicated account rep and feels like part of our ecosystem.
—Ryan Alovis, CEO, LensDirect
Typically, Alovis says, the LensDirect buyer journey goes something like this:
You go to an optometrist or ophthalmologist for an eye exam and get a prescription. You can buy lenses from the prescriber or search online for a lower price. "Hopefully you end up on LensDirect.com. We invest a lot in organic and paid search [marketing] to make that happen," he says. "You upload, text, email or fax your prescription and place your order."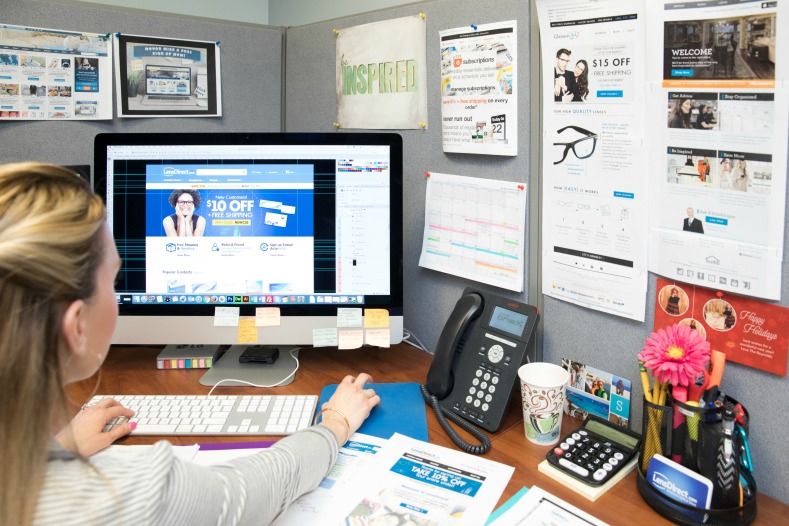 Senior designer Sabrina Sperduto works on the company's website.
LensDirect and other sellers must be approved by manufacturers, which create and stock many variations on prescriptions. Whether or not there's a shift in eyesight, prescriptions expire after one year. If the prescription can be verified, the seller orders it from a distributor. In compliance with the Contact Lens Rule issued by the Federal Trade Commission (FTC), "The prescriber has eight business hours to respond [to the seller's verification request]." If the prescriber does not respond within eight business hours, the prescription is verified automatically, and LensDirect or another seller can ship the product to the consumer.
"Once the order arrives, we scan it and ship to the customer," says Alovis, who recently added UPS shipping options to supplement the U.S. Postal Service. The decision—resulting from customer survey feedback requesting more premium shipping—reflects his increasingly customer-centric approach. To help buyers navigate the somewhat complicated and highly regulated contact lens industry, this year Alovis shifted gears in LensDirect's approach to customer service and retention.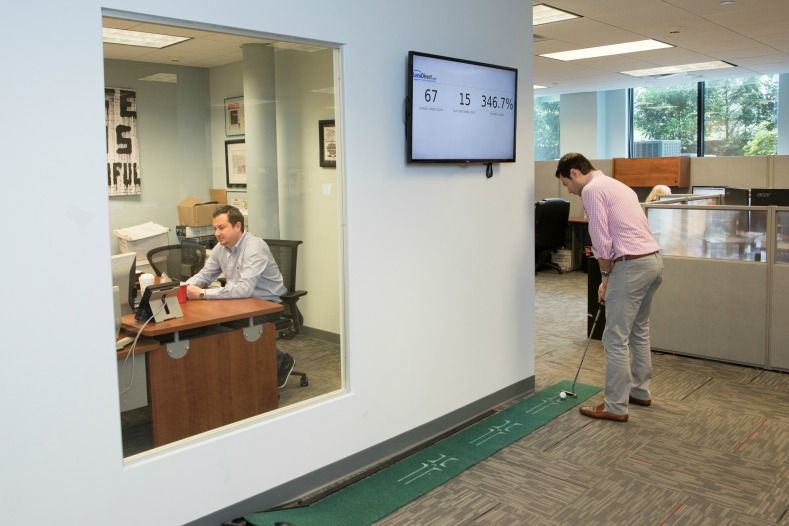 About 20 employees work out of the company's Long Island office.
"If you call the general toll-free number for most businesses, you'll speak to someone who has never heard of you. If you call back ten minutes later, you'll talk to a different person," Alovis points out. "Since we sell medical devices, our customers have lots of questions. So now each customer has a dedicated account rep and feels like part of our ecosystem."
With each shipment, the rep includes personalized correspondence with his or her photo and contact info, along with a LensDirect.com coupon. Through randomized monthly performance reviews of customer service call recordings, Alovis gives $100 gift cards to incentivize reps.
Amir Qureshi works on preparing an order in the company's shipping department.
Along with re-energized customer service, Alovis also attributes the company's fast growth to a few additional factors: In 2016, LensDirect created an AutoRefill program for customers with qualifying prescriptions, which now brings in nearly 30 percent of the company's revenue. Also, through significant investment in a redesign of its desktop and mobile sites, customers now have a one-page checkout option that keeps them coming back, Alovis says. And by managing digital marketing in-house, LensDirect saves costs by bypassing agency services. "Most e-commerce companies use all of these third-party marketing companies: one for paid search and others for SEO, development and design. We do it all here," he says with pride. "We need to own every aspect of the business."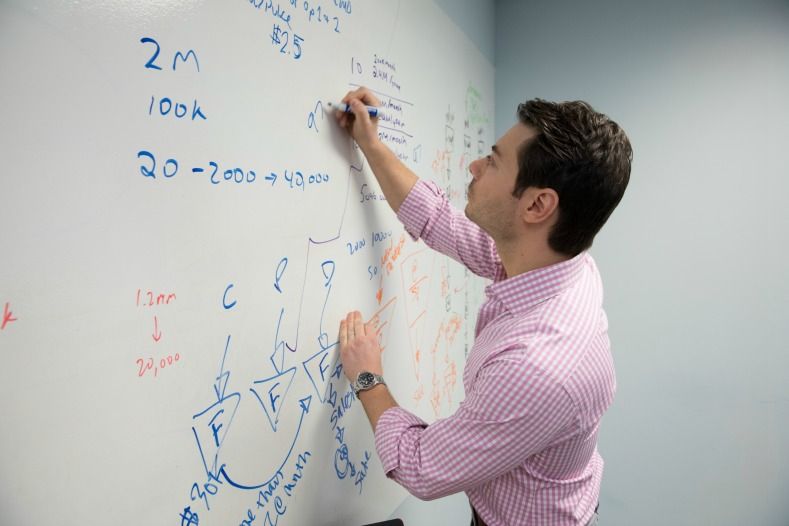 LensDirect's auto-refill program brings in about 30 percent of the company's revenue. Sales are projected to be $6 million in 2017.
That sense of ownership, evident in his nightlife promoting, goes back even further. At ten years old, too short to reach the checkout counter at his family's optical store, Alovis stood on a box to operate the cash register and engage customers. "My father taught me how to take chances and how to be very confident," he says. "I think a lot of people are terrified of risk. I was raised to run a business rather than get a job, so it feels very natural and comfortable. Watching my father do it, it became my normal."
Photos: Christopher Lane