Sandy Koropp had always dreamed about opening her own bookstore. Still, in 2014, when a local business owner offered to let her use, rent-free, a space within his block-long furniture store to start that bookstore, it came as a complete surprise.
The first thing she did was Google the words "how to open a bookstore." She had three months before the grand opening—and a lot of learning to do.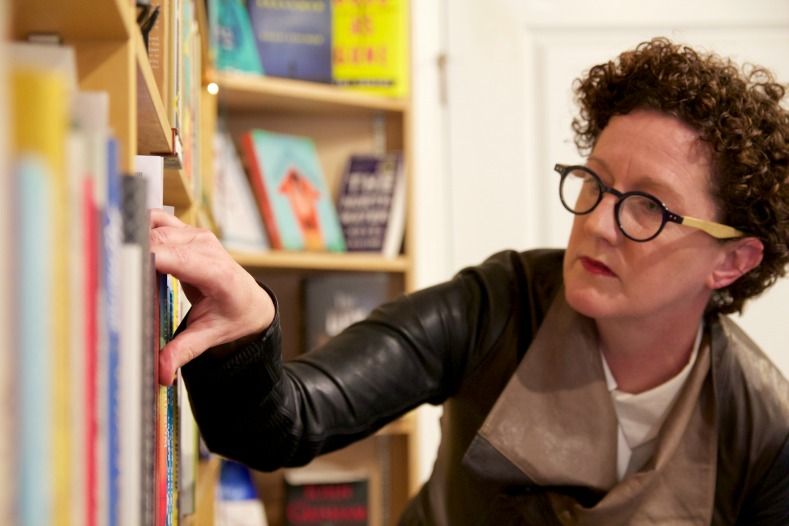 Prairie Path Books owner Sandy Koropp
For the last 12 years, Koropp, a former attorney, had been a stay-at-home mom. As her three children hit their teens, she started getting restless and began thinking about the next step in her career. Her mind meandered to the possibility of opening a bookshop—which had long been sacred spaces to her. But then she considered the reality: She had no retail experience, it could cost nearly $300,000 to open and her husband wasn't thrilled at the idea of her liquidating all of their savings.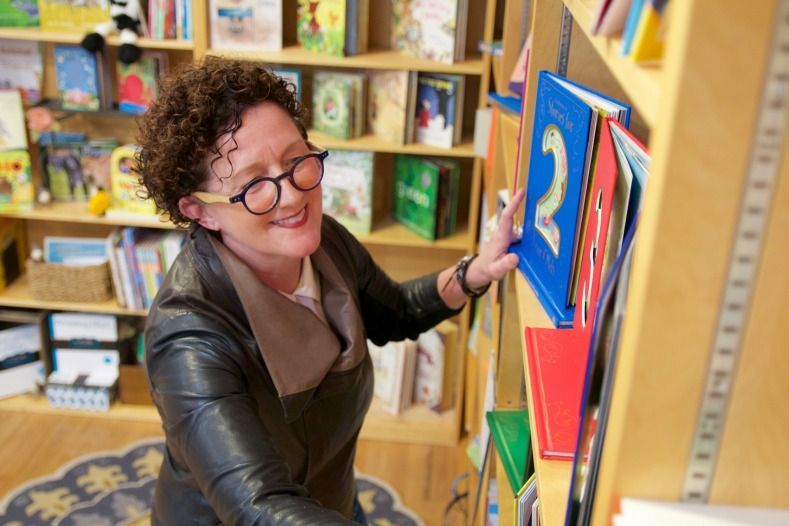 Before opening Prairie Path Books, Koropp had dreamed of owning her own bookstore.
So she started testing the waters in her own way. She loaded up a suitcase, filled it with eight copies of eight different books and traveled around to her friends' book clubs to talk about those books. She quickly found that when she was passionate something, she had a knack for sales. Koropp also started organizing cooking demonstrations (she was an avid cook, and would choose different cookbooks to teach from) and hosted author talks and guest lectures at her own home, drawing up to nearly 80 people. Word spread, and that's when the plot thickened.
Scott Price, the owner of Toms-Price Home Furnishings, heard about the well-attended events and reached out to Koropp, offering to pay for food and wine if she wanted to host book and author discussions at his store. The two met, and Price led her back to show her the store's kitchen, which sat in a walled-off, unused, 1,500-square-foot corner. To Koropp, the space looked like a cozy apartment, with a series of small rooms. On a whim, she mentioned that she'd always wanted to have a bookstore. "I basically asked, 'If you're not using it, can I have it?' And he said yes," she says. "I would not have opened this store if it weren't free rent," she says, adding that she does pay her own utilities.
I think customers are determined to love me and support me. Everyone feels good about themselves for coming here.
—Sandy Koropp, owner, Prairie Path Books
She signed a year-long lease and took out a bank loan for $50,000 to purchase inventory, bookshelves and furniture. Online, she found a resource guide to owning a bookstore and hired the author as a consultant to help her plan the store. About 90 days later, she opened Prairie Path Books. The shop has its own designated entry, but can also be accessed through two doors of the furniture store.
Since opening, Koropp has learned a lot about what it means to be an independent bookstore. In the beginning, she had a best-seller table. Then she discovered that her customers weren't coming in for the latest best-sellers, which they can get easily online. Rather, she says her customers come in looking for inspiration. They'll read the printed recommendations on the shelves, peruse the tables she curates and ask her and her staff of eight for favorites, and then leave with something they may not have found otherwise. "With independent bookstore, that [discovery] is what it's all about," says Koropp.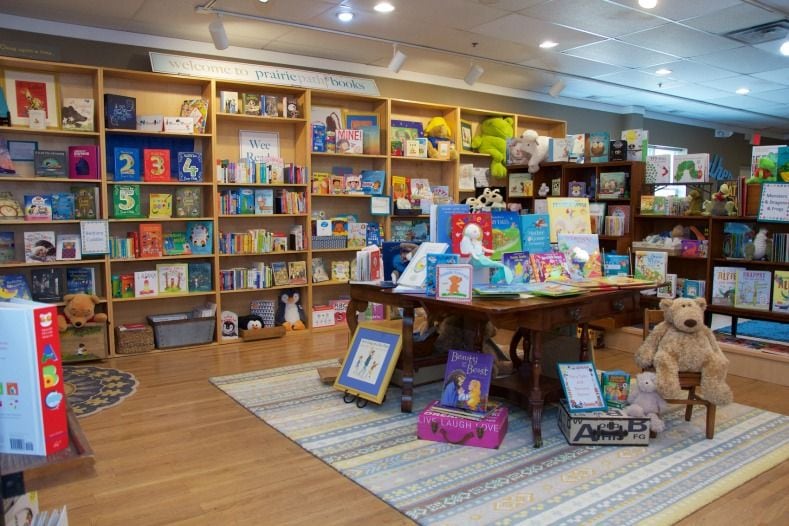 The bookstore is located within a furniture store, but has its own dedicated entrance.
Events are a central focus, and Prairie Path maintains a calendar packed with book clubs, storytime for kids, cookbook demonstrations, author readings, quarterly book reviews and more. Through those events, the shop has become a gathering place for thoughtful community discussions, says Koropp. At one recent reading, she recalls looking around the room at the 65 people in attendance and was in awe of their rapt attention as they listened to the author speak. "I just love to see that almost student-like look on all their faces. I felt like we really got something done that day," she says.
As she's gotten to know her customers better and developed a deeper understanding of what they're looking for, Koropp has focused on measured growth, which she's able to pay for using the store's revenue. The store was so packed with books—"We were hanging books from the ceiling," says Koropp—that she requested and was granted more space, and has expanded by 50 percent. The children's department, one of her top-selling categories, has grown from three shelves to fifteen. Recently, Koropp extended the store's lease by three years.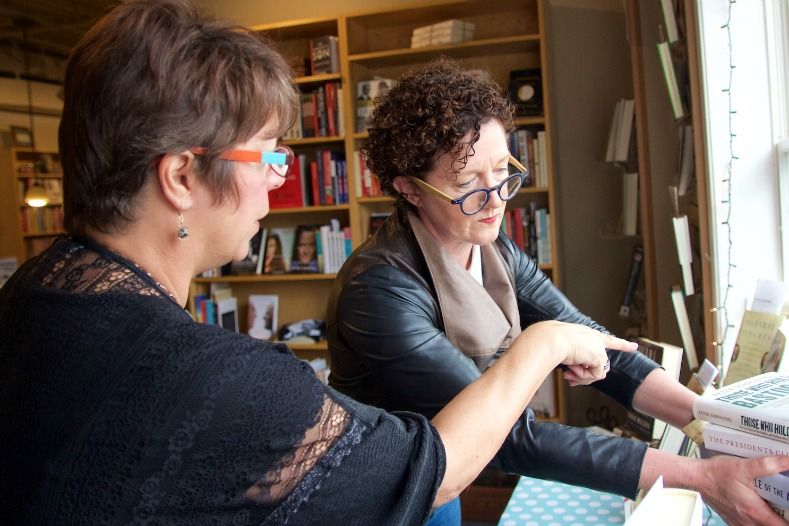 Koropp (right) with employee Sandra Tucker.
At the same time, she's shrunk her staff. Early on, she had 13 part-time employees, but found there was a disconnect in communication: the team was too big and many of them were teenagers with limited availability. With eight, she finds that customer service has improved, because the team is more tuned into what's happening at the store on a daily basis. "We're a much tighter unit now," she says. Finding employees, she says, is easy. "Everyone wants to work here," says Koropp. She'll hire based on referrals, or take note when a customer is particularly helpful at an event, and approach them to see if they're interested in working with her.
When she thinks about the next chapter, Koropp is energized by the possibilities. She says she's been approached about opening a second store in a different city, and she's open to the opportunity, if it's the right fit. She's also determined to find a way for bookstores to benefit from different methods of reading, such as e-books and audio books. "I would like to make it possible for a book I love to be available for a reader in any format they prefer," she says. She's in talks with an online business, now, to discuss devising a program that would allow customers to purchase a book based on her recommendation from an online audio site, with a percentage of the purchase benefiting her store.
Koropp (center) speaks with two of the store's customers.
Whatever happens next, it's clear from talking to Koropp that it's bound to be a happy ending. "I think customers are determined to love me and support me," she says. "Everyone feels good about themselves for coming here."
Photos: Lisa Lubin