How do you take business strategy down from the clouds and execute it at the level of day-to-day business activities?
I use a simple pyramid metaphor as a business strategy template. It starts with strategy at the top, includes the main tactics in the middle, and the concrete, specific business activities at the bottom. I call it the IMO pyramid, which stands for business Identity, target Market and business Offering.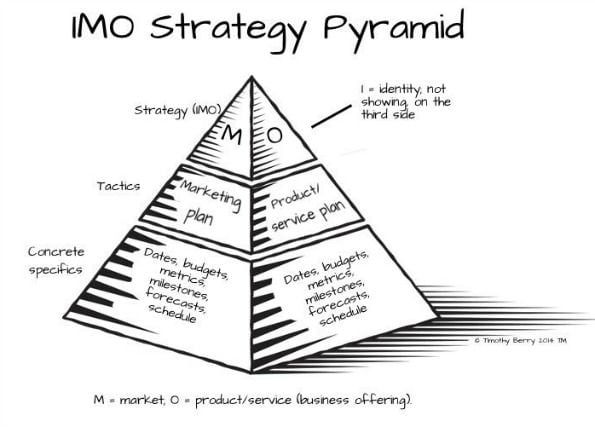 Strategic Alignment
Consider how your identity, market and business offering work together in your business's strategy.
Your Unique Business Identity
How is your business different from all others? What do you do better than anybody else? How would one of your customers describe your business to a friend? Answers to these and similar questions may lead to establishing a sense of unique business identity. And in most businesses, it tracks back to you, the owner: what you're good at, and what you like to do.
Your identity might also be about your core competence, what your business does very well, better than your competition. For example, some retail stores specialize in wide selection, others in expert advice and others in low prices. Your business identity may be linked to fast delivery, response to customer requests, keeping things fresh or coming up with something that nobody else has. That's often a reflection of what the ownership likes, believes in and does well, and what you emphasize in your branding and messaging. It's your unique identity.
Your Choice of Target Market
Your target market is usually a collection of strategic choices you've made. Your target market should ideally match your identity and your business offering. Many businesses end up pleasing a certain kind of customer who particularly values what your business does best. Consider, for example, the likely differences between a health food store customer and a mainstream supermarket shopper.
Some say the best way to define target market is by who isn't in your target market.
Your Business Offering
Business offering is my way of saying product or service. That's the food the restaurant serves, the merchandise on the store shelves, the services a business offers. Your specific business offering will likely work best when you match your identity (what you like to do and do well) and your choice of target market (the people who value what you put forward).
Building Your Business Strategy Template Pyramid
The business strategy template pyramid helps to develop vertical strategic alignment, which is what I call it when your company's strategy, tactics and concrete specifics match. You can see the alignment on each of the three pyramid faces. On each of them, strategy at the top depends on tactics in the middle for execution. The tactics themselves are built on the concrete specifics along the bottom, such as dates, deadlines, budgets and responsibilities. Strategy without tactics may be useless. Tactics without concrete activities may also be useless.
Good strategy is hard to define ahead of time but easy to recognize when you feel it. 
— Tim Berry, founder and chairman, Palo Alto Software

If you own a restaurant, for example, assume your restaurant's identity is rooted in really good tasting but healthy food, which is what its owners believe in. Your identity-related tactics might be as simple as finding chefs and servers who believe in the same things. Your concrete specifics to execute on that identity would be the employee policies, compensation plans, benefits and perhaps even the choice of location and the layout of and equipment in your restaurant's kitchen.
Your restaurant's strategy, then, would be to market to high-end diners who appreciate healthy gourmet food, and your marketing tactics, including pricing, signage, messaging and promotions, would likely need to match what works for that target market. Location ideally matches the target market as well, so your restaurant would probably be located closer to your target diners, and would offer convenient parking. One example of concrete specifics might be dates and deadlines for special gourmet nights, or dates and budget for sponsoring a related local event, like a healthy cookout competition.
For your business offering, your restaurant might put healthy gourmet food, sourced fresh and local, at the top as your strategy. The product tactics would include what kinds of foods to offer at what general pricing level, as well as the layout of the dining area. And the concrete specifics would include the menu and pricing, the daily specials, the sourcing of the food, how often the menu changes and so on.
The Result: Alignment and Execution
Good strategy may be hard to define but easier to recognize when you feel it. I bet when you take some time to think about your business and its underlying pyramid, it will likely give you a better idea of what you're doing well and what you might want to improve.
This article was originally published on April 27, 2015.
Photos from top: Shutterstock, Courtesy of Tim Berry