From one small business to another, NOTCOT always takes some time during the holiday season to help other small businesses we love! In addition to our giveaways (a way to give back to readers and give some extra exposure to our favorite small businesses -- spreading the love all around!), we thought this would be a great opportunity to do a little Q&A with one of them to find out how they started.
Sometimes our personal life inspires the best business moves. Ellen and Michael Diamant never thought their next career move would be inspired by their son. Ellen worked in fashion, publishing and graphic design, while her husband Michael was a veteran internet executive and online entrepreneur. But seeing the garish and poorly designed baby products out there motivated them to make the kinds of products they wish they could have.
Ellen and Michael started Skip Hop in 2003, during the recession that followed the dot-com bust -- a time when most people weren't thinking about new ventures. Now Skip Hop products are sold at nearly all specialty retailers in the USA as well as leading chains like Gap, BuyBuyBaby, Giggle and Babies "R" Us. The company has exclusive branded lines at Pottery Barn Kids and Target. Ellen works on the creative side of the company and Michael runs the business end of things. Ellen shared with me how she turned an important life event into an important business idea.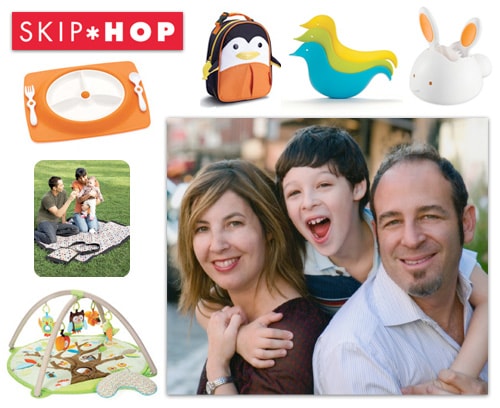 What was the inspiration for starting Skip Hop, the "aha" moment?
When Skip Hop launched in 2003, the baby market was dominated by few big name brands and parents were drowning in a sea of baby blue and pink. Diaper bags specifically did not have any extra function or innovation and just didn't look great. As a New York City parent, my stroller was essentially my car. I wanted a terrific bag that could hang on the stroller and make it easy for me to get what I need. With this in mind, our first product the Duo Diaper Bag was born! We were instrumental in creating the 'modern parenting' craze of the mid '00s.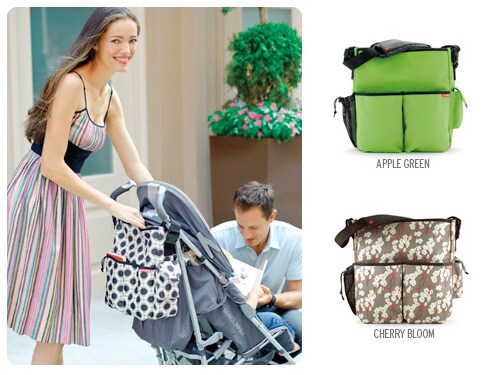 How did you take that inspiration from your life and turn it into a business?
We never had any product design experience, but our background in marketing and branding was incredibly strong. We started small, working from our Manhattan apartment, quickly learning the ins and outs of manufacturing, safety regulations, supply chain management, logistics, retail and more, while the same time figuring out how to work together as a couple and juggling the responsibilities of being new parents.
As your son gets older, does that inspire new angles or products?
Our son is now 10, so he would love for us to get into the video game design field! This is not a direction we are taking, as we would like to still cater to the under-5 set. We have plenty of friends with babies, and nieces and nephews that inspire us to create new products based on their needs.
Want more tips on ways to innovate? Check out these stories:
What is your favorite product?
Our favorite product is the original Duo Diaper Bag, still our best selling product. We just entered the infant bedding category with some incredible new sets -- so for now they are my current favorite! Another favorite is our Splash bottle drier. It's sculptural and beautiful, it does not look like a baby product at all. We are proud of this as it won an IDEA award last year.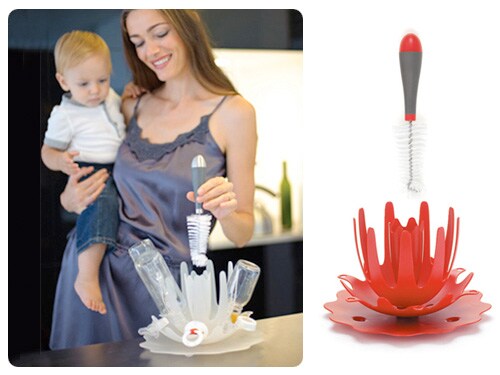 Any advice for parents who want to start a business?
My advice for parents starting a new business, especially in the baby and kids field, is to take advantage of your own "personal focus group". Use you friends and family to get feedback and advice on what your ideas are. People love to share, especially parents! Understand your spouse's working style if you are looking to do a business together -- it's not ideal for everyone.
Anything else you would like to add?
We feel strongly about giving back. We recognize that we are part of a larger world and that it is important to help make it a better place. We are proud to donate a portion of all Skip Hop's profits to charities benefiting parents and children. We also actively support the causes of our employees throughout the year with product donations for fundraising auctions, raffles, etc. Giving back has been a big part of Skip Hop's company philosophy since day and we are involved with such charities as baby buggy and Ovarian Cancer Research fund.
Inspiration comes from surprising places. Being flexible and open to inspiration is a big part of being an entrepreneur. What inspired you to start YOUR business?