How do you recruit and retain top talent? According to the "You Are Your People" panel at the New York Times Small Business Summit, small businesses looking to hire can compete against corporations in a number of ways, even when they can't offer the same benefits.
Dawn Fotopulos, founder of BestSmallBizHelp.com, led the discussion on how to hire and keep the employees with a panel that included David Anderson, president of Learn to Lead, Les McKeown, president and CEO of Predictable Success, and Rieva Lesonsky, CEO of GrowBiz Media and SmallBizDaily.com.
Having a Heart
According to Anderson, the key to competing with larger companies is to stop aiming for the head and start aiming for the heart. "Let them know they can make a difference," he said, sharing advice for letting prospective employees know what kind of opportunity they will have and what their contribution will mean. Lesonsky suggested offering alternative benefits, like allowing employees to work virtually part-time or even full-time.
As a small business, though, not only is it harder to attract candidates, it's all the more important to make sure they're the right candidates. "Nothing is more devastating than a bad hire," Anderson said.
When interviewing, be conscious of how the candidate might fit into your culture. McKeown suggested that you screen for attitude first. Anderson agreed that "there are five things to hire for that you can't develop: attitude, character, drive, talent and energy."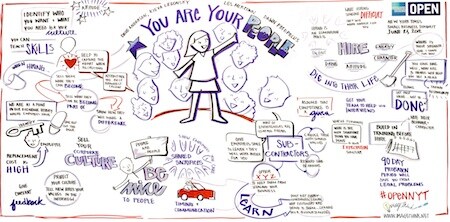 Seeking Help With Hiring
Lesonsky recommended that for those people who don't feel they are the strongest in reading people, delegate that task to someone who is. You can still participate in the hiring process, but having another point of view can help ensure you're screening effectively.
As for retaining employees, McKeown said it's very simple. Just follow the golden rule of treating others as you'd want to be treated. Or, as Lesonsky advised, think of the bad bosses you've had in the past and how you mentally committed you were at the time to act differently from them. Then make sure you don't repeat those bad behaviors.
Visit OPEN Forum's New York Times Small Business Summit page for additional coverage from this and previous events, as well as highlights on Twitter via the hashtag #OPENNYT.
Photo credit: OPEN Forum