Trade credit – lending to customers that is linked to product sales – is central to small business finance.  Many small companies either extend credit to their customers, use the credit provided by their suppliers, or both.  Because of the dual nature of trade credit, disruptions to it slow demand through the entire supply chain.   So the trade credit system is an important window on what's happening to small businesses.
Small business trade credit was adversely affected by the financial crisis.  The question now is whether it's still hurting, or it's back to normal.
Trade Credit is More Important for Small Businesses
Many small businesses rely on trade credit.  Unlike larger companies, which have access to many different types of borrowing, from the bond market to bank loans, small businesses have more limited options, making trade credit very important to them. 
According to the 2003 Federal Reserve Survey of Small Business Finances, 60.1 percent of small businesses use trade credit. A more recent survey of small businesses conducted at the end of 2009 by the Gallup Organization for the National Federation of Independent Business (NFIB) Research Foundation, showed that 65 percent of small businesses provide trade credit to their customers.  In some industries, like manufacturing and wholesaling, the numbers are even higher.
Trade credit is particularly important for young small businesses. A study for the U.S. Small Business Administration by Rebel Cole showed that older firms use trade credit less, and draw on smaller amounts of it, than younger firms.
Trade Credit Tightened During the Financial Crisis
According to a monthly survey of 1,000 trade credit managers by the National Association of Credit Managers, during the recession and financial crisis, trade credit dropped substantially (see figure below).  Similarly, 29 percent of small business owners responding to the Gallup Organization-NFIB survey said that during 2009 they tightened trade credit and 7 percent said they eliminated it, while only 5 percent said they loosened it.  Similarly, 27 percent of the small business owners reported that their suppliers tightened credit, while only 1 percent reported that suppliers loosened it.
Trade Credit was Reviving
Small business trade credit had climbed out of the hole created during the recession. In the figure below, I have plotted the monthly figures for the National Association of Credit Managers survey question on the amount of trade credit extended.  (A rising number on this question means that sales using trade credit are increasing.)  The figure shows that since reaching a low in March 2009, trade credit had been on a steady upward climb, returning to pre-recession levels in March 2010. 

However, since March it has begun declining again.
Amount of Trade Credit Extended, December 2006-June 2010: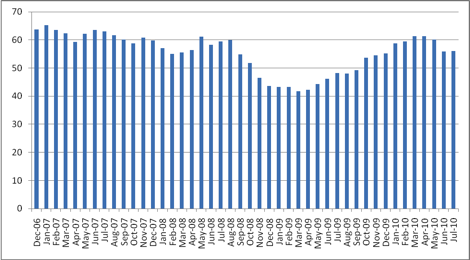 Source:  National Association of Credit Managers
Conclusion
For small business owners who are still facing weak demand, limited job creation, and difficulty accessing other forms of credit, renewed weakening in trade credit is an ominous sign.
* * * * *
Scott Shane
is A. Malachi Mixon III, Professor of Entrepreneurial Studies at Case Western Reserve University. He is the author of nine books, including
Fool's Gold: The Truth Behind Angel Investing in America
; Illusions of Entrepreneurship: and The Costly Myths that Entrepreneurs, Investors, and Policy Makers Live By.