A couple of savvy entrepreneurs have turned what started out as a home-based weaving business into one of the largest independent yarn retail operations in the U.S.
Kathy and Steve Elkins were both MBA graduates on corporate career trajectories when they joined WEBS in 2002. WEBS, an independent yarn retailer, was originally founded by Steve's mother, Barbara Elkins, as a home-based weaving business in 1974.
Today, WEBS has a retail store in Northampton, Massachusetts, a 25,000-sq.ft. warehouse in nearby Easthampton, and 68 employees. The second-generation husband-and-wife team share management responsibilities, with Kathy focused on retail and marketing and Steve handling operations and finance.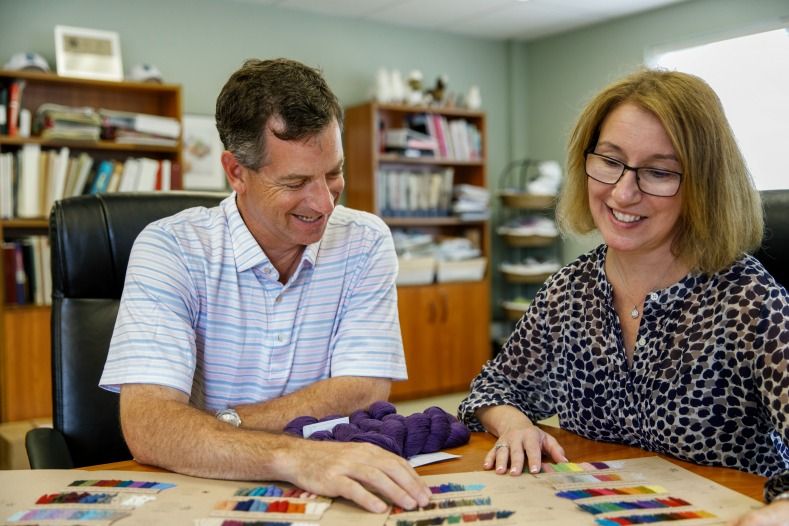 Steve and Kathy Elkins
Their unassuming retail store is just a little off the beaten path, a charming, fun space packed with a kaleidoscope of everything from high quality top-of-the line yarn to seconds and discounted mill ends. Shoppers can wander from tidy product displays in the front of the store to the old warehouse section in the back of the store. There are also three classrooms set aside for workshops taught by locally and nationally renowned needlecraft artisans.
WEBS carries dozens of brand name yarns as well as their own line of Valley Yarns. Much of the yarn—from cotton and wool to alpaca and silk—is imported from places like Italy, India and Peru. The company sells more than 25,000 products, including yarn, patterns, knitting needles, looms and more.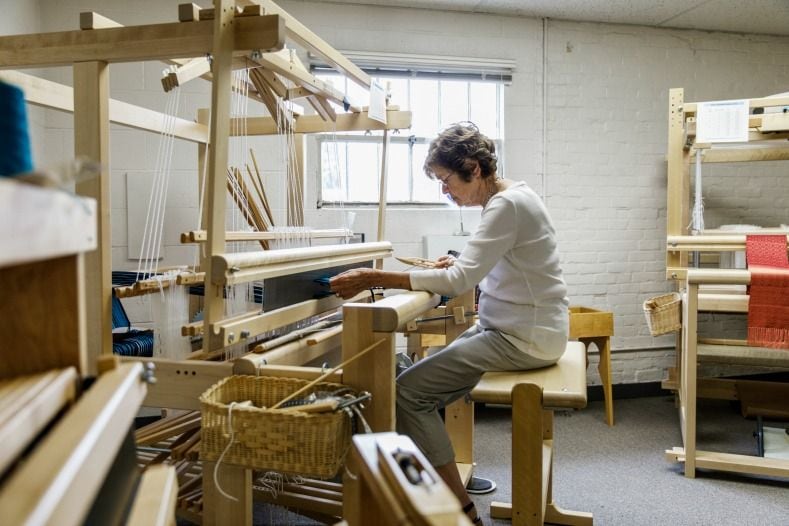 Steve's mother, Barbara Elkins, founded WEBS as a home-based weaving business in 1974.
The entire WEBS operation was run out of the Northampton location until 2012. But steady growth in its online business led to the opening of a separate warehouse to handle inventory, shipping, order processing and online customer service. Today, orders are hand-picked, packed and shipped from the warehouse to destinations around the world. About 7 percent of sales now come from outside the U.S.
While the retail store is a destination and a community gathering spot for knitters, it actually accounts for just a fraction of the company's sales—85 percent of which come from online orders. Steve's parents snagged the Yarn.com URL in 1995, so it's easy to find their online store. Underscoring the importance of web-based sales, the company, which is formally incorporated as Valley Fibers Corp., just completed a million-dollar overhaul of its website.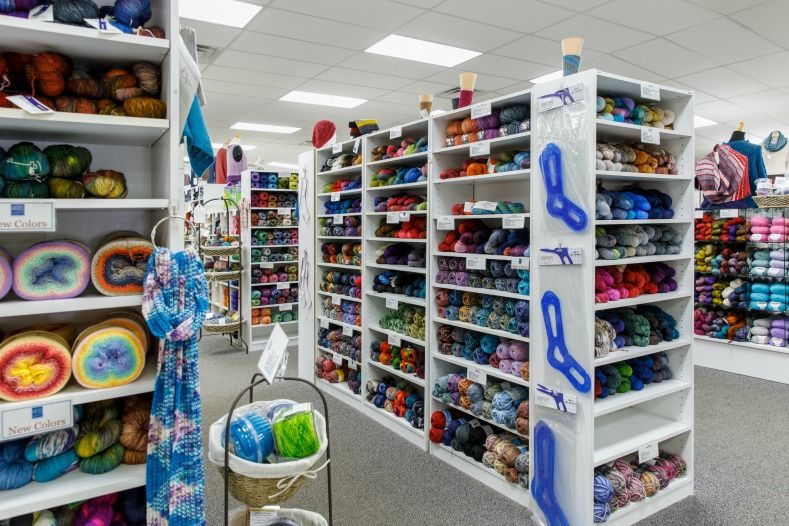 The company has a retail store in Northampton, Massachusetts, as well as a nearby warehouse that handles online inventory.
Sinking big bucks into its web presence reflects a strategic decision about how the company needs to fuel sales growth. "We are risk-averse, in general, in terms of running our business," says Steve. "But we need to stay competitive, and keep people engaged."
The new website is now more responsive, for example, providing easy access from all types of devices, and giving WEBS the ability to better track and analyze engagement. Added functionality also includes features such as "one-click" checkout and dedicated online chat support.
In addition to dealing with competitive pressure, WEBS is trying to position itself for continuing disruption of the marketplace. "This is a very traditional industry, with product flowing from mills to distributors to retailers, and finally to customers," says Kathy. "But we don't think our industry will look the same in even two years, and it's only a matter of time before more sales will be direct from the distributors to consumers."
We want to make sure that the experience people have in our stores is mirrored on our website.
—Kathy Elkins, owner, WEBS
One of the ways in which WEBS is fortifying its market position is by building a strong online community around its brand. An important differentiating factor is replicating its successful in-store educational program through a combination of online classes, video tutorials and podcasts, such as their weekly podcast called Ready, Set, Knit! They also are considering ideas for an online version of their Expert Knitter Certification Program, a successful in-store program. "In general, we want to make sure that the experience people have in our stores is mirrored on our website," says Kathy.
Online training is just part of the WEBS strategy for growing their online customer base. They already have a community of more than 300,000 people, anchored by a quarter million followers on Facebook. Now, to extend their reach, the company recently acquired a digital magazine with more than 30,000 subscribers, and is planning to open a virtual store on Amazon Marketplace.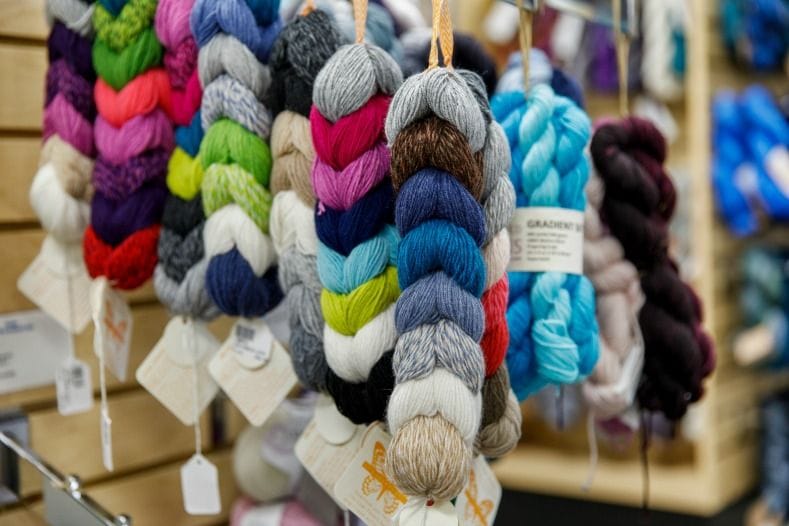 The company has had an online presence since 1995. Today, 85 percent of sales come from online orders.
The WEBS outpost on Amazon will help the company gain access to a much wider audience, and enable it to leverage the shipping and warehousing capabilities of the online retail brand. The initial plan is to focus on offering the company's own Valley Yarns brand.
Another way the company drives traffic to its website is with a legacy marketing tool from its mail-order days: a quarterly catalog. The company prints and mails more than half a million catalogs a year. While that may seem counter-intuitive for a company focused on growing online sales, Steve says that 11 percent of recipients make a purchase after receiving the catalog.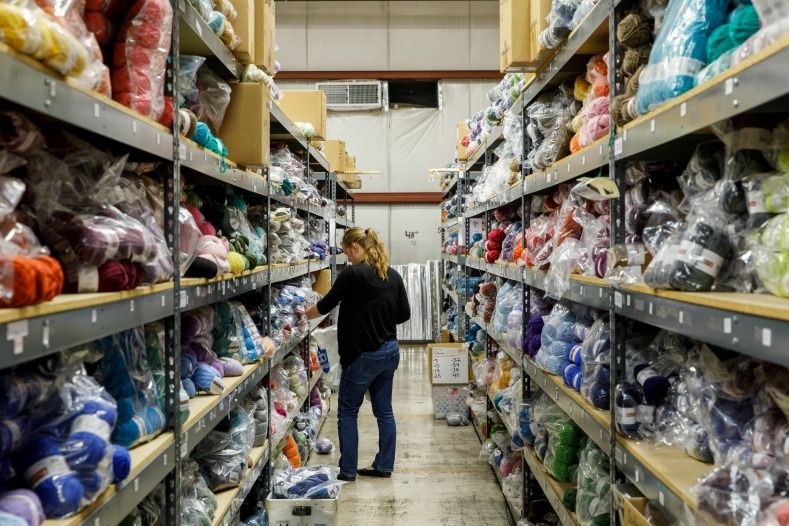 Despite a robust online presence, the company also sends out more than half a million print catalogs per year.
While their business has cyclical ups and downs throughout the year, what worries the Elkinses most is the effect technology is having on people's interest in learning hand crafts. "While the DIY market is still strong," says Kathy, "too many people are scrolling through Instagram while watching Netflix, not knitting scarves."
A changing marketplace means both challenges and opportunities ahead for the WEBS management team. "Art and Barbara made it look easy," says Kathy, about the company's founders. "Steve and I had no idea we could run a business together. But here we are, still together in all aspects of our lives. It hasn't always been easy or pretty, but that's the thing we are most proud of."
Photos: Bob O'Connor