If you're an entrepreneur in the retail sector, you've no doubt heard the following phrase that has brought many transactions to a grinding halt: "Do you take credit cards?"
If the answer is no, all the goodwill in the world won't help you. These days, people just don't carry that much cash around with them. That was the situation that Chip Forsythe encountered last year. Forsythe is one of the founders of Slo Down Wines, a San Francisco vintner. Forsythe started the company with two college buddies. Having no budget to speak of, he soon found the company's primary marketing vehicle—wine shows—was quickly depleting their resources.
By Forsythe's estimation, each show would cost around $300 to participate in. Then the company would distribute hundreds of dollars in wine for free. What was frustrating was that people at the shows appeared interested in buying Slo Down's wines, but didn't have cash. Last year, Forsythe's younger brother told him about Square, a free device and app that let you process credit cards on your smartphone. It was a huge change.
"We went from losing money at the shows to making thousands of dollars," he says. Fair enough, but why didn't Forsythe just go the traditional route and get a merchant account with one of the credit card companies? "It seemed too beyond us," he says. "We didn't have any money."
It's hard to turn down free, though. Square entices vendors like Slo Down by sending its quarter-size Square reader device for free. After that, the company takes a 2.75 percent cut of every transaction. You can also set up an account pretty quickly, says Katie Baynes, a rep for Square. "We do a credit check, but it's not a traditional check," she says.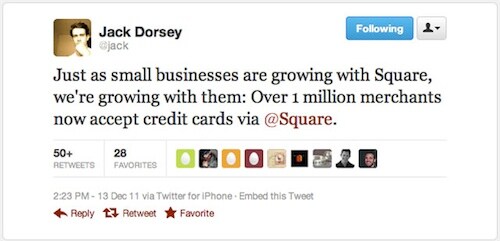 Launched publicly in October 2010 by Jack Dorsey, the co-founder of Twitter, Square claimed its 1 millionth vendor in December. While Baynes says the company doesn't outline which types of businesses are using Square, anecdotally at least, it seems to have found a niche among formerly low-tech trades like food trucks, farmer's markets, dog walkers and Christmas tree vendors, as well as at PTA fundraisers.
About the only knock against the company, at least in the early days, was that it had a limit of $1,000 a week for transactions, ensuring that your business would stay small. However, that limit has now been removed.
At the moment, that doesn't seem to be a deal-breaker for many. Merchants are happy to pay the relatively small transaction fee (for online-only transactions in which merchants manually enter credit card information, Square gets a 3.5 percent cut plus an additional 15 cents) and, for its part, Square gets access to lots of sales data. For instance, Square knows the average price of a cappuccino ($3.09 as of April) and the busiest sales day of the week (Saturday).
That data has helped Square rack up $168 million in funding so far. Dorsey's pitch to investors is simple: There's a huge market out there of vendors who, for one reason or another, don't want to get a merchant account, but would be happy to find a way to process credit cards.
Dorsey, of course, isn't the first one to notice this. PayPal has offered the same kind of payment option for vendors for some time and is now making the move into offline transactions with PayPal Wallet. Over the next year, PayPal hopes to roll out terminals that merchants can use to facilitate payments via a PayPal credit card, typing in a PayPal pin or eventually using an NFC tap. Of course, Google is also eyeing the same space with Google Wallet.
While those technologies are still in their infancy, though, Square is a solution that's up and running today. That doesn't mean, however, that Square will look the same a year or two from now. Bob Egan, VP of mobile strategy for Mobiquity, a mobile technology consultancy, says he believes that Square has impressed the major credit card firms by rounding up new customers. Egan believes that at some point, one of the credit card giants may decide to buy Square. At this point, though, they're just watching it very closely. Says Egan: "They look at Square as a great science project."
Read more from Mashable.