When Elli Sharef was a marketing strategist at the University of Phoenix, she became keenly aware that the job market favors candidates with traditional resumes. For example, an Ivy League grad would almost always attract more interest from prospective employers than a candidate from an online university. And she also found out (the hard way) that great resumes don't always guarantee top performance. "I made a big hiring mistake," she recalls. "I hired an analyst but I didn't ask him the right questions." When her new employee came on board, Sharef found out that he couldn't create an Excel spreadsheet.
Pain Sparks Action
Like so many entrepreneurs, Sharef's company, HireArt, was born of her own pain—and a desire to fix what she perceived as a broken system for recruiting and evaluating job candidates. With two partners, Nick Sedlet and Dain Lewis (the latter is no longer with the company), she built a platform where job seekers are asked to do a webcam video about themselves, and to perform specific tasks that are relevant to the kind of job they're seeking. That could involve writing a blog post, creating a spreadsheet or doing a mock travel itinerary. Sure, candidates also upload their resumes, but the videos and completed tasks give a much more holistic view of potential employees and their capabilities.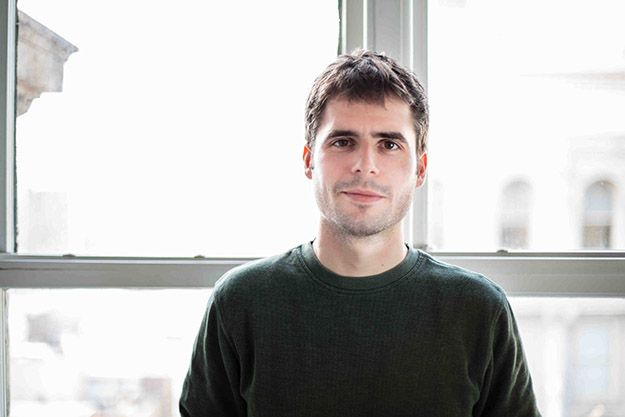 Nick Sedlet of HireArt
RELATED: 5 New College Degress You Want in Your Next Hire
"The candidate from an Ivy League school with a traditional resume doesn't really need us," Sharef says. "But the career changer—the lawyer who now wants to work for a tech company—has some explaining to do." She thinks that HireArt's algorithm, which evaluates video, completed tasks and resumes to recommend the best candidates to companies, levels the playing field for candidates who employers might otherwise disregard.
From Startups to Big Clients
YCombinator, a startup incubator, accepted the company into its January to March 2012 entrepreneur program and gave the founding team some solid, basic business advice and helped them build the foundation of the company. Sharef and Sedlet ramped up their database of job candidates by reaching out to their personal contacts and asking them to create profiles on the HireArt platform. The company, which started out in San Francisco but has since moved to New York, then tapped the startup community to begin building a client base. Airbnb and Shoptiques were early satisfied customers."But at some point, you have to start selling to people other than your friends," Sharef says.
RELATED: 3 Big Hiring Mistakes Employers Make
As the company gained credibility, Sharef pounded the pavement at networking events to meet human resources professionals at larger companies, which she thinks need HireArt more than the startup community. "Startups are hot and everyone wants to work for them," she says. Now, the company has much larger clients, such as Cisco, Safeway and Gap. "Once you help them hire someone they love, they keep coming back," Sharef says.
Recruitment 2.0
Last year, HireArt raised a seed round of capital for an undisclosed amount. Sharef is closed-mouth about the investment because she knows that competitors are watching, and her goal is not to be acquired by a larger recruiting company, but to build HireArt into a significant player in the marketplace. "For us, the most important metric is sustaining growth, increasing the number of users and growing revenue," she says. There are currently 50,000 candidates in the company's database. Currently, job listings are primarily in the fields of marketing, sales, business development, operations and customer service.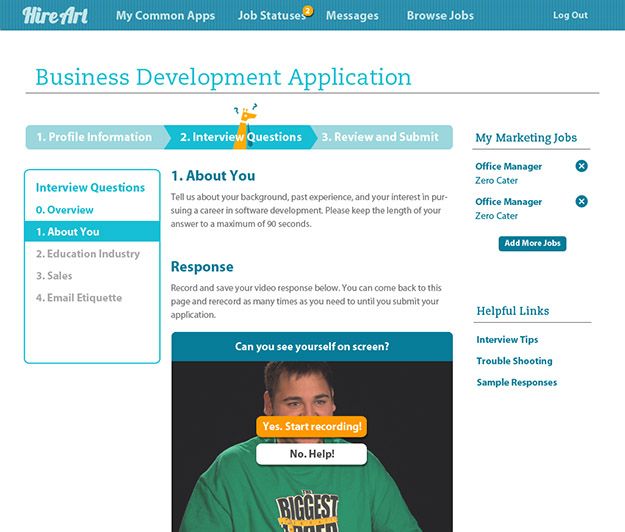 What's HireArt's advantage over the bigger players in the industry? "Employment agencies use technology peripherally, but it's not integrated into the way they do business," Sharef says. "We're a software automated employment agency." Like Pandora, she notes, the algorithm that HireArt uses to recommend candidates to companies becomes smarter with each use. "I envision us as employment agency 2.0," she says. "Getting hired is the most important economic transaction that happens in a person's life and we're really passionate about making a big change in how that happens."
Read more articles about hiring for small business.
Photos from top: Thinkstock; Courtesy of HireArt (2)