Why do a business plan? Because plan versus actual management is where planning becomes steering the business. And without the plan, there's no plan versus actual, and no planning.
Think about the act of steering: Even though you have a destination and a planned route, steering your car is a matter of constant small motion. You need to make constant small changes to keep your car on the road. You make more changes on a curvy mountain road than a straight interstate highway. You make changes to respond to unexpected events like somebody else's bad driving, traffic, an accident and so on. All of that is steering, which is also management. And when there's a big pileup ahead and you hear it on the radio, you change your route. That's still steering, and it's still management. And if you want to be all trendy and fashionable, you can relate that to what they're calling a "pivot" in the world of startups and business plans. It's all just steering.
So how does this work with management and planning?
First, you lay out some projections. That's your plan. In the illustration here, it's a simple sales forecast for a cafe. Since it's planning and not accounting, it's an educated guess beforehand, using averages for unit prices and a formula—not shown—for meals and drinks based on table space and capacity estimates. The math is simple. Units times price equals sales.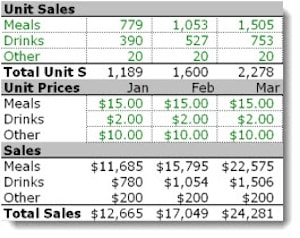 Second, time passes, and of course your forecast is wrong. All business plans are wrong, and all forecasts are wrong. That's because we're human and we're predicting the future. Don't worry about it; expect it. That's part of the process of planning, and ultimately, management.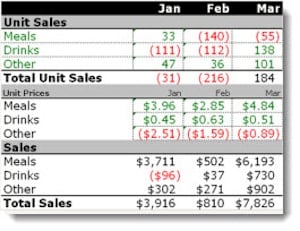 Third, track results and compare them to your plan. Accountants call this variance, but most people are fine with plan vs. actual. The second illustration here shows the variance in this hypothetical scenario. You calculate that, with sales, by subtracting planned sales from actual sales, so if actual is higher than planned, that's good; it becomes a positive variance. Lower than planned is a negative, because that's bad. With costs and expenses, which aren't shown here, you do the reverse. You subtract actual cost from planned cost, so that less than planned is good (positive variance) and more than planned is bad (negative variance).
And that's where the management starts. In this sample case, January results were better than planned for meals and average price of meals, but much lower for drinks. The average price of a drink was slightly more than planned, but overall, drink sales were down. Units of other sales were so much higher than planned that even lower average prices didn't make sales lower.
So now comes the management: You check the plan vs. actual results and look for what went well, what didn't, who's responsible and what to change. Things never happen exactly as planned, and it's tracking that difference that helps you decide what steps to take to stay on course. It's not the numbers in red or green, or the accounting terms that matter; it's the business, the people and the actions to take.
And that's planning process. It doesn't take a formal business plan document, but it does take a plan, tracking and following up with management. So now you're steering your business.