In 1994, Steven Alan opened his first boutique in New York's SoHo district. Like most retailers, he went to trade shows and bought clothing lines to sell at his shop. Ever since childhood, when he helped out his parents with sales for their jewelry business, that was the world he knew. "It wasn't until I veered away from big industry events and began to pioneer emerging brands that things really started to take off," says the now seminal designer, tastemaker and CEO of the Steven Alan fashion and lifestyle brand. "Magazine editors got excited about that, so it became our niche."
Building on the editorial acumen that catapulted his own company, Alan curates products from an eclectic group of small designers like M. Carter, a beach and vintage-inspired lifestyle brand founded in 2003 by Brooklyn-based artist Milton Carter. If, like M. Carter, you've been adopted into the Steven Alan family, it pays to notice the wave that Alan selects from your ocean of offerings and ride that.
On a daily basis, Alan also oversees the design of the Steven Alan collection, ubiquitous among cool, casual New Yorkers. He sells that line of clothing, accessories and home goods, along with apparel and lifestyle gear from other brands—including M. Carter novelty beach towels—at 23 eponymous U.S. boutiques (plus five stores in Japan) and online. And since 1997, the Steven Alan Showroom in downtown New York has handled wholesale distribution for 20 designers of clothing, handbags and other accessories.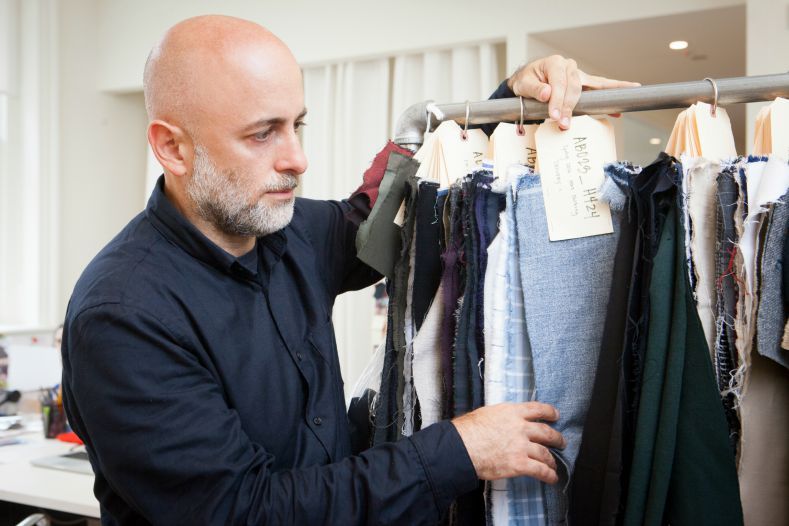 Steven Alan
Viewing M. Carter as a microcosm of the independent designer community he showcases, Alan says, "He's got this product line with T-shirts and bags and a bunch of stuff. But I'm really drawn to his towels. If you're going to the beach, you want a fun, big towel. He can make a name for himself in the towel category and expand from there."
This year, Alan is collaborating with Small Business Saturday®, which falls on November 28, 2015. American Express founded Small Business Saturday in 2010 to help business owners with their most pressing need—getting more customers. Since then the day has been embraced by the nation as part of the holiday shopping tradition.
Alan embodies the spirit of the movement, so this year, American Express invited him to design "Shop Small®" canvas totes distributed at participating storefronts.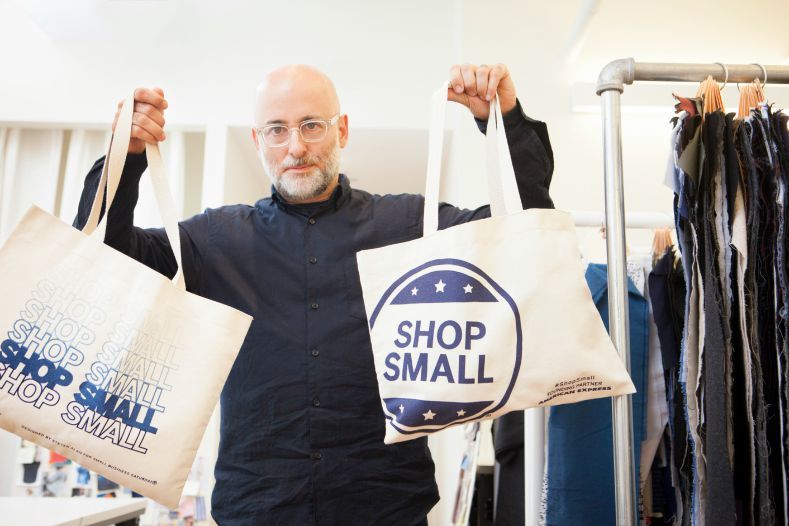 Steven Alan with tote bags he designed for Small Business Saturday
"I grew up in a mom-and-pop retail shop," he says of childhood in New York, where he was raised as Steven Alan Grossman. "My dad's a jewelry designer, and my parents always had at least a couple of stores. I'm a merchant, a merchant and a designer, and Small Business Saturday speaks directly to that."
While Alan loves running on multiple cylinders from a creative standpoint and is most productive with too much to do, he encourages focus among the emerging designers he stocks and nurtures. "You learn so much when you figure out your niche and focus on one small thing," he advises them. "If you do that one small thing really well, you learn transferable skills that help you grow."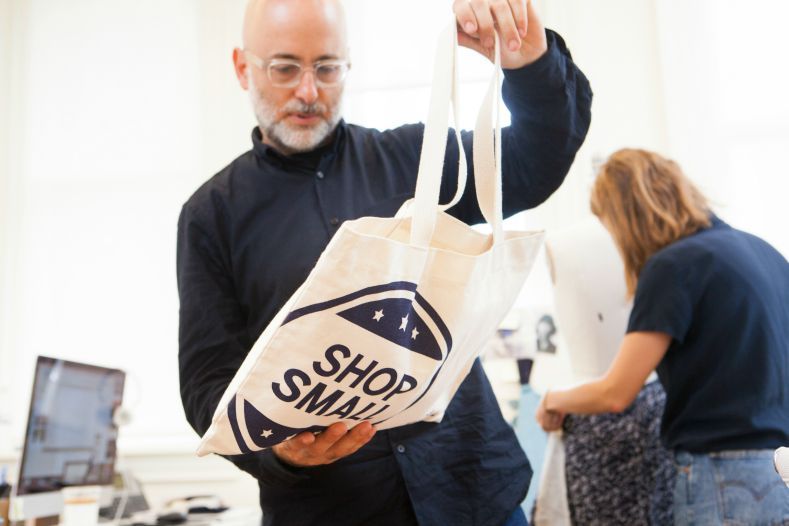 In Alan's case, that "small thing" was his now-signature Reverse Seam Shirt, first sold in 1999 to launch a menswear line, since expanded to include subversive takes on classics for men, women and the home. "When I was still just a retailer, before I started designing, I felt a tremendous void in American clothes for men. It started out as a proportion thing. I'm average-sized, but button-down shirts were always too large," he says. "With no background in design or sewing, I became obsessed with making the perfect shirt. That became my mission. The [Reverse Seam] shirt was the center, the core ingredient, and everything else was added on."
Over the past two decades, Alan has built his own world by asking questions like: Based on our foundational shirt, what would our sweaters feel like? If we were to do a suit, how would that resonate? Is that our voice? If this is who we are with clothing, who are we with housewares?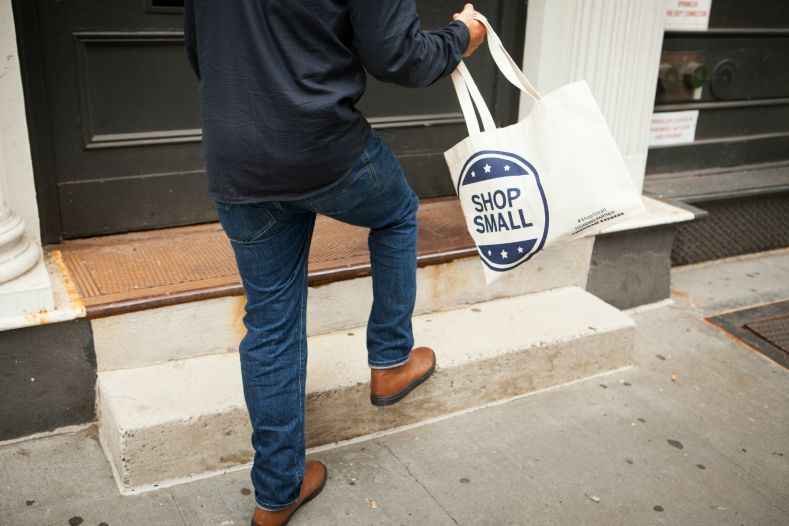 He applies this kind of inquiry to determining the company's retail offerings and its messaging, too: How do we communicate externally? Our website, our stores, signage, display—everything should be the same voice, Alan reminds staff.
"Is it on-brand?" he asks at every stage, whether pioneering an emerging designer or developing his own line.
Ever since browsing in the Bloomingdale's boys' department as a 10-year-old in the late 1970s, Alan has found inspiration in fellow designer Ralph Lauren. "He started out with the tie and the polo, then followed that up by attacking different categories," Alan says. "I always wanted to know the backstory: Did he grow up on an equestrian farm in Connecticut? No, he grew up in the Bronx. But he created this. I liked the idea of creating your world and developing a true lifestyle brand."
To learn how to get your business ready for Small Business Saturday, go here.
Photos: Rose Callahan