Since opening its doors in 2013, healthy salad chain Evergreens has seen 200 percent revenue growth year over year, according to its founders. The company currently has six locations in Seattle, serving seasonal salads, wraps and grain bowls in a fast-casual atmosphere.
"We've exceeded our predicted per-store sales," says co-founder and CEO Todd Fishman. In fact, Fishman and co-founders Hunter Brooks and Ryan Suddendorf expect to open as many as 11 more stores by 2019.
Evergreen's catering arm, established in the company's second year, is also going strong. Currently it brings in 15 percent of the company's revenue, Fishman says.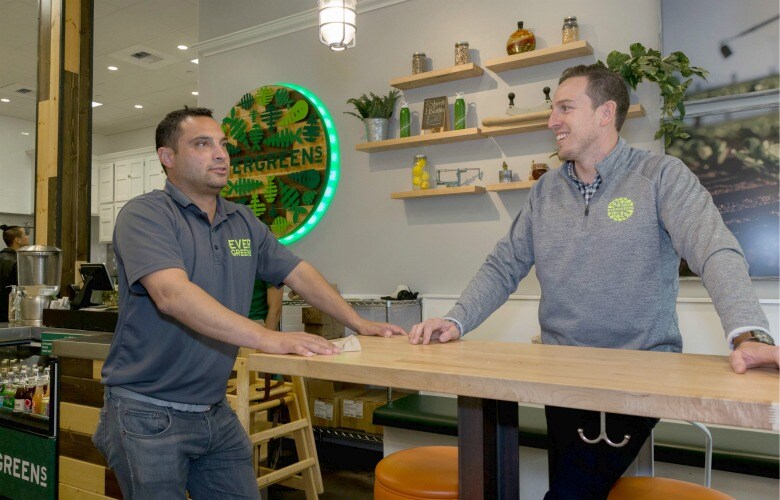 Todd Fishman (left) and Hunter Brooks (right), two of Evergreens' three co-founders.
Such rapid-fire growth might bring down the best-intentioned entrepreneurs, causing them to sacrifice quality, employee satisfaction and even their own work-life balance. But the Evergreens founders have been careful to anticipate problems before they arise and ensure their infrastructure keeps pace with their growth. As a result, Fishman explains, they've been able to keep customers, staff and partners happy.
It wasn't always smooth sailing though. Operations and staffing were a bit too lean during the opening of the company's first three stores, with Fishman, Brooks and Suddendorf functioning as the company's only corporate employees.
Fishman recalls the first Evergreens location opening with an eight-person retail team and not a manager or assistant manager among them. Business was brisk, but chaos reigned: The store wasn't ideally configured to handle high-volume sales, and the onsite team was at a loss for how to compensate.
Evergreens has six locations in Seattle, including this one at University Village.
"We had lines out the door and we didn't know how to get people through them," Fishman says.
Investing in a restaurant operations specialist from the get-go would have helped reduce these inefficiencies and helped Evergreens scale more quickly, Fishman explains. Instead, the company wound up remodeling its first store twice to compensate for the physical shortcomings of its kitchen.
There's part art, part science to staffing the corporate team when your store count is growing.
—Hunter Brooks, co-founder, Evergreens
"It was like changing the car tires on a moving car," says Suddendorf, the company's vice president. "There was no time to step back and establish a process and then try to teach it to everybody in the stores."
If the trio could go back in time, they would have raised hundreds of thousands of dollars more to start to their business and asked for more outside help. "We were working in the business rather than on the business," Fishman says of that time. "We were very much in the weeds."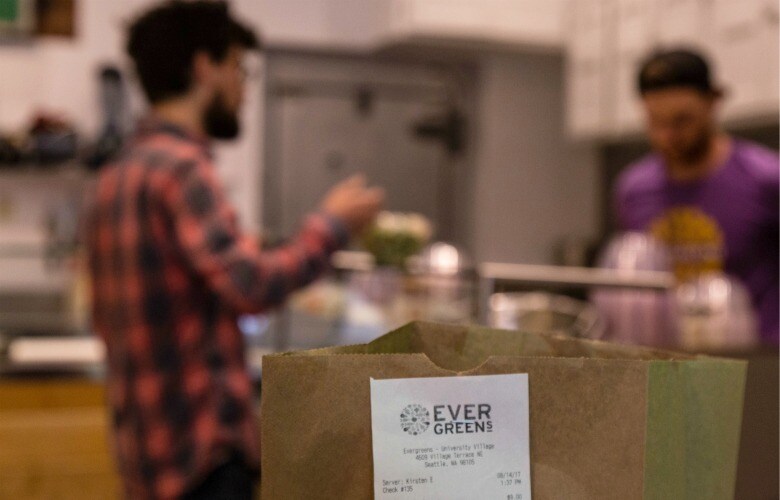 Evergreens serves salads, wraps and protein bowls with seasonal, locally sourced ingredients.
Since learning those early lessons, staying ahead of staffing and operational needs has been key to expanding without taxing themselves or their staff or sacrificing product quality and customer service. The founders started hiring help for their corporate team in 2015, bringing on a COO, as well as HR, business development, IT design and accounting specialists as soon as they could.
"There's part art, part science to staffing the corporate team when your store count is growing," says Brooks, the company's president. "Sometimes you're going to be a little heavier on the corporate overhead, and sometimes you're going to be a little leaner."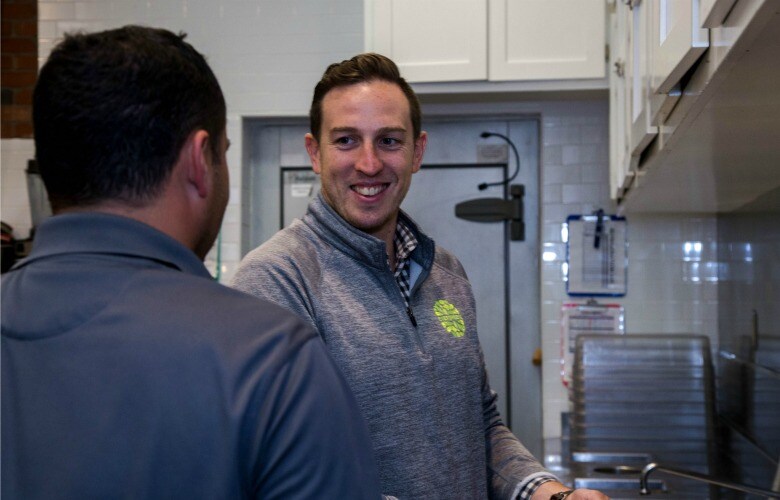 Evergreens opened its first location in 2013.
Predicting and obliterating problems before they arise has been crucial, too. This might mean eliminating operational efficiencies like a poorly designed kitchen or dining space. Or it might mean streamlining vendors or buying supplies like cups and paper plates in bulk. Reading where the business is headed and stay on top of twists and turns in the road is key.
"You try to get ahead of your problems before they become problems," Suddendorf explains. "And you try to overshoot your needs."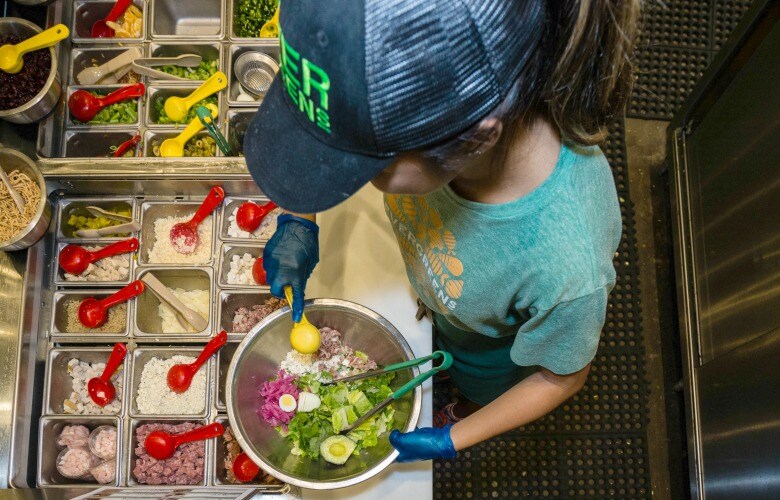 The company currently employs 20 to 25 people in each store.
Maintaining a positive corporate culture while growing rapidly also has been important for Evergreens, which employs 20 to 25 people per store and 10 at corporate headquarters. Ideally, the co-founders hope to grow into a brand that generates more than enough inbound applications from desirable candidates versus having to actively recruit new hires online and at job fairs, Brooks says.
This means creating a fun, supportive work environment that not only excites employees but gets them evangelizing the virtues of working for (and patronizing) the business to their friends. For that reason, Evergreens makes a point of promoting from within. "About half our corporate team started in our stores," Suddendorf says.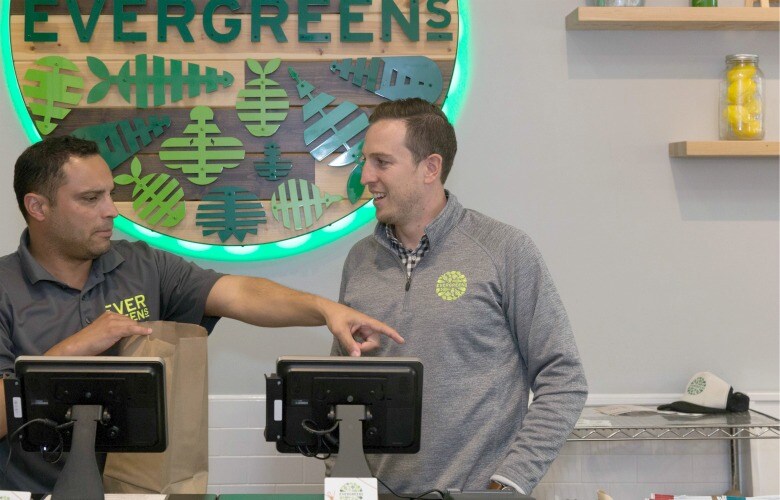 In 2018, the company is planning on opening as many as 11 additional locations.
The company also pays above minimum wage rates; offers $40 monthly bonuses for employees who lead a healthy, active lifestyle; gives store workers a free meal each shift, which Brooks says is rare in the restaurant industry; and practices what it preaches, selling compostable, natural and organic food.
"Culture is an ongoing thing," Fishman says. "Ultimately we want to make sure that we leave the world—in other words, our investors, our employees, our customers, us—better than where we started."
Photos: Shawn Nichols